The medical students' wake-up oath promises to promote a "culture of anti-racism," condemning "injustices" of "white supremacy, colonialism, binary genders."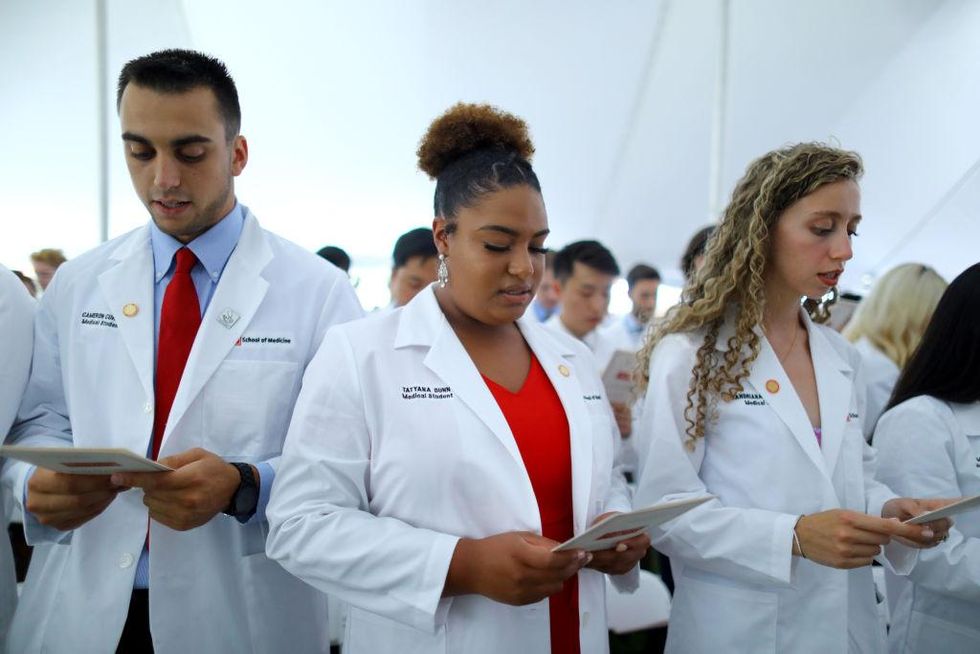 Students at the University of Minnesota Medical School recited a revised version of the Hippocratic Oath during a white coat ceremony in August. The promise was packed with waking references to climate change and anti-racism.
Students vowed to "recognize the injustices created by past and present traumas rooted in white supremacy, colonialism, gender binarism, ableism and all forms of oppression."
A program during the ceremony handouts with the oath was presented to the medical students and their friends and family who attended the event. The program noted that fifteen new medical students had written the modified pledge.
Minnesota WDIO reported that 240 students attended the white coat ceremony, including "19% first-generation students, 54% women, and 41% BIPOC students."
Associate Dean, Undergraduate Medical Education Robert Englander led the Class of 2026 in reciting the Oath.
Kat Dodge, Media Manager of UMMS campus reform that "it is customary for medical schools in the United States to build on the intention of the Hippocratic Oath to promote humility, integrity, and charity."
"Each year at UMMS, incoming students work with faculty to write an oath that reflects these core elements, values ​​and ethics that the class seeks to uphold," explained Dodge.
The student-written pledge began: "Our institution is located on Dakota land. Today, many Native Americans from across the state, including Dakota and Ojibwe, call the Twin Cities home; We also recognize that this recognition is not enough."
The incoming medical students pledged their commitment to "uproot the legacy and perpetuation of structural violence that is deeply ingrained in the healthcare system."
"As we enter this profession of growth opportunity, we commit to fostering a culture of anti-racism, listening and amplifying voices for positive change," the oath reads.
Students reciting the pledge vowed to "honor all Indigenous healing practices historically marginalized by Western medicine" and to commit to "healing our planet."
The medical students also vowed to work with "social, political and other systems to promote health equity."
https://www.theblaze.com/news/medical-students-woke-oath-promises-to-promote-a-culture-of-anti-racism-condemns-inequities-of-white-supremacy-colonialism-the-gender-binary The medical students' wake-up oath promises to promote a "culture of anti-racism," condemning "injustices" of "white supremacy, colonialism, binary genders."