The mum's anger at the 'rude' teenage nephew who criticizes her parenting has been cheered online
A mother took to the internet for advice after sharing how her 13-year-old nephew often criticizes her upbringing.
In an Oct. 7 post on the popular discussion site Mumsnet, user RainbowSlide shared her story and received more than 140 replies.
In the post, she said: "My 13-year-old nephew often comments on my parenting and it's starting to piss me off since he's doing it within earshot of my kids. He's quite young 13 and kind of blind to other people's feelings so I'd like some advice on how to bring this up with him and let him know that saying what he's saying is really judgmental and not okay or kind . But I don't want to do it the way he feels he's been abused. I think I'm worried that I might damage our relationship."
She explained how the teenager often tells her that her kids are spoiled — right in front of them.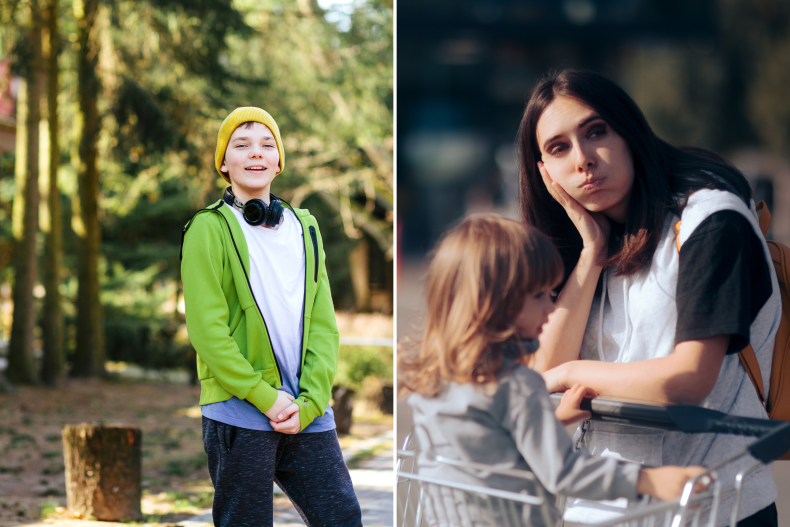 "I don't think they are, but we live in a bigger house than them [and] he's kind of conscious of money and wealth," she said. "Even though we're in a semi-regional area, it's actually no more expensive than their place in the city. He just doesn't notice and thinks we have a lot of money. We don't, but he mentioned a few times that he wants to do the job my husband does because it pays well – in his eyes. I try to brush it off every time, but he thinks our kids are spoiled and I give them a lot of that."
Psychotherapist Alex Carling tells news week: "I think it's fair to say that some teenagers have a lot to say about everything and others have little to say about most things.
"Nevertheless, this question makes me consider their influences. Parents who speak judgmentally in front of their children, while perhaps in the privacy of their own home, the teen doesn't see the environment as a boundary and can repeat the same behavior outside the home and come across as obnoxious."
The mom asked other users for advice on what to say to her nephew the next time the topic comes up. "I don't know why it bothers me so much, but I'd like to put an end to this – why he thinks it's okay to be so rude and judge things he doesn't know about."
Responses to the post were quick to suggest solutions, with one commenter simply suggesting, "I wouldn't engage with a 13-year-old about parenting."
Another commenter wrote, "I think you worry too much about 'not' calling him names – it's rude and he needs to learn that before he turns into an obnoxious adult."
Others suggested speaking to the boy's parents, but Carling suggested a friendly approach would be best.
"I strongly encourage adults to be sensitive to any young person they have difficulty with," she said. "Punitive and dismissive behavior can cause shame; Regardless of their age, they need secure connection and open discussion so they can understand and be informed for their future relationships, including their relationship with themselves."
Meanwhile, she said it's also important to consider the boy's age. "Teenagers develop their confidence during their teenage years – this teenager is only 13 and I think it's unrealistic to have high expectations. It's a difficult age socially, with hormones and with closer family relationships," Carling said.
A Mumsnet user urged the mother to be direct. "He's rude, so tell him straight up not to be rude. Don't go around him," they said.
"The feeling of being judged for parenting can feel so threatening that it's understandable that while this keeps happening, the aunt will gather some strong emotions," Carling said. "If you don't agree with the verdict, you may check with the person making the assessment where the verdict is coming from, or you may already have a sense of where it is coming from, e.g. B. their own history or unmet needs."
Carling said that in situations like this, communication is always key — especially telling others how you're feeling.
"Some great advice here, thanks everyone," said the mum after reading the replies on Mumsnet. She then said she would be more open with her nephew about how she was feeling.
If you have a similar family issue, let us know at life@newsweek.com. We can ask experts for advice and your story could be featured there news week.
https://www.newsweek.com/mom-fury-rude-teen-nephew-criticizing-parenting-cheered-online-1751923 The mum's anger at the 'rude' teenage nephew who criticizes her parenting has been cheered online