The New York Times editor wanted to check with far-left Senator Chuck Schumer before publishing GOP Senator Tim Scott's comment, says Bari Weiss, a former NYT opinion editor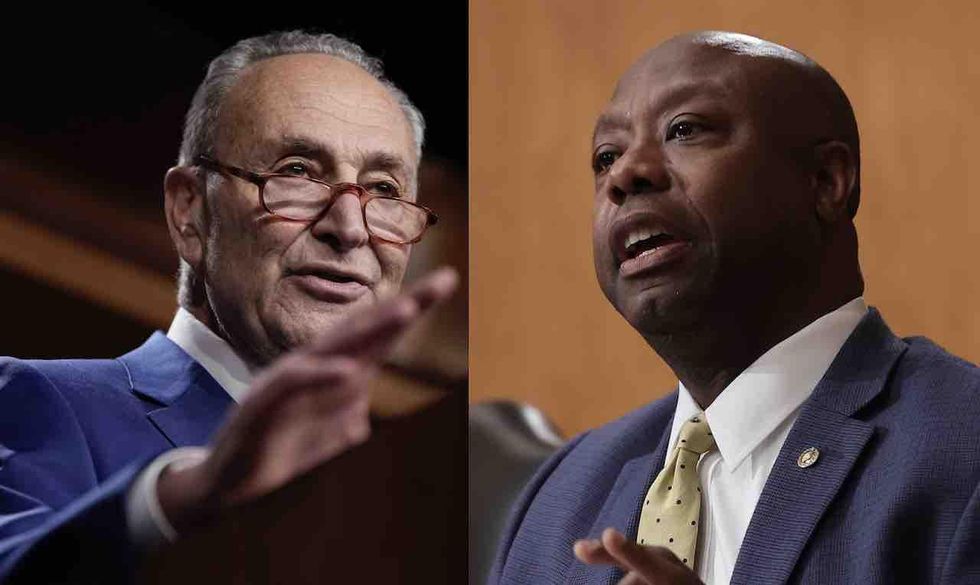 Bari Weiss — a former New York Times opinion editor who resigned in July 2020 after "constant bullying" from colleagues when she challenged the paper's left — told US Republican Senator Tim Scott (SC) that while she was still The editor insisted that US Democratic Senator Chuck Schumer (NY) should be consulted before the newspaper published any comment from Scott.
what are the details

Mediaite noticed that Weiss spoke to Scott about the problem with her"To be honest with Bari Weiss"Podcast Wednesday, in which the Senator details what was happening on the editorial board regarding Scott's comment on a police reform bill he was working on – the judiciary law – after the death of George Floyd.
"I want to tell you a little story that I'm not sure you know," Weiss told Scott, according to a recording released by Mediaite, in which Weiss said that despite the bill being shared by a number of people — including Schumer – approved – it fell apart.
Scott noted to Weiss that it failed because "the Democrats really wanted the problem more than the solution," according to the Mediaite record.
Weiss added, according to the Mediaite recording, "Well, here's what happened. I was at the New York Times and you or your staff submitted an op-ed about the bill and why it fell apart."
"There was a discussion about the play and whether or not we should perform it," Weiss continued. "And a colleague, an older colleague, said to a younger colleague who was pushing the article, 'Do you think Republicans really care about minority rights?'"
"Wow," Scott said in response to Weiss' claim.
"And the younger colleague said, 'I think Tim Scott takes care of minority rights.' And then, and here's the pretty shocking part: The older colleague said, 'Let's check with Senator Schumer before we do it,'" Weiss added, before saying the younger colleague "declined."
In the Mediate note, Weiss added that the younger colleague's claim was that it was "not an ethical matter" to check with Schumer.
Corresponding FoxNewsthe comment was never published.
But Scott — in further response to Weiss' claims about the Times editorial discussion in the Mediaite record — said, "I'm disappointed to hear that. I'm not surprised to hear that. You have to remember that the Washington Post fact-checked my life."
Scott added, according to the Mediaite record:
"I can't tell you how disrespectful and disgraceful this whole process was … took three or four months when they looked through the records to find out if my grandfather had actually dropped out in the third grade, their records suggested that." dropped out in fourth grade but still didn't learn to read," he recalls. "They wanted to know if I somehow hid my silver spoon and just use a plastic spoon instead."

"And the more they investigated, the more they realized that there was no evidence to disprove the fact that I am who I say I am and that I experienced what I said I was." experienced," he added.

"So there is something in the national media that wants to portray every conservative, especially black conservatives, as insincere or insincere or a tool for the conservatives. In doing so, the black community is consistently as conservative as any other community," he concluded
What did the Times have to say?
A spokesman for the New York Times, in response to Weiss' allegation, told TheBlaze on Friday that "The New York Times Opinion never seeks outside approval or advice on whether to publish guest opinion articles."
You can hear part of the Weiss-Scott exchange in the following Fox News reaction video:
https://www.theblaze.com/news/bari-weiss-accuses-nyt-of-bias The New York Times editor wanted to check with far-left Senator Chuck Schumer before publishing GOP Senator Tim Scott's comment, says Bari Weiss, a former NYT opinion editor