The public is behind Hamlin's children's program – will it do the same to protect young athletes?
Buffalo Bill's Safety Damar Hamlin's terrifying on-field cardiac arrest while watching live football Monday night highlighted just how important it can be to have emergency equipment and personnel available to save lives. The incident also reminded us that equipment and trained personnel are unavailable in most American youth sports leagues, despite a similar potential for life-threatening injuries.
After 24-year-old Hamlin collapsed on the field, trainers and other medical professionals used an AED (automated external defibrillator) and spent nearly nine minutes resuscitating him. While Hamlin is in critical condition, his chances of a full recovery have been immeasurably improved by the benefits of a professional sporting event – trained staff and life-saving equipment that should be available for all sports.
We all await Hamlin's recovery with concern and hope, but we know that such early intervention can save lives. Take footballers Fabrice Muamba and Christian Eriksen, for example, who both collapsed on the field and were revived by CPR and an AED; hockey star Jay Bouwmeester, who collapsed on the bench but was saved by immediate intervention; and Chris Pronger, who suffered a hockey puck to the chest and was then successfully resuscitated with CPR and an AED.
I know firsthand that these efforts are critical. I gave up my career as a ballerina after collapsing from a genetic heart condition known as hypertrophic cardiomyopathy or HCM. Based on my experience, I campaigned for the passage of the Lindsay Act of the same name in Ohio, which aims to educate coaches, parents, and athletes about the signs and symptoms of underlying heart disease and require them to sign an acknowledgment form. Additionally, a child showing symptoms of heart disease will be removed from the game until cleared by a cardiologist. A version of this law has been passed in 15 other states, but much more needs to be done across the country.
I built on my experience lobbying for the passage of Lindsay's law to push for mandatory instruction in the use of CPR and AEDs in public schools. Despite these efforts, only 38 states and Washington, DC have made CPR and AED training compulsory for all high school seniors. And many of these vary in style, standards, and scope. In some cases, over 70 percent of Americans still do not know how to perform CPR. This has tragic consequences, as only 46 percent of cardiac arrest victims receive CPR before help arrives, even though CPR performed within minutes of cardiac arrest doubles or triples the odds of survival.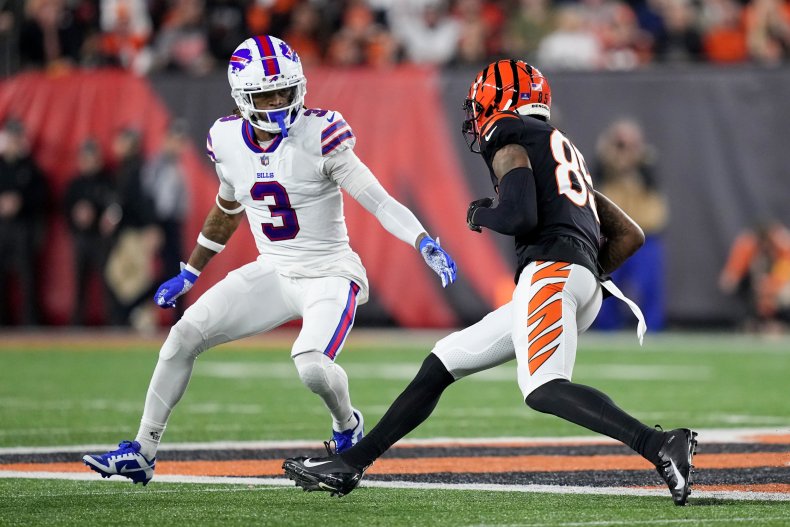 In contrast, professional sports leagues such as the NFL conduct extensive training, testing, and preparation for responding to sudden cardiac arrest incidents. Teams and leagues have entire medical advisory boards dedicated to establishing best practices for responding to tragic situations like Hamlin's. While youth sports leagues will never have anywhere near the resources of the pros, efficient and inexpensive interventions such as education, CPR and AED training can make a significant difference in preventing tragic outcomes.
Many Americans were paralyzed by the sudden danger to an apparently healthy young man Monday night; Each of us needs to start asking simple questions now, e.g. For example, whether athletes and coaches in public schools are educated on heart disease and treatment, whether every student, coach, and coach is trained in CPR, and whether an AED is available for every sport and game. In the absence of these common sense measures, please join me in reaching out to your elected officials to call for changes that will protect student-athletes and help achieve the best possible outcome when sudden cardiac arrest occurs.
Lindsay Davis, a former Miss Ohio, is an HCM patient and heart health advocate who spearheaded the passage of the eponymous "Lindsay Act" — legislation protecting children from sudden cardiac arrest. She has campaigned for legislation mandating CPR training mandates in high schools in several states. She also represents patient interests for the American College of Cardiology and the American Heart Association while campaigning for state and federal policy change and has helped secure federal funding for research benefiting minority communities. She was awarded a Point of Light by former President George HW Bush and was recently named a Salim Yusuf Emerging Leader by the World Heart Federation.
The views expressed in this article are the author's own.
https://www.newsweek.com/public-rallied-behind-hamlins-program-kidswill-it-do-same-protect-young-athletes-opinion-1771669 The public is behind Hamlin's children's program – will it do the same to protect young athletes?