The 'radical feminist' elementary school counselor is suing the district for firing her after she denounced 'gender identity ideology' at a public rally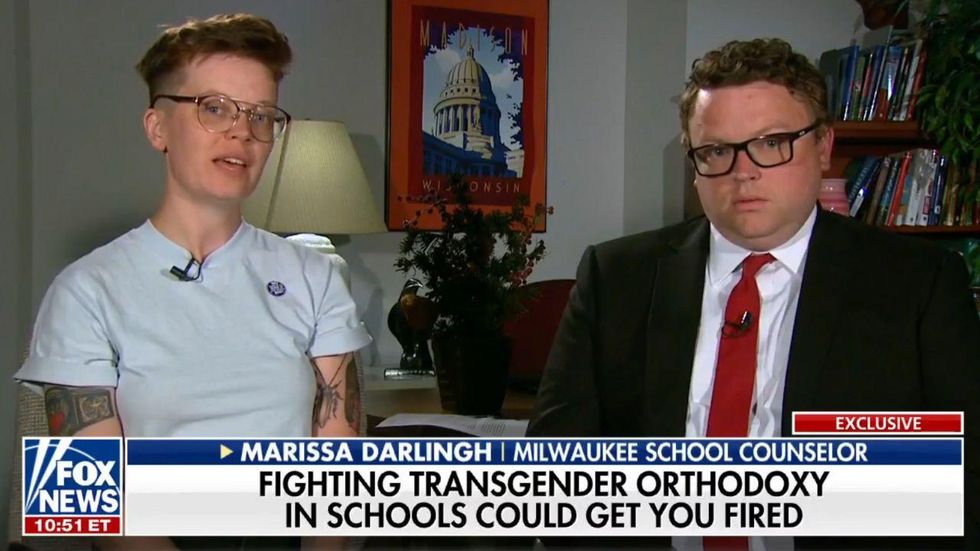 Marissa Darlingh, a former school counselor, filed a lawsuit against Milwaukee Public Schools for firing them after speaking out against gender ideology at a rally in April. Fox News Digital reported.
In September, MPS fired Darlingh from her position at Allen-Field Elementary School after learning of comments she made at a feminist rally in Madison, Wisconsin earlier this year.
The Wisconsin Institute for Law & Liberty, which represents Darlingh, filed a federal lawsuit against MPS, arguing that the termination violated Darlingh's First Amendment rights.
During an interview on Fox News' The Ingraham Angle, Darlingh explained that she had no plans to speak at the April rally, but after being harassed by counter-protesters, she decided to speak out against children's social and medical transitions place .
Darlingh said she opposed telling minors "they were born in the wrong body" and warned of the dangers of sending children "down the path of long-term, lifelong medicalization through the use of the wrong sex hormones and drugs." Etiquette as a puberty blocker and all the disfiguring surgeries on their healthy parts."
Darlingh argued that the transgender movement is "driven by big pharma."
"Although I consider myself a radical feminist – and have taken my stand for radical feminist reasons – I have chosen to stay out of the way of partisan politics on this issue because it is about child safety," Darlingh said.
Darlingh's speech
During Darlingh's speech at the feminist rally, she said that she "exists[s] in this world to serve children" and "to protect children".
WILL explained that while Darlingh denounced gender ideology in her April speech, in "the passion of the moment," Darlingh said, "F*** transgenderism. F*** these people behind us who want kids to have free access to hormones."
"On my bloody dead body, my students will be exposed to the ravages of gender identity ideology," Darlingh once said during her speech.
MPS ends Darlingh
A group of protesters who attended the rally lobbied to have Darlingh removed from her position at the public school. According to the lawsuit, the protesters' campaign sparked an "investigation" into the district less than a week after their speech at the feminist rally.
According to the lawsuit, the Wisconsin Department of Public Instruction sent a letter to Darlingh stating that it had "opened an investigation to determine whether to initiate proceedings to revoke the teacher's license." [her]' for 'immoral behavior'.
The letter quotes her "statements, which she contradicts[s] ideology of gender identity ever invade [her] school building" they "do[es] don't think kids should have access to hormones or surgery," that "none of their students will ever go down socially or medically." [her] f—ing watch" and their other uses of the f-word."
The investigation led to Darlingh's supervisor and two Human Resources staff filing a misconduct proceeding against her. Darlingh was subsequently suspended and issued a "no trespassing order" to stay off school grounds.
According to the lawsuit, Darlingh attempted to negotiate a compromise with the District so she could return to her position. She offered to acknowledge "that her use of profanity went too far" and "to apologize to anyone who was offended by her use of profanity."
MPS officially fired the school counselor in September.
WILL's assistant attorney, Luke Berg, said the termination was "inexcusable" and "unconstitutional" and violated Darlingh's First Amendment rights.
WILL's lawsuit seeks reinstatement of Darlingh's position at Allen-Field Elementary School, back payments, damages for the constitutional violations, and an overturn of the ban.
Milwaukee Public Schools did not respond to a request for comment, Fox News Digital reported.
https://www.theblaze.com/news/radical-feminist-elementary-school-counselor-sues-district-for-firing-her-after-she-denounced-gender-identity-ideology-at-public-rally The 'radical feminist' elementary school counselor is suing the district for firing her after she denounced 'gender identity ideology' at a public rally