The revenge (or curse?) of the sandwich
Listen, I've always believed that sandwiches have special powers. They are a perfect meal in every sense of the word. And in episode six of Survivors 45, an overlooked sandwich from last week takes revenge this week to the detriment of one of the players. (Oh, and there's a merge too, no big deal.)
Before we get to the episode, subscribe to our For the Culture newsletter to find out everything you need to know Survivors and everything else in pop culture delivered to your inbox every Tuesday and Thursday.
This episode is at full speed from the first minute. Everyone on Lulu (except Katurah) is hunting for an immunity idol, but Bruce is lucky enough to find it (so to speak). Instead of actually finding an Immunity Idol, he finds a clue to an Immunity Idol's location and will lose his voice until he finds it. (Ugh.) As he searches, they see a boat, which can only mean one thing: the merger! Bruce must find this idol before they are forced to leave their beach. Like in a good Angelina Jolie thriller, Bruce searches desperately and finds the idol just in time. Katurah (if she finds out) will hate it because she hates Bruce.
Speaking of fusion, normally everyone coming together is a happy occasion, but this one is full of a little joy but more intrigue and revenge.
First things first: Austin is still mad about not getting the sandwich last week. (Honestly, I can relate.) Just to bring you up to speed, Austin, J., and Kellie were sent on a quest and given the choice between an amulet with limited power or a sandwich. J. and Kellie chose the amulet, so Austin reluctantly agreed. Now that they have merged, Austin wants J. (the leader of the sandwich drama) to come out.
Aside from Austin's culinary dispute with J. (see what I did there?), the merger also puts Kaleb and Emily in its sights. You see, they are the only surviving members of the ancient (and cursed) Lulu tribe. This means that both have to work hard to survive.
Kaleb goes first, quickly forming alliances with Reba and Belo and doing what he can to avoid the Lulu curse. It seems to work. Everyone likes Kaleb and seems to agree with his style of play. That is, everyone except Bruce. He sees Kaleb as a threat, especially since no one seems to be talking to Bruce. He sees Kaleb working on them and knows that Kaleb will eventually work to vote them all out (but always with that million dollar smile). Determined to take out Kaleb and regain the leadership, Bruce begins lobbying with some success.
Meanwhile, Emily and Bruce have their own things to figure out after the merger. See, on the first day, Emily called out Bruce for having an advantage in the game because he only played briefly last season but had to leave for medical reasons. The two made amends, but neither of them left it in a state where they supported each other. This dynamic is sure to be fun in the coming episodes.
While the rest of the tribe seems to be celebrating the dance craze (it's the little things, you know?), Emily and Kaleb are making plans. They know they have to start taking out members of the Reba tribe to get to the end, which means they have to target J., Julie and Dee. If they're able to do that, they'll be in good shape, but considering they both have the Lulu Curse hanging over them, that's certainly not guaranteed.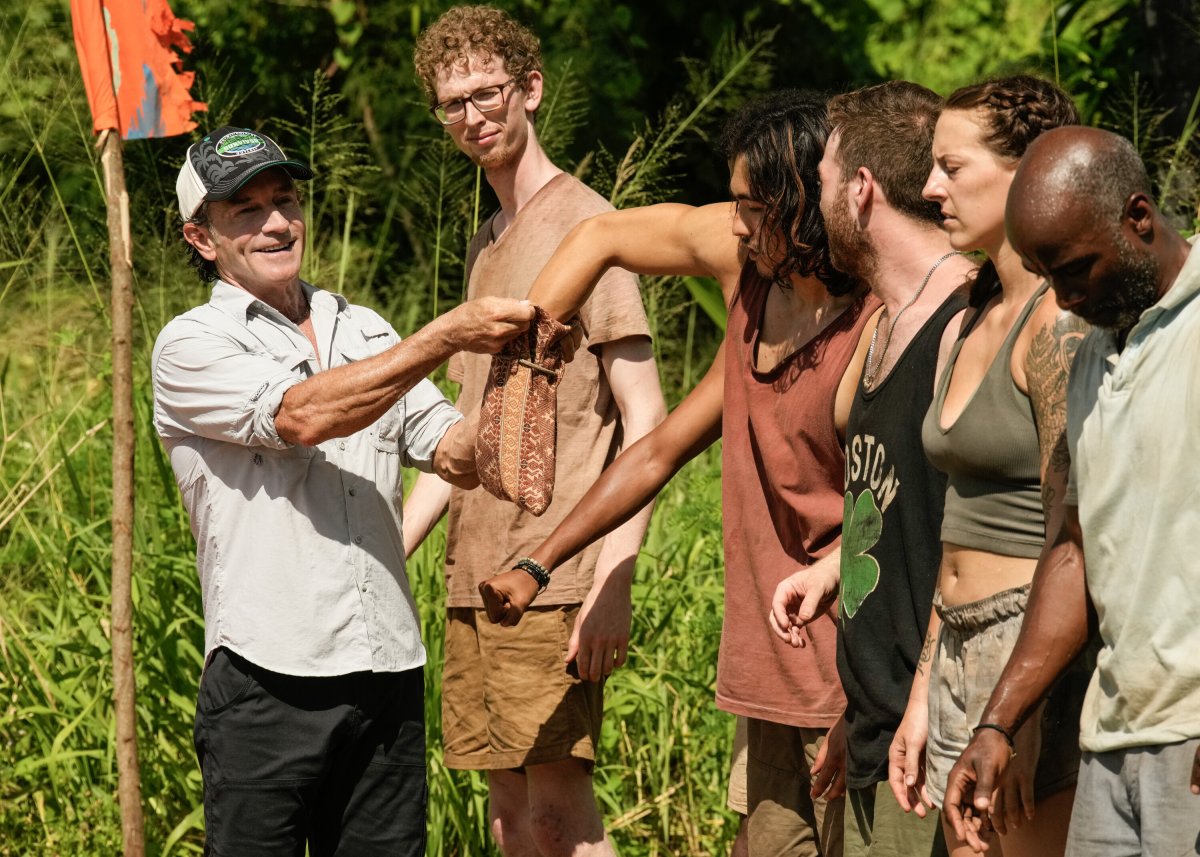 The challenge sees players compete on an obstacle course that ends with a puzzle. (Where's Carson Garrett from 44 when you need him, right?) They're split into two teams, Red and Blue, with Katurah no longer having a team because she chose the empty stone. She wisely chose the blue team because they won in the end. That means everyone on the red team is on the chopping block, which happens to include Emily and Kaleb from the original Lulu, not to mention Rebas J., so basically everyone they've all been talking about is voting. Funny how that works.
While we're talking about the challenge, listen to Jeff Probst's On firethe official one Survivors Podcast. This week he explains how they build these amazing structures for the challenges.
Back at camp, everyone agrees that Caleb has to go. It makes sense, and not just because of the Lulu curse. From the beginning of the merger he was babbling, which obviously left its mark on him. While Emily held back and did what she had to do to feel comfortable with the Reba and Belo members the entire time. Bruce leads the charge by voting out Kaleb, but then the tide changes to J. (Insert dramatic music.) Kaleb argues that Reba is too strong and they need to start chipping away at it, guessing, who eagerly takes part in the vote J. Off-Parade? Austin. (He really wanted that sandwich.)
Okay, so we're at Tribal Council and wow, this completely freaked me out. This means everyone is in it together for the first time, which is terribly exciting, but the kicker is that only the losing team of the challenge can be voted out. A showdown quickly ensues between Kaleb and J. Kaleb lays it all out, calls out the Lulu curse, and basically says that he and Emily are on the chopping block.
Emily says the game is now a one-on-one game and "if there's a Lulu curse, it ends tonight."
Then Caleb sets his sights on Reba. He says he might be a threat, but he's not a strategic threat (whatever that means). For him, the biggest threat comes from the Reba alliance of Julie, Dee and J., and J. has to go. This obviously causes J. to turn against Caleb. The two get back and forth shortly before the vote.
OK, this is where things get good. Before Jeff is about to read the votes, Kaleb plays his shot in the dark, to the excitement of everyone except J. and Emily. Everyone panics as Jeff unravels Kaleb's shot in the dark. Will he be safe and all votes for him will therefore be considered useless, or will he not be safe?! Well, he's… SAFE! And the crowd goes wild.
Oh, but wait, it gets better! So Jeff reads the votes and every single person voted for Kaleb (who couldn't vote because he was in the dark). Everyone is really amazed. They have to vote again, this time Kaleb will be fine, but Emily and J. are in the hot seat.
Everyone gets up and starts lobbying. J. advocates strongly for Emily and people assure her that they will vote for Emily. While Emily asks people to just not vote for her. (She couldn't care less who they vote for.) In that moment, it feels like Emily is going home, that damn Lulu curse. Personally I'm desperate, Emily is my girl, she can't go home now.
They vote again. When Jeff reads the votes, it turns out that all of those assurances people made to J. were actually blind trivialities. J. receives the most votes. (Phew, Emily is fine, so I'm in good shape again mentally. This also shows how smart Emily is playing. She rightly knew that she had to keep even soft alliances in play for a moment like this.)
What an episode! The fear was simply exaggerated! On the bright side, I can at least discuss something with my therapist this week.
Who needs to be sniffed?
While I really liked Kaleb's luck in this episode, I feel like he's on his way out. He is too vocal, which I think will be his downfall.
Who should be the only one? Survivors?
Emily is still in the lead to win for me, but Austin's sandwich revenge was delicious television (literally).
Watch "Survivor" every Wednesday on CBS or anytime on Paramount+ to see my reaction to each episode this season.
Unusual knowledge
Newsweek strives to challenge conventional wisdom and find connections in the search for common ground.
Newsweek strives to challenge conventional wisdom and find connections in the search for common ground.