The Santa Clause 2 Cast and Character Guide
With its original film having monumental success, The Santa Clause 2 had some big shoes to fill. The movie was released eight years after The Santa Clause in 2002. However, scenes were jam-packed with just as many elves and presents. To make matters better, the same lead cast members like Tim Allen as Santa Clause, David Krumholtz as Bernard, and Eric Lloyd as Charlie all reprised their roles, as well as others.
The story of The Santa Clause 2 is full of excitement. When Scott Calvin, who is also Santa Clause, finds out he has to marry a true love before midnight on Christmas Eve, he and Comet journey to the town where his ex-wife Laura and son Charlie live. As time dwindles down, Scott's "de-Santafication" begins, and he starts to lose his beard, belly, and white hair. However, transitioning from Santa back to the original way he looked makes it easier to date women as he tries to find his true love.
Since Scott is away from the North Pole, the Head Elf Bernard and Curtis, who has been an Elf for 900 years, devise a plan to clone Santa Clause so that everything runs smoothly and is ready in time for Christmas. This didn't go as well as they had hoped… The cloned Santa is a plastic remake without integrity or human emotion. He's essentially clueless to what he is supposed to do as Santa Clause. This causes problems for the North Pole, but Scott has a bigger problem on his hands because if he doesn't get married by Christmas, he can no longer be Santa Clause.
In an effort to also spend time with his son Charlie and get him off of the naughty list, Scott inadvertently bonds with Charlie's school Principal, Mrs. Newman. Luckily, this helps him solidify a relationship that ends up leading to true love. Charlie gets off the naughty list, the Elves make everything right in the North Pole, and Scott remains as Santa with his new "clause", the Mrs.
Tim Allen as Scott / Santa Clause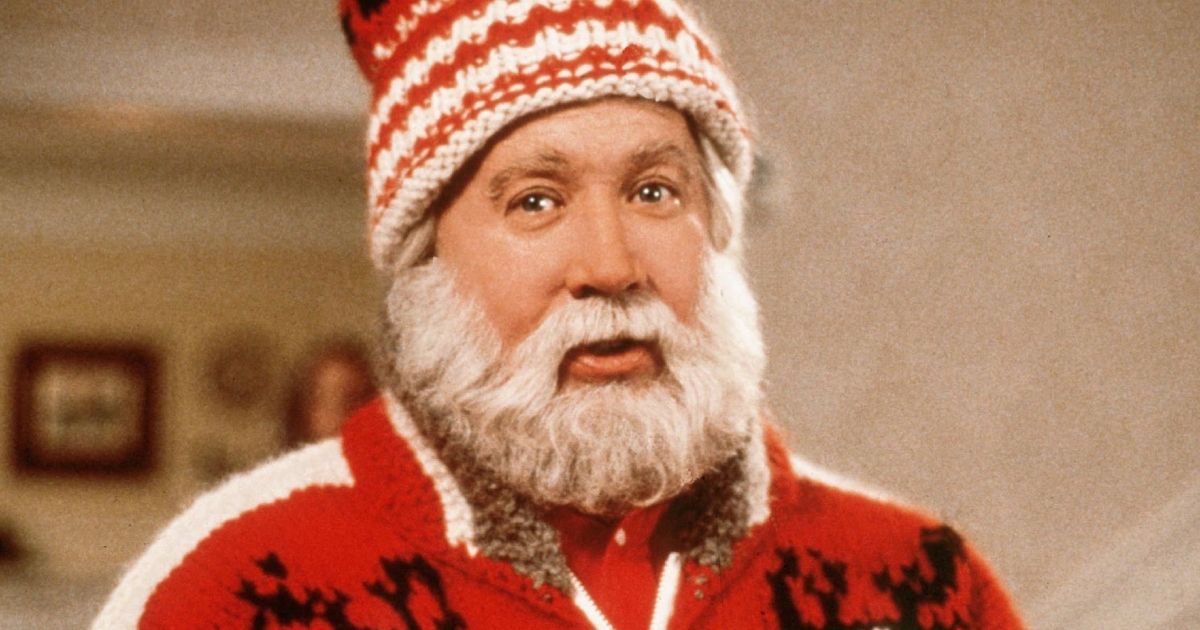 With every Christmas comes the magic of the mystery, and Santa Clause, played by Tim Allen, brings that part of the holiday alive. He only reveals who he truly is to his core family, but when he's spotted out in public, kids always tell him what they want for Christmas.
In The Santa Clause 2, Santa Clause has to marry his one true love before midnight on Christmas Eve. He chooses to go to the town he raised Charlie, his son, in hopes of finding romance. When Charlie gets in trouble by Principal Newman, his dad goes to his school to make things right. At the same time, Santa begins losing all the qualities that make him Santa Clause. Though he at first clashes with Principal Newman, making witty and sarcastic jokes, he eventually lands her heart. The two end up getting engaged in front of the whole North Pole and marry just before the clock ticks twelve. He also ends up defeating the cloned Santa before he can ruin Christmas for everyone, making him the heroine of his own story.
Related: Best A Christmas Carol Movie Adaptations, Ranked
Though The Santa Clause movies have kept Tim Allen busy, he's also done work in other films and television. Allen spent eight seasons as the lead actor in Home Improvement and most recently led in the show Last Man Standing from 2011-2021. Some of his movies include the voice of Buzz Lightyear in Toy Story and Christmas with the Kranks.
Elizabeth Mitchell as Principal Newman / Mrs. Clause
When Scott's son Charlie is caught vandalizing the school gymnasium, Principal Newman, played by Elizabeth Mitchell, becomes responsible for reprimanding him. She allows him community service instead of expulsion, but still clashes with Charlie as his father, Scott becomes closer to her in an attempt to find a suitable woman to love. When Scott asks Principal Newman out on a date, he woos her with all the holiday cheer including magical mistletoes, sleigh rides, hot cocoa, and her favorite present she had ever received: a babydoll.
Though the two would take some time to get to know each other, Principal Newman falls head over heels for Scott. When he asks her for her hand in marriage, after disclosing his identity as Santa Clause, she agrees. The two then marry and she transitions into Mrs. Clause just in time for Christmas.
Though The Santa Clause films are a standout performance for Elizabeth Mitchell she also starred on the hit show, Lost for four seasons where she also received an Emmy nomination for her role as the fertility doctor, Juliet Burke. Mitchell has also appeared in shows like ER as well as the science fiction series The Expanse. Her most recent work is in the Netflix show, Outer Banks which has been renewed for a fourth upcoming season.
Eric Lloyd as Charlie
Being Santa's son, one would think there would be a lot to live up to. However, Charlie, played by Eric Lloyd, and his father Scott have a tender-hearted relationship. Charlie has even kept the snow globe that his dad gifted him in the first movie. When you shake it, it allows Scott to be anywhere where Charlie is.
One thing that his dad, Santa Clause, didn't expect was for Charlie to be on the naughty list. He had vandalized school property and mocked Principal Newman numerous times, knocking him off of the nice list. He, at first, doesn't like the Principal for chastising him, but when he sees how much his dad has fallen for her, he watches in awe as they become engaged. Charlie also acts as a role model to his step-sister, Lucy, highlighting him in a noble and kind way.
Eric Lloyd may best be known for his role in The Santa Clause films, but he has also worked in quite a few shows and movies. He's taken roles in series like The Wonder Years in 1989, he was a voice actor in the animated series, The Oz Kids, and featured on the show ER. Some of his films include Batman & Robin in 1997 as well as the voice of Blanky on The Brave Little Toaster Goes to Mars.
David Krumholtz as Bernard The Head Elf
As The Head Elf in charge of the North Pole, Bernard, played by David Krumholtz, had quite the responsibility. He's been with Scott as Santa Clause since his inception during the first movie, The Santa Clause. He has to help break the news to Santa about needing to become married and waits until twenty-eight days before the deadline because he fears his response.
Bernard is everything that Santa needs. He runs the shop where the Elves work and helps him with things like making sure toys are made right, the cocoa is tempered properly, and that the fake Santa doesn't ruin Christmas. Though his idea to clone Santa didn't turn out as planned, Bernard is able to get Santa back to the North Pole with his Mrs. Clause just before it's time to deliver presents.
David Krumholtz has kept busy in the film industry since his first role in the 1993 movie, Life With Mikey. He most prominently is known for his role in the hit series, Numb3ers. Other works of Krumholtz include 10 Things I Hate About You, Harold & Kumar Go to White Castle, as well as a voice actor in the animated film, Sausage Party.
Spencer Breslin as Curtis The Elf
As Santa's Elf for 900 years, Curtis, played by Spencer Breslin, knows all the ins and outs of the North Pole. From keeping the toy shop in tip-top shape to making sure the cloned Santa doesn't destroy the nice and naughty list, Curtis does it all. He and the Head Elf, Bernard, are always watching out for Santa's best interest and when Curtis had to break the news to Santa about Charlie on the naughty list, he was stressed. Curtis also follows Santa when he has to go find a wife. He assures that everything is going to happen on time and no mistakes are made, especially towards the end of the film when the cloned Santa tries to take control of the North Pole village.
Though he was younger in The Santa Clause films, Spencer Breslin has had quite the career. Having started acting in the 1997 series, Soul Man, Breslin continued in numerous films and series. Some of his works include Disney's The Kid, where he earned the Young Artists Award for Best Performance in a Feature Film by a Young Actor Age Ten or Under. Breslin went on to work in movies like Raising Helen, The Princess Diaries 2: Royal Engagement, The Happening, and more.
Danielle Woodman as Abby The Elf
As one of the youngest, yet oldest Elves, Abby, played by Danielle Woodman, always makes sure that Santa's warm with her secret hot chocolate recipe. When Curtis and Bernard break the news to Santa about Charlie being on the naughty list and Santa needing to get married, Abby offers up an extra special cup of hot chocolate, making Santa aware that something is not right in the village, as she only makes that kind when something is off.
Related: Best Christmas Movies of the 2000s
Though Danielle Woodman hasn't done much work in film or television, her role in The Santa Clause films portrays her as a class act. Her other work includes the film Connie and Carla, a film about two undercover drag queens.
Wendy Crewson as Laura
Laura, played by Wendy Crewson, is Scott's ex-wife and mother to both Charlie and Lucy. She's married to Neil, and they both care for the two kids while Scott is at the North Pole. Laura and Scott have an understanding relationship after she finally believed he was Santa in the first The Santa Clause movie. At first, she was hesitant to allow Charlie to be around Scott when he was going through his transformation into Santa, but nothing could break apart the relationship he has with his son. Laura and Scott are on such good terms, she even supports him finding a romantic partner, as she does not want to see him not be Santa Clause anymore.
Wendy Crewson has appeared in numerous films and television series. She began her acting career in the Canadian television show, War Brides. Crewson also received an ACTRA nomination for Outstanding Female Performance in 1980 for her role as Kate in her debut series. Crewson would go on to work in nearly 50 films like Air Force One, The Covenant, and the popular romantic comedy, The Vow.
Judge Reinhold as Neil
Neil, played by Judge Reinhold, is the husband of Laura and father to Lucy. He is also the stepfather to Charlie and a very good one as well. Though he's a therapist and often uses his work on friends and family, he means well. He clashes with Scott frequently because they are two very different people, but it is all in good fun. Neil is also aware that Scott is Santa Clause, though it took a bit of convincing.
Having begun his acting career in 1979, Judge Reinhold has kept himself busy with film and television. His acting debut was in the show, The New Adventures of Wonder Woman. Reinhold would go on to work in films like Running Scared, Over Her Dead Body, and the three Beverly Hills Cops Films. His next film is the action comedy sequel, Beverly Hills Cop: Axel Foley. The movie is currently filming however, the release date is to be determined.
Liliana Mumy as Lucy
Lucy, played by Liliana Mumy, is Laura and Neil's 6-year-old daughter who also refers to Scott as her uncle. She gets along very well with the reindeer, and when Scott comes to visit, she is always smitten with him. Lucy is the only one in the family circle that doesn't know Scott is Santa, but she questions him frequently due to the fact that he rode in on a reindeer and has a white beard and a big belly. Scott may have denied it at first, but on the night of Christmas when he delivers her presents, Charlie and Santa reveal to her who he really is in a very magical moment.
Though The Santa Clause 2 would be Liliana Mumy's film debut, she went on to work in other popular movies like Cheaper by the Dozen in 2003 and Nickelodeon's animated adventure comedy, Barnyard. Her features on television include My Wife and Kids, The Twilight Zone, and Lilo & Stitch: The Series.
The Santa Clause 2 was followed by its second sequel, The Santa Clause 3: The Escape Clause. Tim Allen and essentially the entire cast appeared in the third film, making it a true trilogy. Though watching the films is more popular during the holiday season, the three movies have great success throughout the entire year, as they are available to stream on multiple platforms. There is no talk of a fourth film however, in 2022 Disney+ released The Santa Clauses, which is about Santa Clause and Mrs. Clause after they've married.