The Senate passes the first gun bill in 28 years, but it does less than the 1994 law
The Senate overcame a decades-long legislative backlog by passing legislation to reduce gun violence, but left out a key provision the last time Congress considered firearm safety.
The Senate passed the Bipartisan Safer Communities Act Thursday night by a bipartisan vote of 65:33. Spurred by the Uvalde, Texas, elementary school shooting and other recent massacres, legislation seeks to keep guns away from dangerous individuals. However, gun control advocates pointed out that the bill does not reintroduce the 1994 ban on semi-automatic military rifles, which was credited with reducing firearm-related violence.
Fifteen Republican senators joined the Democrats in voting for legislation that allowed it to erase a legislative filibuster in the evenly divided chamber.
"That's the sweet spot," said Republican Mitch McConnell of Kentucky, the Senate Minority Leader.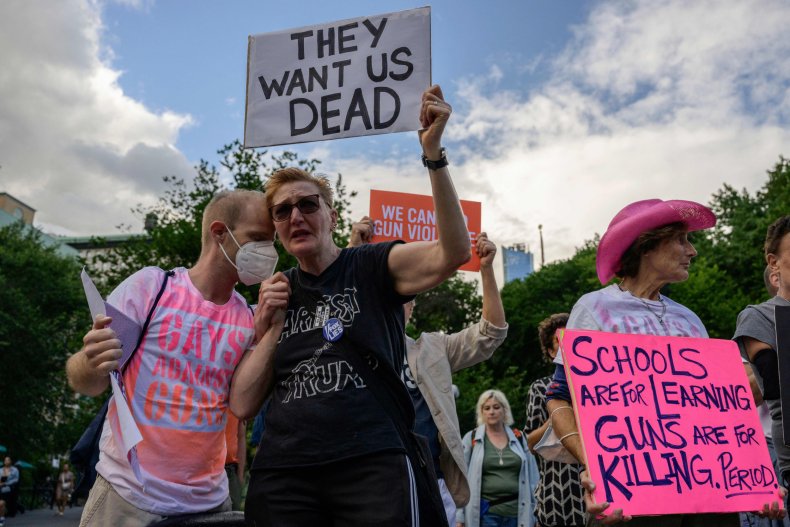 McConnell, rated A+ by the National Rifle Association, said the bill would make communities and children safer at school without "putting a finger on the Second Amendment for law-abiding citizens."
The bill would create new means for states to administer "red flag" laws that allow courts to keep guns away from people deemed a danger to themselves or others. It introduces new penalties for "straw buying" while strengthening laws aimed at protecting firearms from domestic abusers and gun dealers.
In addition, the bill includes new funding for mental health and school safety. It also improves background checks for potential gun buyers under the age of 21, which requires an examination of their youth and mental health records.
Gun control advocacy group Everytown for Gun Safety announced the law as a "massive victory" in a statement following its passage. Senate Majority Leader Chuck Schumer also noted that just a few weeks ago the bill seemed "impossible."
But in order to get Republican support for the law, Democrats dropped any attempt to ban military-style rifles.
The last time Congress passed gun control legislation was in 1993, when then-President Bill Clinton, with bipartisan support, signed legislation banning AR-15s and other so-called assault weapons. The 1994 ban expired in 2004 under then-President George W. Bush.
"The common denominator in so many mass shootings today is offensive weapons," California Senator Dianne Feinstein said in a Senate speech Thursday.
She pointed out that the youngest mass shooters could not buy beer or cigarettes, but could buy military-style weapons. She added that state-licensed gun dealers are not allowed to sell or supply handguns to buyers under the age of 21.
"However, these common sense protections do not apply to the purchase of offensive weapons," she said. "This inequality has actually cost lives. It's simple logic: if you can't buy beer, you shouldn't be able to buy an assault weapon. If you can't buy a pistol, you shouldn't be able to buy an AR-15."
Research shows that banning military-style rifles has reduced violence. A 2019 Stanford Law School study found that there were 33 percent more mass shootings and 65 percent more related deaths in the decade before the ban.
However, AR-15 and other similar weapons have grown in popularity since the ban expired. According to a 2020 estimate by the National Shooting Sports Foundation, there are nearly 20 million military or modern sporting rifles in circulation.
news week turned to Everytown for Gun Safety.
https://www.newsweek.com/senate-passes-first-gun-bill-28-years-it-does-less-1994-law-1718740 The Senate passes the first gun bill in 28 years, but it does less than the 1994 law