The Stop the Steal group has been fined for lack of evidence in a voter fraud case
The Washington state Supreme Court has fined an "election integrity" group and its attorney more than $28,000 for providing scant evidence in their lawsuit alleging state officials had illegally registered non-citizens admitted to the election.
Washington Attorney General Bob Ferguson announced Wednesday that his office had persuaded the court to impose sanctions for what he called an attack on democracy and the legal system. The fines are the latest setback for the "stop the steal" movement, which has been fueled by former President Donald Trump's repeatedly debunked claims that widespread voter fraud marred the 2020 presidential election.
The Washington Supreme Court ordered the nonprofit Washington Election Integrity Coalition United to pay $9,588.80 and its attorney Virginia Shogren to pay $18,795.90.
The sanctions stem from a petition Shogren filed on behalf of the group with the state Supreme Court in October 2021, alleging that Gov. Jay Inslee and other officials had attempted to actively register non-citizens to vote. To support their claims, the group's petition includes an affidavit that describes a statement by a retired State Department of Licensing employee who said she saw department employees registering non-citizens to vote.
The state Supreme Court dismissed the group's petition on the grounds that it "does not provide compelling evidence of voter fraud based on non-citizen registration."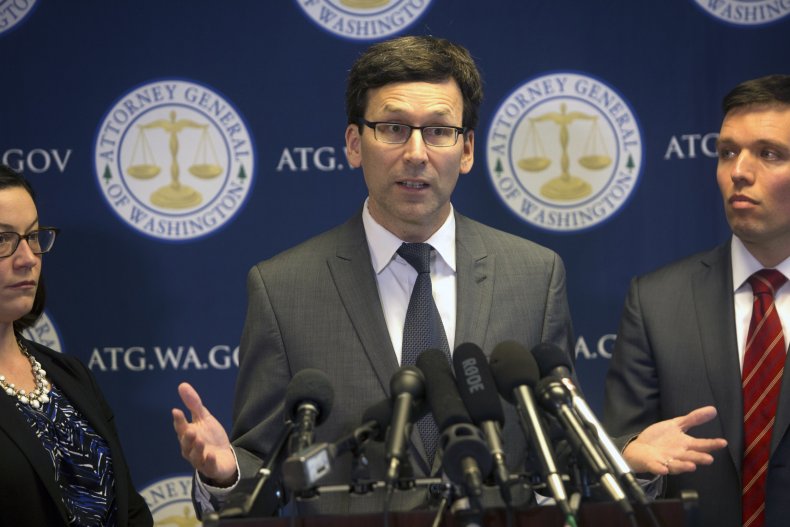 "Lawyers and organizations that attack our democracy and abuse our legal system must be held accountable," Ferguson said in a statement. "We will continue to fight to protect our elections from these baseless lawsuits that are promoting 'the big lie.'"
Ferguson, a Democrat, also said he would file a lawyer's lawsuit against shogren.
"It's almost as if they want to discourage any case that shines a bright light on one of the fatal flaws in our electoral system," the Washington Election Integrity Coalition United wrote in a statement on its website in response to the sanctions.
The group, which is based outside of Seattle, said in the statement that it "provided summaries of reports showing there were tens of thousands of non-citizens registered in multiple counties." In addition, the group has filed separate lawsuits in eight counties.
After Democrat Joe Biden won the 2020 presidential election, auditors and courts (including the U.S. Supreme Court) across the country dismissed Trump's insistence that the vote against him was "fixed." Some attorneys who have pursued these claims elsewhere have faced disciplinary action, most notably Trump's ally Sidney Powell.
"Any time the president makes these kinds of flamboyant remarks designed only to incite the Republican Party base and raise doubts about the outcome of the election, it undermines our democracy," Kim Wyman, Washington's then-Republican state secretary, told Seattles KING TV in November 2020.
Loren Culp, the 2020 failed Republican gubernatorial candidate for Washington state, filed a lawsuit alleging widespread irregularities and fraud. However, Culp's attorney withdrew the challenge after Ferguson's office threatened sanctions for pursuing what it called a "baseless" lawsuit.
news week has reached out to Shogren and the Washington Election Integrity Coalition United for comment.
https://www.newsweek.com/stop-steal-group-fined-over-lack-evidence-voter-fraud-lawsuit-1712542 The Stop the Steal group has been fined for lack of evidence in a voter fraud case