The story of the Jewish lawyer who defended Nazi freedom of speech
It was a call he hadn't expected, let alone wanted, on April 27, 1977. At the time, David Goldberger was an attorney for the Illinois section of the American Civil Liberties Union (ACLU) and developed a broad expertise in people's rights to participate in protests over private property.
He had helped the Communist Party fight McCarthy-era statutes to vote in Illinois and anti-Vietnam War activists fight the endless legal roadblocks the city of Chicago put up around protesters to prevent them from congregating in the city's public spaces. In short, he was a rising First Amendment star and defender.
"The ACLU represents both sides and not the sides that we prefer," Goldberger said news week. "It's the best way to educate the public about the importance of fairness, equality and neutral principles of law."
The call, which would forever change Goldberger's life, test his belief in free speech and lead to a historic First Amendment ruling by the US Supreme Court, came from Frank Collin, leader of the Chicago-based National Socialist Party of America (NSPA). ). "He wanted me to represent him because he had just been sued by the village of Skokie to seek an injunction to prevent him from holding a village meeting the following Saturday," Goldberger said. "It was Tuesday evening and the hearing was the next morning."
What Goldberger told Collin next was just as important as what he didn't say. "I just saw it as another case," Goldberger said, explaining why he agreed to represent the neo-Nazi leader. "That's what we do. We believe in the principles of the First Amendment. end of discussion."
More remarkable was what he didn't tell Collin. As it turned out, Goldberger was a Jew. And before long he was defending the right of 25 to 50 NSPA members to appear in Nazi uniforms with swastika armbands, Nazi banners and placards. To make matters worse, the village the Nazis chose for their rally was calculated – and cruel. "At the hearing the next morning, I learned that Skokie was then 40 percent Jewish and that there was a significant percentage of Holocaust survivors," Goldberger said.
The blockade of the neo-Nazi demonstration was not the first reaction of the city administration. "They thought the best thing to do was ignore them, let the demonstration go and forget about them," Goldberger said. "But Holocaust survivors and a very significant percentage of Jews living in Skokie said, 'No, we did that in Germany, we won't do it here. We must oppose this and do everything we can to prevent it from happening.'"
Goldberger sympathized with the residents of Skokie. "They haven't really bothered with the legal differences between what's going on in Germany and what's going on in Skokie," he said. "It was a distinction without distinction."
Skokie wanted what is known in law as prior restraint. "While any attempt to retrospectively censor a speaker is likely to violate the First Amendment, preventing the speech in advance is more likely to violate the Constitution, even if the expected speech is deeply offensive and hateful," Goldberger stated. Ironically, he added, Skokie's legal maneuvering resembled the efforts of Southern segregationists to stop civil rights marches in the 1960s.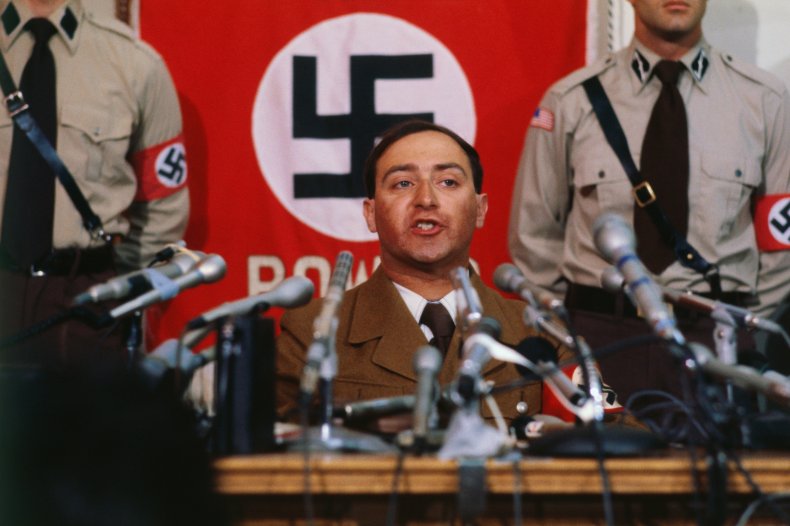 The Illinois hearing lasted a full day, with Skokie presenting his case first. "One of his key witnesses was Holocaust survivor and community leader Sol Goldstein, who testified that while a violent response against the Nazis was not planned, he was unsure whether he or other bystanders would be able to refrain from violence if the Nazis followed Skokie would come." Goldberger said.
"Later in the hearing, Nazi leader Frank Collin responded by saying that his organization was planning a peaceful gathering, that his supporters would wear uniforms, and that they would carry signs and banners. There should be no speeches and no guns," he said.
The hearing ended, and that's when the legal deadlock began. "The judge issued an injunction and we immediately appealed to the Illinois Court of Appeals and they complied. So we filed another motion with the Illinois Supreme Court, and again nothing happened," Goldberger said. "The following Saturday came and went and still no complaint from the court.
Though it was rare, Goldberger knew a way to get a summary judgment from the US Supreme Court. He argued that the Illinois courts' delays amounted to a long-term hold-up on the speech. The Supreme Court agreed, quickly taking up the case and ordering the Illinois courts to stop procrastinating.
Goldberg believed the ruling would help promote a better understanding of the principles of the First Amendment. He also thought the growing backlash would subside. He was wrong on both counts.
The case dragged on for months as Skokie passed a series of ordinances designed to block neo-Nazis' right to assemble. Attacks on the ACLU became increasingly violent, with the Chicago office besieged by calls objecting to their efforts. Thousands of members resigned nationwide. "Nonetheless, the Illinois ACLU board of directors responded by voting for our continued representation of the Nazis," Goldberger said. "The only objection came from a longtime board member whose wife was a Holocaust survivor."
After a nearly 18-month court battle, the neo-Nazis won the right to march through Skokie, but the march never took place. After negotiations with the Justice Department, the neo-Nazi party leadership decided to hold a demonstration in downtown Chicago.
During the ordeal, Goldberger received requests from synagogues to explain the ACLU's actions. "We knew we had to educate the public about the First Amendment and how it applies to everyone, no matter how much you hate them," he recalled.
He faced a barrage of criticism, mostly from fellow Jews. But it wasn't all anger and anger. "I remember a woman with a heavy German accent speaking in a clear, loud voice at the back of a room. And she said, 'I'm a Holocaust survivor, and I think you're doing the right thing, because I want to know who my enemies are. I want to be able to see her. I don't want them driven underground.'"
Goldberger sympathized with many of his Jewish critics, but was driven to defend the neo-Nazis precisely because of his background. "Part of the core of my values—that everyone should be treated fairly and equally before the law—can be traced back to my own upbringing as a Jew. That Jews have had a rough time throughout history and have been a constant target of hate and abuse, and the only defense against that hate and abuse is laws that apply to everyone," Goldberger said. "So basically I was against it resisted and made no secret of the fact that I am a Jew."
There were other niches of support. A group of people in the area got together and placed a full-page ad in one of Chicago's newspapers, Goldberger said. "It said the ACLU defends the First Amendment, not the Nazis."
Other good things have blossomed from his fight for free speech. "After the case was closed, Skokie residents and members of the wider Jewish community built quite an impressive Holocaust museum in the city."
But there was also a high price to pay. Threatened by both friends and enemies, Goldberger also struggled in his closest social circles. "It was our shared experience that even our friends would at least question our actions, if not attack them," said Goldberger The New York Times. "It became a very isolated existence that could easily have led to a great deal of bitterness."
He also faced attacks from colleagues in the legal community. "Philip Kurland, a well-known constitutional scholar at the University of Chicago, who taught Mr. Goldberger [a] law student publicly disagreed with the court decisions to protect the rights of the Nazis," said the Times reported. "I am disturbed by a saying once attributed to Huey Long," Mr. Kurland told an audience at the university. "'When fascism comes to this country, it will come in the name of freedom.'"
"That was worrying," Goldberger said Times. "Part of it forced me to face my adulthood. I wasn't a student anymore." But what's even more disturbing, he said, is that his old professor "felt compelled to quote Huey Long at all, unlike Thomas Jefferson".
Goldberger eventually moved out of Illinois with his family and went on to serve as lead counsel on several other Supreme Court cases, all of which he won.
Looking back, he has no regrets. "I firmly believe that freedom of speech is at the core of democracy and that in general the cure for bad speech is more speech," he said news week. "That is the basis of the First Amendment. The alternative is to let the government decide who gets to talk and what to say."
Our colleges and K-12 schools—and our government officials, journalists, and pundits—should make this free speech hero a household name. One of our nation's founding heroes would agree. "If freedom of speech is taken away, we may be led mute and dumb, like sheep to the slaughter," wrote George Washington.
https://www.newsweek.com/story-jewish-lawyer-who-defended-free-speech-rights-nazis-1771393 The story of the Jewish lawyer who defended Nazi freedom of speech