The struggle for free speech and racial equality is heating up on Wisconsin university campuses
The struggle for racial justice and freedom of expression continues University campus in Wisconsin It's intensifying, reflecting a national struggle as Republicans work to close campus diversity offices and require students and faculty to treat conservative speakers with respect.
Just in the last two weeks, the state's top Republican announced a push to scrap the University of Wisconsin System's diversity efforts — a move the Democratic governor called ridiculous. A UW-Madison student posted racial slurs on the internet, prompting widespread protests but no announced disciplinary action. And a state medical school canceled a diversity symposium with US Republican Senator Ron Johnson, fearing the discussion would be too disruptive, prompting expressions of bias from Conservatives.
With that in mind, Republican lawmakers will hold an invite-only hearing Thursday to discuss "how the lack of free speech and intellectual diversity on college campuses affects the quality of higher education." Speakers include John Sailer, political director of the National Association of Scholars, a conservative group that opposes diversity policies, and Tim Higgins, a former UW Regent appointed by former Republican Gov. Scott Walker.
"I think people are talking about viewpoint diversity being just as important or even more important than other types of diversity," said Republican Rep. David Murphy, chair of the State Assembly College Committee, which will chair the hearing. "And I don't think diversity efforts show benefits."
Paulette Granberry Russell, president of the National Association of Diversity Officers in Higher Education, said it was disheartening to see a free speech hearing with invite-only speakers. She said the GOP tries to portray diversity offices as giving minorities an unfair advantage when they're just trying to help everyone understand a wide range of perspectives.
WISCONSIN GOV. EVERS' budget could result in an increase in tuition fees at the major state college
"In contrast to the opponents of these offices, our work also includes protecting freedom of expression," she said.
Republicans argue that diversity bureaus designed to help minorities navigate science only exacerbate racial tensions. And the GOP has claimed for years that colleges don't give conservative speakers the same opportunities to speak on campus that liberals do.
A survey involving 13 four-year schools released in February by the UW System found that nearly half of the students who responded have at least some agreement that school leadership should exclude controversial speakers when some students took the message as feel offensive.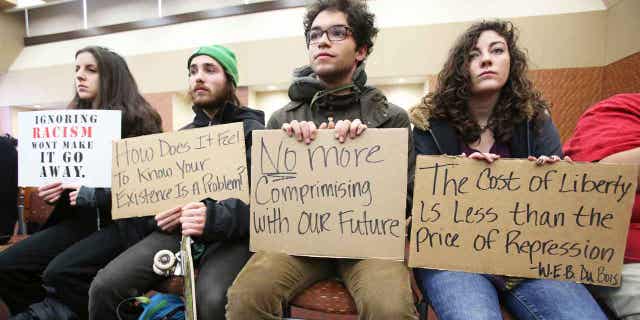 Issues have come to the fore this month, beginning with assembly speaker Robin Vos announcing last week that he wanted to cut funding to campus diversity offices. He called the bureaus a waste of taxpayers' money and said they were exacerbating racial divides.
Democratic Governor Tony Evers has called Vos' proposal "ridiculous," but Vos's plan is consistent with a statewide push by Republicans to eliminate campus diversity offices.
The governor of Wisconsin will release the 2023-25 ​​executive budget
Republican lawmakers in at least a dozen states have proposed more than 30 diversity, equity and inclusion efforts in higher education using bill-tracking software Plural, according to an analysis by The Associated Press. Some proposals would ban DEI offices or their funding. Others would prohibit administrators from considering diversity as part of the hiring or admissions process.
At about the same time as Vos's announcement, a white UW-Madison student posted a racist smear online saying she wanted to see some black people enslaved so she could abuse them. The post sparked two days of protests on Wisconsin's flagship campus, with students calling for the student's deportation. University officials condemned the publication but said they could not act against freedom of expression.
Meanwhile, officials at the Medical College of Wisconsin decided to cancel Friday's campus symposium, which will address "the uses and abuses" of federally sponsored diversity programs on college campuses and in medical, science and engineering education.
The college's president, John Raymond Sr., sent a message to students and staff on May 4 saying he had canceled the symposium because discussions about the event had become "unacceptably disruptive." Raymond released the message on the same day as one of the UW-Madison protests.
Johnson was scheduled to attend the symposium along with Sailer, who released a copy of a letter the faculty sent to Raymond on April 30, saying they opposed the "pseudo-academic and potentially harmful meeting."
CLICK HERE TO GET THE FOX NEWS APP
"Discourses that are politically motivated and not based on evidence do not contribute to the MCW learning community and leave our learners with a sense of insecurity," the letter reads.
Sailer tweeted that the letter was a "textbook heckler veto". Johnson's office said the symposium will now be held online, but the senator said in a statement that he hopes to meet with medical school leaders to discuss why they feel they can't host the event.