The True Story of Harry Haft and HBO's "The Survivor"
After premiering at the 2021 Toronto International Film Festival The survivor has finally arrived on HBO and HBO Max. The gripping film is based on the incredible true story of Harry Haft, a Polish Holocaust survivor who was forced to box against fellow prisoners in order to survive.
hell or flood's Ben Foster, takes on the role of Haft with co-starring phantom threadby Vicky Krieps no time to dieis Billy Magnussen, jackieby Peter Sarsgaard Latin story for idiots Star John Leguizamo and it's always sunny in Philadelphiais Danny DeVito.
The survivor Premieres at 8:00 p.m. ET on Wednesday, April 27 – Yom HaShoah, Israel's Holocaust Remembrance Day – on HBO and is available to stream on HBO Max.
news week has everything you need to know about the real Harry Haft and the true story behind it The survivor. Warning: There are some spoilers below.
The True Story of Harry Haft and HBO The survivor
The survivor on HBO and HBO Max directed by Oscar winner Barry Levinson is an absolutely true story.
Based on the book Harry Haft: Survivor of Auschwitz, Challenger of Rocky Marciano by Alan Scott, the biopic tells the heartbreaking and inspiring true story of Haft.
Born on July 28, 1925 in Bełchatów, Poland, Haft was only 14 years old when he witnessed firsthand the German invasion and occupation of Poland in September 1939.
In 1943, during his time in the Auschwitz concentration camp in Poland, he not only faced the unspeakable horrors of the Holocaust, but also caught the attention of an SS officer (played by Billy Magnussen) and had to fight his fellow prisoners for the amusement of his captors, or be killed on the spot.
Worse, if Haft won the fight his opponent would be killed, if he lost he would be killed.
When the Soviet Red Army advanced on Nazi concentration camps in January 1945, thousands of their surviving inmates were sent west to Germany on the infamous death marches.
Notably, Haft managed to escape the death marches in April 1945 and go on the run.
As detailed in The mirror, Haft killed a German soldier to wear his uniform to survive and moved from village to village. He even killed an elderly couple who let him stay on their farm for fear they had discovered his true identity.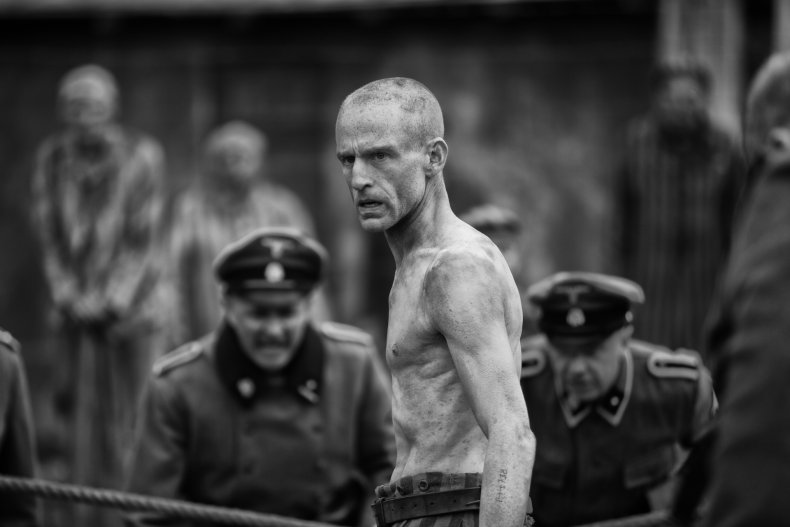 As recorded The survivor HBO Max synopsis, Haft's "will to survive" was driven by his desire to reunite with his childhood sweetheart, Leah (Dar Zuzovsky).
After the war ended in September 1945, Haft sought refuge in a US Army Displaced Persons' Camp in occupied Germany.
Heft later became a professional boxer in post-war Germany, winning the "Amateur Jewish Heavyweight Championship" in January 1947, an event organized by the US Army.
At just 22, Haft emigrated to the United States, where he competed as a light heavyweight boxer, hoping Leah would recognize his name. According to Box-Rec stats, his last fight was in July 1949 against Rocky Marciano, but he was unfortunately defeated and suffered a KO in the first half of the third round. Haft retired after this fight.
He married Miriam Wofsoniker (Vicky Krieps) in November 1949 and had three children.
In April 2007, he was inducted into the National Jewish Sports Hall of Fame.
Sadly, Haft died of cancer in November 2007. At the time of his death he was 82 years old.
His eldest son Alan Scott published his father's story in 2006 and it was adapted into a graphic novel by Reinhard Kleist, which won the 2014 Ignatz Prize for Outstanding Graphic Novel.
Then, in 2018, Hollywood director Barry Levinson announced that he would be adapting Scott and Haft's story, with Ben Foster playing the role of Haft.
The survivor focuses primarily on Haft's struggle in the post-war world as he tries to battle his inner demons and his memories of the concentration camps that haunt him forever.
To prepare for the role of Haft, Foster lost over 60 pounds to represent Haft's time in Auschwitz and gained 50 to tell his post-war story.
He told TV Insider: "It's such a scope, we're following three decades in the life of one man. Luckily we shot the ring in the right order."
The survivor Premieres Wednesday, April 27 at 8 p.m. ET on HBO and HBO Max.
https://www.newsweek.com/survivor-hbo-who-harry-haft-boxer-auschwitz-true-story-1701397 The True Story of Harry Haft and HBO's "The Survivor"