The Ukrainian soldier faces the reality of the war with Russia
The mission of the Ukrainian people has not escaped Fedir Sandor, a Ukrainian professor-turned-soldier.
He joined the war effort the day it began, February 24, 2022, and left the confines of his classroom at Uzhhorod National University in the Transcarpathian region of western Ukraine to defend his country against Russian invasion.
Sandor, who is half-Hungarian, spoke to him first news week in May 2022, when images of him lecturing from trenches went viral.
"In war, in the trenches, you assess the situation more realistically," Sandor said recently news week by telegram. "Since we are fighting a 140 million monster, it is logical that the war will last longer. We talk about it all the time and understand that we have to be patient."
Ukraine's demise was predicted by many to be a matter of days or weeks, as Russian troops attacked the capital, Kiev, in the early days of the invasion. But Ukraine's resilience on the battlefield has been bolstered by global support from NATO and European Union (EU) countries, which have continued to provide military, financial and humanitarian aid despite fears of escalating tensions with Russia, a key US foe have offered help.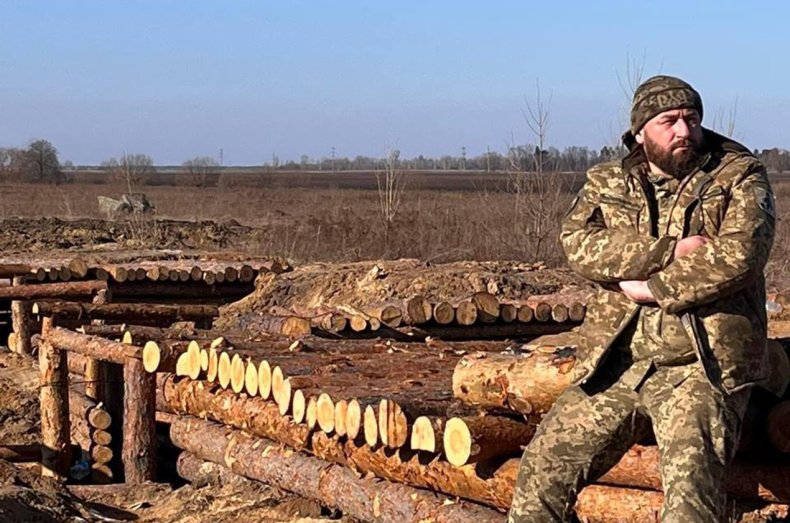 Sandor's most recent assignment was in the Kiev region near the Belarusian border and began three weeks ago. The sergeant has been traveling all over the country since the beginning of the war. Originally, he spent nearly two months preparing for combat in the Zakarpattia region on Ukraine's western side, before spending four months in the Donetsk region, where fierce fighting was taking place.
Ukrainians, Hungarians, Slovaks and Romanians made up the Transcarpathian battalion, while Sandor recalled the continuous artillery shelling in Donetsk near Adamivka.
He then spent about three months between September 6 and December 8 in the Kharkiv region, where he was posted as a non-commissioned officer of the extraordinary rank and held the position of company commander for two months. Drone strikes are routine, Sandor said, in addition to mines and an influx of "saboteurs" near Malynivka.
On December 8, he was transferred to the headquarters of the 101st brigade in the Sumy region. He also spent some time near the Russian border, near Dvorichna, above Kupyansk.
"The extent of the damage inflicted by the Russians is beyond the imagination of a civilized person. Schools and infrastructure were destroyed everywhere. I don't even understand why they should be destroyed. There's no logic," Sandor said.
He witnessed the deaths of many colleagues, but "most importantly," he said, no soldier from any of his battalions ever retired.
"This is a senseless and illogical war [started by] the morbid fantasy of an aging political impotent [who] wanted a page of his own in the history textbook," Sandor said, referring to Russian President Vladimir Putin.
Western leaders have defied threats from Russia and continued to supply arms to Ukraine. Germany and the US are supplying tanks, and the US recently announced an accelerated schedule for the delivery of Patriot missile defense systems to Ukraine. Last week, Polish President Andrzej Duda announced that Warsaw would send four Soviet-made MiG-29 fighter jets to Ukraine "literally within days".
Sandor thanked NATO and Western allies for their military, financial and humanitarian assistance. NATO "has been given an excellent opportunity to test its real military potential and its interaction with partners in a combat environment," he said.
Without that help, Sandor said, Russia would have taken Ukraine and "destroyed all of European civilization." But, he said, military aid must arrive sooner.
"We need weapons, especially air forces," he said. "We are paying too high a price with our lives for the fact that military aid is coming too slowly. We have already won, now we must claim victory."
Committed to the fight to the end, when asked what the word 'victory' meant, he replied, 'the complete annihilation of the enemy. The disintegration of Russia into parts".
That includes an international trial of "Russian criminals" for genocide, violence, murder, pedophilia and child kidnapping, he added.
"Then you can raise the victory flag," he said. "The Hydra must be killed or it will destroy civilization again…Russians should be ashamed of what they have done for three generations."
Last week, the International Criminal Court (ICC) issued an arrest warrant for Putin and another Russian official, Maria Alekseyevna Lvova-Belova, for allegedly unlawfully deporting Ukrainian children. This prompted threats from Russian officials, including former President Dmitry Medvedev, who suggested Russia could respond by attacking the court with a hypersonic missile.
The warrant appears to have done little to persuade Putin to end the war, which US officials say can be done at any time. Since there is no end to the war in sight, it is unclear when normality will return to the families.
Sandor is the father of four children: two boys and two girls. Since the beginning of the war he has seen her once in person, for ten days. They routinely communicate via Starlink, a generator, and a tablet. Despite a deep personal sacrifice, he said he will keep fighting and go where he is told. He is also committed to continuing his twice-weekly lectures so his students can continue their education.
"War isn't a Hollywood movie, and it's not even just death and destruction," he said. "War is the stolen future of millions of people."
https://www.newsweek.com/ukraine-soldier-faces-reality-war-russia-1789924 The Ukrainian soldier faces the reality of the war with Russia