The US is prolonging the war in Ukraine by sending arms and rejecting the ceasefire
Russia's envoy to the United States has warned that by sending additional military equipment to Ukraine and rejecting the Kremlin's recent ceasefire directive, Washington is only fueling further conflict between Moscow and Kyiv.
Shared with in comments news week From the Russian Embassy in Washington, DC, Ambassador Anatoly Antonov criticized the US decision to send Bradley Fighting Vehicles, part of a $3 billion military package, to Ukraine, calling it "a confirmation that our interlocutors in the United States has not even tried to listen to our numerous calls to consider the possible consequences of such a dangerous course by Washington."
"It is finally becoming clear to the entire international community that the US unleashed a real proxy war against Russia in 2014 by supporting Nazi criminals in Kyiv," Antonov argued.
That year, a political uprising in the Ukrainian capital brought a pro-Western government to power, while a pro-Moscow separatist uprising erupted in the country's eastern Donbass region. Russia accused Ukraine of promoting extremism, meanwhile occupied the Crimean Peninsula and annexed it shortly thereafter in an internationally disputed referendum.
Since then, the US and a number of NATO allies have armed and trained Ukrainian forces, while Kyiv and its supporters have accused Moscow of waging an eight-year thinly veiled war of aggression. Russian forces launched a full-scale attack on the neighboring country in February, annexing four more regions – the self-proclaimed Donbass republics of Donetsk and Luhansk, and Kherson and Zaporizhia – in another series of unrecognized votes and spurring greater Western support for Ukraine.
And while the White House claimed that such weapons were intended solely for the defense of Ukrainian territory, Antonov claimed that "any talk about a 'defensive character' of arms supplied to Ukraine has long since become absurd."
"The government's actions spur Ukrainian radicals to continue with their terrible deeds," Antonov said. "With each subsequent transfer of arms, their sense of impunity grows stronger. They continue to kill civilians in the Donbass, Zaporozhye and Kherson regions of the Russian Federation in the most cynical manner."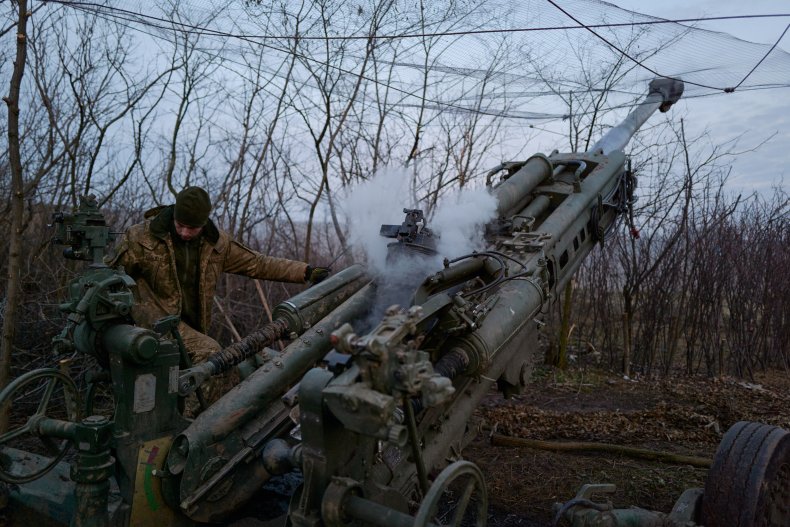 Kyiv has vehemently denied such allegations, as well as the notion that the former Soviet republic and its aspirations to join NATO posed a threat to its larger neighbor. As the war over these four regions raged on, the government of Ukrainian President Volodymyr Zelenskyy has also indicted his Russian counterpart Vladimir Putin with war crimes over allegations that Russian troops committed atrocities.
And as US and Allied aid continues to flow to Ukraine, Antonov was particularly critical of the fact that the recent decision to send Bradley Fighting Vehicles came after a phone call between US President Joe Biden and German Chancellor Olaf Scholz. Antonov condemned the West's role in the broader conflict, claiming that former leaders Angela Merkel of Germany and Francois Hollande of France had previously "confessed" that "the Minsk agreements served to give Kyiv time to improve its military capabilities." ".
The series of deals signed in 2014 and 2015 between Kyiv and separatists, mediated by the two European leaders, were intended to end the conflict but have been plagued by regular breaches by both sides. Antonov said the latest developments were evidence of a longstanding plot to undermine Russia on the back of failed diplomacy.
"Given the close ties between Washington and Berlin, it becomes clear that the West, under US leadership, simply deceived our country and began deliberately weakening Russia much earlier than February 24, 2022," Antonov said. "How can one trust the politicians of the major Western European countries when it is time to talk about the future world order, the system and the substance of the agreements that might be required?"
The conflict has severely strained Russia's relations with the US and its allies, who have joined Zelenskyy in calling on Putin to withdraw his troops from Ukraine. But Antonov said that given the course of events, "no one should have any doubts as to who bears responsibility for prolonging this conflict."
"All government actions indicate a lack of any desire for a political solution," Antonov said.
This, he argued, even extended to the Kremlin's decision on Thursday to "introduce a truce along the entire line of contact in Ukraine" for 36 hours between the 6 churches. The order followed an appeal by Patriarch Kirill of Moscow to allow observers "to attend services" on the holy days.
It also happened shortly after Turkish President Recep Tayyip Erdogan, who managed to organize a grain deal and a prisoner exchange between Moscow and Kyiv throughout the conflict, spoke separately with Putin and Zelenskyy.
While Zelenskyy thanked Erdogan for his peace efforts, the Ukrainian leader and his officials rejected Putin's ceasefire. Secretary of the National Security and Defense Council Oleksiy Danilov was particularly scathing about his dismissal.
"How does a pack of little Kremlin devils relate to a Christian holiday? Who will believe scum killing children, bombing maternity hospitals, torturing prisoners? A truce? Lies and hypocrisy," Danilov tweeted. "We will bite you in the singing silence of the Ukrainian night."
US officials were also critical.
Pentagon press secretary Air Force Brigadier General Scott Ryder said: "Given Russia's long track record of propaganda, disinformation and its relentless attacks on Ukrainian cities and civilians, there is significant skepticism both here in the US and around the world at this time ."
"Of course, in our view, if Russia was really interested in ending the violence and bloodshed it has inflicted on the Ukrainian people, they would immediately withdraw from Ukraine and this war will now end together," Ryder said. "But it appears that will not be the case, so we will remain focused on supporting Ukraine in its security assistance needs as it fights to defend its country."
State Department spokesman Ned Price called the move "cynical" as Russia's attacks on Ukraine coincided with New Year's Day. He expressed "concern" that "the Russians would try to use any temporary lull in fighting to rest, rearm, regroup, and eventually attack again."
As for Biden, he described the move as an attempt by his Russian counterpart to "find some oxygen amidst the grueling conflict," rather than a genuine gesture to end hostilities.
Antonov took special note of the US leader's reaction in line with the recent announcement of more military equipment for Ukraine.
"All of this means that Washington is determined to fight with us to the last Ukrainian," Antonov said, "while the fate of the people of Ukraine means nothing to the US."
https://www.newsweek.com/russia-envoy-us-extends-ukraine-war-sending-arms-rejecting-ceasefire-1771724 The US is prolonging the war in Ukraine by sending arms and rejecting the ceasefire