The video shows the moment Israel destroys the Palestine Tower in Gaza
Hours after Hamas suddenly launched an attack on Israel on Saturday, a video posted on social media shows the moment Israel destroyed the Palestine Tower, a residential high-rise in Gaza.
The surprise attack began early Saturday in Israel when Hamas fired thousands of rockets while dozens of Hamas militants infiltrated the heavily fortified border in several locations by air, land and sea. The Israeli Defense Forces (IDF) have been fighting with Palestinian fighters ever since. After the first attack, Al Jazeera's Youmna El Sayed was reporting live from Gaza as an Israeli rocket behind her hit the Palestine Tower, which also houses Hamas offices.
In the video posted on the air filled with thick black smoke.
Regarding the ongoing conflict, Israeli Prime Minister Benjamin Netanyahu said in a statement that the country is at war with Hamas.
"We are at war, not an operation, not an escalation, a war," he said.
After the tower exploded in Gaza, Hamas rocket fire hit four cities in central Israel, including Tel Aviv and a nearby suburb, the Associated Press reported.
As the AP reported, Israel's National Emergency Service said at least 200 people were killed and 1,100 injured, making it the deadliest attack in Israel in decades. According to the Palestinian Ministry of Health, at least 198 people were killed and at least 1,610 injured in Israeli strikes in the Gaza Strip.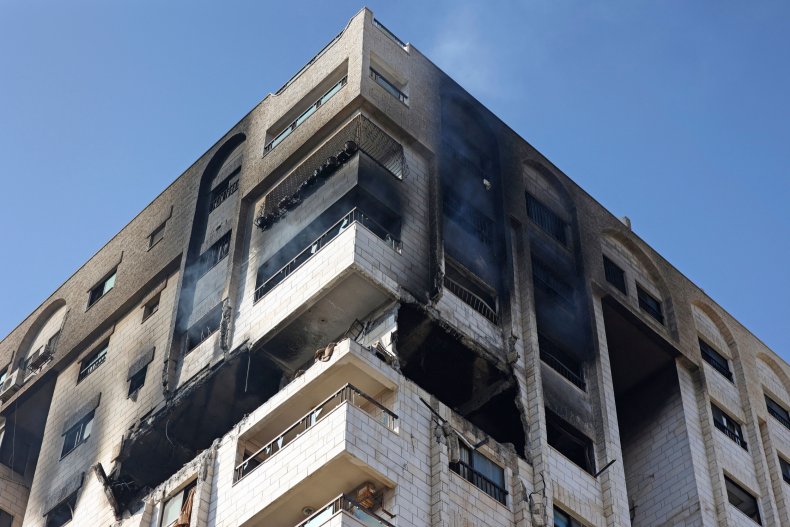 As tensions between Israel and Hamas rise and actions escalate, more and more videos and photos on social media reflect the events.
In a series of posts shared with X, Hananya Naftali, an Israeli who says he is seeking shelter, shared his experience of what he is experiencing.
"The Israeli Air Force destroyed the Hamas-affiliated 'Palestine Tower' in Gaza. The mainstream media shows this and portrays Israel as if we are the bad guys, forgetting that today Hamas fired 4,000 rockets into Israeli cities, kidnapped and murdered civilians," Naftali wrote on X, along with a video, which shows the explosion of the skyscraper.
As other videos and photos showing the violent conflict continue to circulate, the leader of Hamas's military wing, Mohammed Deif, said the attack was a response to the 16-year blockade of the Gaza Strip, citing Israeli raids on West Bank cities in the past year, according to AP.
"Enough is enough," Deif, who does not appear in public, said in a recorded message. He added that the attack was just the beginning of what he called "Operation Al-Aqsa Storm" and called on Palestinians from East Jerusalem to northern Israel to join the fight. "Today the people are regaining their revolution."
Newsweek has reached out to both Israeli and Hamas officials for additional comment.
"The United States unequivocally condemns this horrific attack against Israel by Hamas terrorists from Gaza, and I have made it clear to Prime Minister Netanyahu that we stand ready to offer all appropriate means of support to the government and people of Israel," President Joe Biden said Declaration by email Newsweek from the White House. "Terrorism is never justified."
United Nations Secretary-General António Guterres also "strongly condemned" Hamas' actions.
"The attacks have so far killed scores of Israeli civilians and injured many hundreds," a spokesman for Guterres said in an official statement. "The Secretary-General is appalled by reports that civilians have been attacked and abducted from their own homes."