The View's Whoopi Goldberg blasts San Francisco Bishop for refusing communion with Pelosi: 'It's not your job, dude!'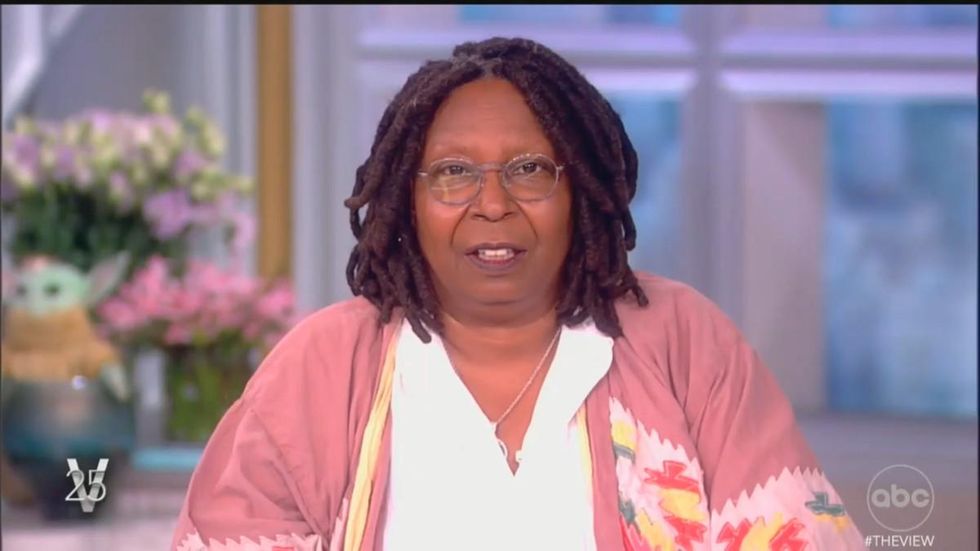 Whoopi Goldberg, co-host of "The View," lectured the Catholic Archbishop of San Francisco on Monday about what his job is and isn't, after announcing that House Speaker Nancy Pelosi had called the Holy See over her support Communion in his archdiocese should be denied for abortion rights.
"The fight for abortion rights is beginning to blur the lines between church and state. The Archbishop of San Francisco is demanding that Speaker Nancy Pelosi be denied communion over her pro-choice stance. He's one of the priests who also called President Biden to be denied the sacrament," Goldberg said at the beginning of the segment.
"It's not your job, dude!" she exclaimed angrily. "It's not, you can't, it's not your decision."
"How dare you," she said to Archbishop Salvatore J. Cordileone, who announced Friday that he had informed Pelosi that she would not be admitted to Holy Communion after waiting "too long" for pastoral counsel about her opposed support for abortion rights.
Consider:

in one Letter to the Priests from his archdiocese, Cordileone explained that he had attempted to meet and speak with Pelosi several times in the months leading up to his decision. He wrote that under canon law Pelosi "obstinately persists in manifest grave sin" and that this is his responsibility as Archbishop – literally his job – to enforce church discipline against them.
The View's co-hosts, some of whom were either raised or practicing Catholics, accused the Catholic Church of "hypocrisy" for calling pro-death penalty politicians like Texas Gov. Greg Abbott (R) have not condemned, contrary to Catholic social teaching.
"The Catholic Church has lost 20% of its attendance since 2000," said Ana Navarro, who further argued that church teaching on contentious social issues was responsible for the decline in believers.
"Why that? Because they're against artificial birth control. They're against artificial insemination. They don't give communion if you're divorced or if you're a gay couple and because of things like that, and if they really want to protect children, they have by now at least 17,000 complaints of harassment by priests since 1980," continued Navarro.
"So if you want to protect children Archbishop, instead of protecting pedophilia, you know, pedophile priests, instead of moving them to other churches without informing the congregation, instead of protecting them, you should protect the children who are getting a Catholic education received in your churches," she said.
Joy Behar interjected that only 4% of priests are "bad priests" and defended the majority by saying they are not child molesters.
Sunny Hostin then opined that Catholics should not "politicize" their religion.
"Although I believe abortion is wrong, and I believe that the catechism of the Catholic Church, which advocates life, is from conception to natural death. If you're a practicing Catholic, like Bill Barr is, like Greg Abbott is – then you should be pro-life from conception to natural death," she said, referring to former Attorney General Bill Barr.
"And the problem I have with these politicians who are politicizing their religion is the hypocrisy, because if you look at the Catholic Church and these bishops, the death penalty, you know, so that includes the death penalty, right?" Hostin drove away.
"When Bill Barr was the AG, he was honored by the church at the National Catholic Prayer Breakfast for his service, and that included an address from the then twice-divorced president," she said, adding that the church was hypocritical for even the former To be friendly to President Donald Trump (Trump is not a practicing Catholic).
"And Greg Abbott is another Catholic who is a supporter of the death penalty. There is also the second change. If you are truly a pro-life Catholic, then you must support gun reform. So you have to be consistent, and the church just isn't consistent," Hostin claimed.
"Greg Abbott has overseen 55 executions," Behar noted.
"Yes, and indeed, under his supervision, the federal government executed prisoners for the first time since 2003," Hostin said. "Why are they arming the sacrament against Nancy Pelosi but not against Bill Barr and other people?"
But the archbishop addressed them in his letter.
"Some speak of actions such as I undertake as 'applications of arms' of the Eucharist," wrote Cordileone. "But that is only one application of the Church's teaching. In order to justify the charge of 'weaponsing' the Eucharist, one would have to show that a person's actions in compliance with the Church's teachings serve an express political purpose. I have made this very clear all along, both in my words and in my actions, that my motive is pastoral and not political."
"I also hasten to point out that one can also go against Church teaching and receive Holy Communion for a political purpose, thus 'weaponizing' the Eucharist for one's ulterior motives," he added.
Abbott and Barr are not under the authority of the Archbishop of San Francisco, but Pelosi is.
(h/d: mediat)
https://www.theblaze.com/news/the-view-s-whoopi-goldberg-makes-astoundingly-incorrect-assertion-about-san-francisco-s-archbishop The View's Whoopi Goldberg blasts San Francisco Bishop for refusing communion with Pelosi: 'It's not your job, dude!'