The White House Schools Lauren Boebert on Antisemitism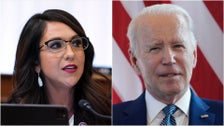 Many Twitter users rebuked Boebert, noting that her comments suggested bigotry was a big part of conservative thinking.
Also on Friday, Assistant White House Press Secretary Andrew Bates criticized Boebert's tweets in a statement to HuffPost.
"Congressman Boebert is wrong; Anti-Semitism isn't 'conservative' — it's evil," Bates said. "President Biden champions a fundamental American value that goes beyond politics and is shared by liberals, conservatives and independents: that we are better than anti-Semitism and hatred. These vile forces are at odds with what America represents."
Bates said anyone who "finds resistance to hate threatening" needs to "look within".
He also suggested Boebert Google the long, repulsive history of anti-Semitism in the Soviet Union.
"She might find a result for Joe Biden, who at the time denounced anti-Semitic acts by Soviet communists as 'shameful,'" Bates said.
HuffPost reached out to Boebert's office for comment, but no one immediately responded.
To be fair, though, she's had a busy week.