The White House vaccinations are fact-checked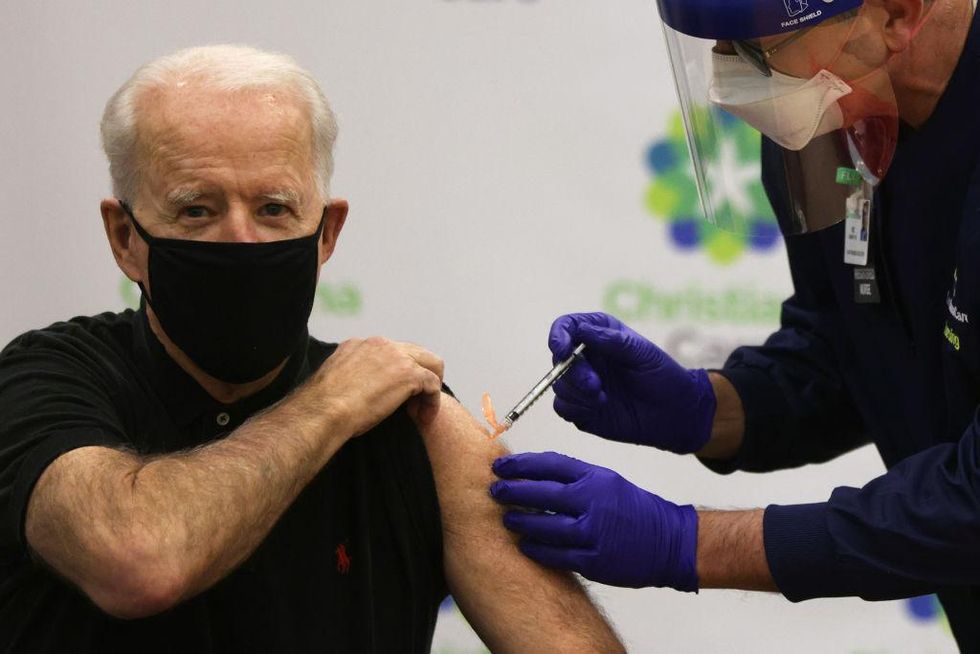 The White House has been criticized for a statement on vaccines that is spreading disinformation. The statement was so patently false that even fact-checkers from CNN and the Washington Post urged the Biden administration to delete the misinformation.
The official White House Twitter account claimed that when President Joe Biden took office in January 2021, there was no COVID-19 vaccine available.
"When President Biden took office, millions were unemployed and there was no vaccine," the White House said on Twitter. "In the last 15 months, the economy has added 8.3 million jobs and the unemployment rate is 3.6% — the fastest ever decline in unemployment at the start of a presidential term."
However, President Joe Biden receive its first COVID-19 vaccine dose on December 21, 2020.
"Today I received the COVID-19 vaccine," Biden tweeted. "To the scientists and researchers who have worked tirelessly to make this possible – thank you. We owe you a great deal. And to the American people – know not to worry. When the vaccine is available, I urge you to take it."
Biden received his second dose of the COVID-19 shot on January 13, 2022. The official White House Twitter account divided a video of Biden being vaccinated against COVID-19.
According to the Our world in data website, nearly 19 million Americans had received at least one dose of the COVID-19 vaccine by President Biden's inauguration on January 20, 2021. There were 3.5 million Americans fully vaccinated when Biden became president.
The White House tweet was fact-checked by CNN and the Washington Post — both generally friendly media outlets of the Biden administration.
The Washington Post's resident fact-checker Glen Kessler said: "Who runs the @WhiteHouse Twitter account? Delete this fake tweet. Biden himself has said that 8% of seniors had received the vaccine the day he took office. Biden was one of them."
CNN fact checker Daniel Dale wrote: "'There was no vaccine available' is clearly wrong. More than 3 million Americans were fully vaccinated and more than 18 million had at least one dose by Biden's inauguration day. Biden himself was fully vaccinated at the time, but undoubtedly, and they're free to tweet "the vaccine wasn't available to much of the public" or whatever. "There was no vaccine available," the ending, goes way too far considering there were nearly 19 million people with shots, incorrectly suggesting the entire rollout began under Biden.
Twitter reactions to the false statement came quickly and furiously. Many commentators have called on Biden's recently created Disinformation Governance Board and Homeland Security-appointed Tsarina Nina Jankowicz to correct the misleading White House statement.
CNN staff Scott Jennings: "Joe Biden himself was vaccinated during the Trump administration, and we were doing a million shots a day when Biden was sworn in. These guys don't even try anymore."
representative Dan Crenshaw (R-Texas): "Will the new Department of Truth fact check this absurd White House propaganda? No vaccines? None? Seriously? Delete this tweet and stop embarrassing the office."
Liberal politician Spike Cohen: "hey @DHSgov, how do I report a tweet to your new disinformation governance board? The vaccine was available before Biden took office."
Fox News anchor John Roberts: "And …. @twitter seems content to let this go unchallenged."
culture commentator Michael evil: "Their lies are becoming more and more explicit and brazen. They use Twitter etc. to literally write an imaginary universe."
Singer Phil Labonte: "The vaccine was available when Biden took office. There was no "creation" of jobs. The jobs existed before the shutdown. If Trump said so, the entire establishment media would expose facts and there would be hand-wringing and gnashing of teeth over 'TRUMPS LIES'."
radio host Buck Kuster: "The Biden regime's propaganda is not only untrue, it is pathetic."
sports commentator Clay Travis: "The first sentence is a lie. Joe Biden and millions of others received Covid shots before Jan. 20. The second paragraph is classic disinformation. These are not 'new' jobs, these are the jobs we closed in March 2020. We're still not back to the March 2020 job numbers."
representative Elise Stefanik (RN.Y.): "The communist Ministry of Truth is in full force."
Fox News contributor Dr. Janette Nesheiwat: "This is inaccurate misinformation. I received my VAX in December 2020 when Trump was President thanks to Operation Warp Speed ​​available to me and millions of others."
Former Assistant Secretary for Public Affairs at the Department of Health and Human Services Michael Caputo: "As a senior HHS leader at Operation Warp Speed, I certify that this statement is false and misleading pandemic disinformation, a very clear violation of the @TwitterSafety rules. The FDA approved the first COVID19 vaccine for public use on 12/11/2020."
https://www.theblaze.com/news/white-house-vaccine-lie-fact-check The White House vaccinations are fact-checked