The World Cup was a "decisive blow" for Israel: Envoy
Palestinian Ambassador to the United Nations Riyad Mansour has hailed the show of solidarity for the state at the ongoing FIFA World Cup 2022 in Qatar, saying the tournament's pro-Palestinian sentiment played a role "decisive blow" to Israel.
One manifestation was the Palestine flags and banners reading "Free Palestine" that were displayed in the stands at the stadiums.
Mansour said: "The World Cup in Qatar dealt a decisive blow to Israel's illusions. The winner of this world championship is already known. It is Palestine whose flag is carried by people from every corner of the Arab world and the rest of the world, present in every game and in the chants of the people.
"Ask Israeli journalists at the World Cup and they will tell you that nothing can normalize the Israeli occupation. And nothing can uproot Palestine from the hearts and minds of the people."
The ambassador also condemned a series of normalization deals in 2020 and 2021 between Israel and three Arab states, Morocco, the United Arab Emirates and Bahrain.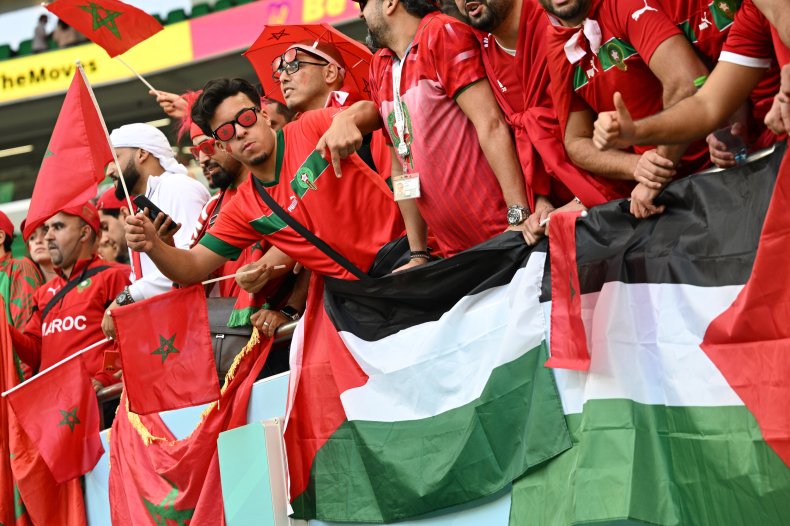 Moroccan defender Jawad El Yamiq was seen holding up a Palestinian flag on the field after his team's win over Canada on Thursday, which was reportedly in protest at the signing of a deal between Morocco and Israel.
Fans were seen sporting keffiyehsone of the most prolific symbols of the Palestinian resistance, and in the 48th minute of Morocco's game against Belgium, a "Free Palestine" flag was unfurled by fans of the African team, referring to the 1948 Nakba, which refers to permanent displacement of Palestine draws Palestinians through the establishment of the State of Israel.
The same happened during Tunisia's game against Australia, where Palestinian flags were waved among the African fans.
A Tunisian fan also ran onto the field during his country's game against France carrying a Palestine flag with the inscription in support of the Arab state.
Mira Al Hussein, an Emirati sociology researcher at Oxford University, narrated time that solidarity shows a unity that is not always reflected in Middle East politics.
She told the media outlet: "What they really did was show the world how united the Arab street is.
"It just goes to show that Arab nationalism and pan-Arabism did not die with Gamal Abdel Nasser, as most nation-states would have us believe."
Former Egyptian President Nasser is considered an icon of pan-Arab nationalism.
news week previously reported that Israeli TV reporters were told they were "not welcome" in Qatar and many fans refused to speak to them once they were found to be covering the World Cup for Israeli TV.
A British-Syrian independent journalist, Richard Medhurst, posted a series of videos on Twitter, which he captioned: "A thread from World Cup football fans refusing to speak to Israeli broadcasters."
In a series of tense confrontations, reporters are told live on air that Israel "doesn't exist."
Moav Vardi, the head of foreign news at Israel's public broadcaster Kan 11, was confronted live on air as he spoke to a fan after Saudi Arabia's defeat by Poland.
The fan told him: "There is no Israel. Go please. You are not welcome here. This is Qatar, this is our country – you are not welcome here. There is only Palestine. There is no Israel."
Do you have a tip about a sports story that news week should cover? Do you have a question about the World Cup? Let us know at entertainment@newsweek.com.
https://www.newsweek.com/why-world-cup-has-been-decisive-blow-israel-1764215 The World Cup was a "decisive blow" for Israel: Envoy