There have been 17 mass shootings a week since Uvalde
It's been exactly a week since the deadly shooting in Uvalde, Texas that killed 19 children and two adults by a teenage gunman. There have been 17 new mass shootings across the country in the past seven days, according to the independent research group Gun Violence Archive.
That's about 2.4 mass shootings a day in a country that has still not stopped mourning the victims of the Uvalde tragedy and the May 14 shooting in Buffalo, New York. There have been a total of 228 mass shootings across the United States since the beginning of the year, 27 of them in schools.
Wednesday May 25th
Four people were shot dead on their way to a prom party in West Philadelphia, Pennsylvania on Wednesday. Nobody was killed, but all four people were injured. According to CBS, a 19-year-old boy was reportedly in critical condition.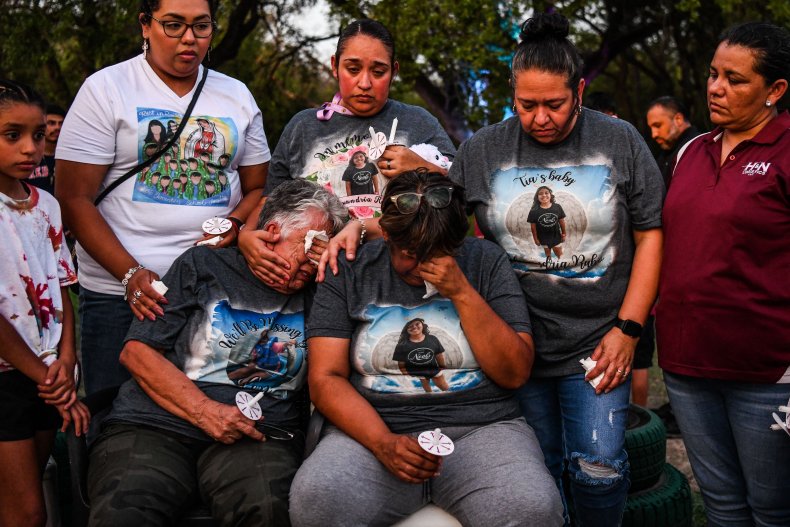 Friday May 27th
Three siblings and their mother were shot dead in Stanwood, Michigan on Friday. Investigators believe the man who shot the four family members was her father/husband. The children were 3, 4 and 6 years old.
On the same day, six people were injured in a shooting at a graduation ceremony in Anniston, Alabama, attended by over 150 people aged 14 to 20. No one was killed, according to the Anniston Police Department.
"The impulse to use firearms by young people in our society is a tragedy and a disgrace," the Anniston PD wrote on Facebook. "Life is fragile and precious. This is not a video game or film. You cannot respawn. The other person doesn't get another chance to play again."
Saturday May 28th
Five shootings took place on Saturday. Four people were shot and injured in Memphis, Tennessee. A suspect, a convicted felon, has been arrested by Memphis police.
In Colorado Springs, Colorado, a man was killed and three women injured in a shooting at a local bar.
In Fresno, California, a man was killed and three teenagers injured in a shooting at Radio Park. A firearm was found at the scene, but no suspect has yet been taken into custody.
In Malabar, Fla., four teenagers, ages 15 to 18, were injured in a shooting Saturday night when gunfire erupted between two men attending a house party.
In downtown Chattanooga, Tenn., six teenagers as young as 15 were shot and injured when two groups faced each other, local news station WDEF reported. Two victims were in critical condition.
Sunday May 29th
Two mass shootings took place in Chicago, Illinois on Sunday. One of them left five people seriously injured as fighting broke out on the west side of town. A second shooting on Sunday night in West Humboldt Park killed one man and wounded four others, including the suspect.
At approximately 11:50 a.m. the same day, the Henderson Police Department in Henderson, Nevada, reported a shootout between members or associates of rival outlaw motorcycle gangs: the Hells Angels and the Vagos Motorcycle Club. Nobody was killed, but seven people were injured.
One person was killed and three injured after a shooting at a party in the Beachwood neighborhood of Merced County, California. In Taft, Oklahoma, a teenager was killed and seven injured during a Memorial Day festival.
Four people were injured in a shooting in Houston, Texas, according to the Harris County Sheriff's Office. One person was killed and five other teenagers injured at a late-night house party in Phoenix, Arizona, local news station KPNX reported.
Monday, May 30th
One person was killed and six injured in a shooting Monday in Benton Harbor, Michigan, when a scuffle broke out at Ajay's Lounge, a bar on Pipestone Street, over a ticketed event scheduled at the venue, according to reports. A 19-year-old was pronounced dead at the scene, ABC reported.
On the same day, a mass shooting in Philadelphia, Pennsylvania, killed two and injured two others at a Memorial Day party in the Port Richmond neighborhood, FOX 29 reported.
https://www.newsweek.com/there-have-already-been-17-mass-shootings-week-since-uvalde-1711654 There have been 17 mass shootings a week since Uvalde