'This Was the Largest Armed Robbery in United States History, and It Was Committed by the FBI': Lawsuit Alleges FBI Seized $86 Million in Assets From a Misleading Warrant Judge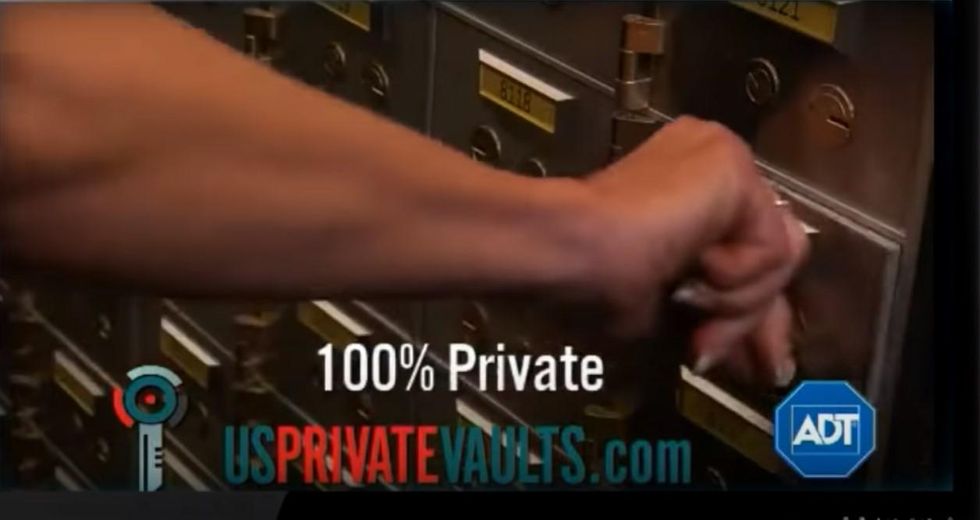 A recent class action lawsuit alleges that FBI agents illegally seized more than $86 million in assets held in safe deposit boxes in Beverly Hills, California, on the belief that the assets were somehow connected to unidentified crimes committed in the connection.
Back in 2015, the FBI began investigating a US Private Vaults store in Beverly Hills, suspecting the owners were involved in drug trafficking and money laundering. During the course of the investigation, agents obtained six arrest warrants, five of which were fairly straightforward, affecting only the company and the business owners.
But after a story from the LA timesthe sixth warrant, signed by U.S. Judge Steve Kim in 2021, authorized agents to seize business equipment from the store, including 1,400 lockers located in the store, though the agents did not know or likely have cause to identify the box owners suggest that the owners were involved in drug trafficking or money laundering.
"The government didn't know what was in those boxes, who owned them, or what, if anything, those people had done," he said Robert Fromman attorney for the Institute for Justice representing approximately 400 USPV customers whose locker contents have been seized by the FBI.
"The scale of what the FBI has done is unprecedented," Frommer added. "This was the largest armed robbery in United States history, and it was committed by the FBI."
According to court documents, the FBI insisted on the affidavit that the "warrants authorize the seizure of the nests of the boxes themselves, Not its contents," and Judge Kim repeated on the search warrant, which he signed, that "
window.REBELMOUSE_LOWEST_TASKS_QUEUE.push(function(){
fetch(" {
if (document.querySelector('.body-description')) {
document.querySelector('.body-description').classList.remove('noshowbody');
}
if (document.querySelector('.around-the-web')) {
document.querySelector('.around-the-web').classList.remove('revshowbody');
}
}).catch(function() {
if (document.querySelector('.body-description')) {
document.querySelector('.body-description').classList.add('revshowbody');
}
if (document.querySelector('.around-the-web')) {
document.querySelector('.around-the-web').classList.add('revshowbody');
}
});
var script = document.createElement('script');
script.onload = function() {
if (document.querySelector('.body-description')) {
document.querySelector('.body-description').classList.add('revshowbody');
}
};
script.src="
document.head.appendChild(script);
});
window.REBELMOUSE_LOWEST_TASKS_QUEUE.push(function(){
function CL(t,n){const o=new Set([]);document.querySelectorAll
console.log('ANYCLIP ON');
CL('.anyclipplayerz',function(a){
let pubname=a.getAttribute('pubname'),widgetname=a.getAttribute('widgetname'),src="
var s = document.createElement( 'script' );s.setAttribute( 'src', src );s.setAttribute( 'pubname', pubname );s.setAttribute( 'widgetname', widgetname );a.appendChild( s );
})
});
window.REBELMOUSE_LOWEST_TASKS_QUEUE.push(function(){
let observer = new IntersectionObserver((entries, observer) => {
entries.forEach(entry => {
if(entry.isIntersecting){document.querySelector('.topbar–sticky').classList.remove('sticky-active');document.querySelector('body').classList.add('stickybody')}
else{document.querySelector('.topbar–sticky').classList.add('sticky-active');document.querySelector('body').classList.remove('stickybody')}
});
}, {threshold: 1});
observer.observe(document.querySelector('.sticktrigr_desktop'));
});
window.REBELMOUSE_LOWEST_TASKS_QUEUE.push(function(){
window.REBELMOUSE_STDLIB.loadExternalScript("//use.typekit.net/ikb7lqs.js", function() {
try{Typekit.load({ async: true });}catch(e){}
});
});
window.REBELMOUSE_LOWEST_TASKS_QUEUE.push(function(){
//Facebook Pixel Code
!function(f,b,e,v,n,t,s)
{if(f.fbq)return;n=f.fbq=function(){n.callMethod?
n.callMethod.apply(n,arguments):n.queue.push(arguments)};
if(!f._fbq)f._fbq=n;n.push=n;n.loaded=!0;n.version='2.0′;
n.queue=[];t=b.createElement(e);t.async=!0;
t.src=v;s=b.getElementsByTagName(e)[0];
s.parentNode.insertBefore(t,s)}(window, document,'script',
'
fbq('init', '1398069580413568');
fbq('track', 'PageView');
});
window.REBELMOUSE_LOWEST_TASKS_QUEUE.push(function(){
function menuClick() {
console.log("clicked");
if (document.querySelector('.hambg-btn.js–active') != null) {
document.getElementsByClassName('huge-menu')[0].style.display = 'none';
document.getElementsByClassName('hambg-btn')[0].classList.remove('js–active');
document.body.classList.remove("huge-menu-opened");
document.body.classList.remove("menu-opened");
} else{
document.getElementsByClassName('huge-menu')[0].style.display = 'block';
document.getElementsByClassName('hambg-btn')[0].classList.add('js–active');
document.body.classList.add("huge-menu-opened");
document.body.classList.remove("menu-opened");
}
}
function addMenuClickListener() {
var rebelMenu = document.getElementsByClassName('rebelbar__menu-toggle');
var menuClose = document.getElementsByClassName('hm__close');
var stickyMenu = document.getElementsByClassName('sticky-menu');
rebelMenu[0].addEventListener('click', menuClick);
if(menuClose[0] != undefined){ menuClose[0].addEventListener('click', menuClick);}
if(stickyMenu[0] != undefined){ stickyMenu[0].addEventListener('click', menuClick); }
}
addMenuClickListener();
});
window.REBELMOUSE_LOWEST_TASKS_QUEUE.push(function(){
document.querySelector(".hambg-btn").addEventListener("click", function(){
document.querySelector("body").classList.add("huge-menu-opened");
});
document.querySelector(".hm__close").addEventListener("click", function(){
document.querySelector("body").classList.remove("huge-menu-opened");
});
});
window.REBELMOUSE_LOWEST_TASKS_QUEUE.push(function(){
function ChangeListener(t,n){
const o=new Set([]);
document.querySelectorAll
const e=new MutationObserver(()=>{
const e=document.querySelectorAll
e.forEach(e=>{o.has(e)||(n(e),o.add(e))});
});
e.observe(document.body,{childList:!0,subtree:!0});
}
const sailthru_observer = new MutationObserver((mutations, obs) => {
const sailthru_element_button = document.querySelector('.sailthru_element_button');
if (sailthru_element_button) {
sailthru_element_button.style.display='none';
sailthru_element_button.insertAdjacentHTML("afterend", '
I WANT TO BE INFORMED');
obs.disconnect();
return;
}
});
sailthru_observer.observe(document, {
childList: true,
subtree: true,
characterDataOldValue: true
});
const sailthru_observer_email = new MutationObserver((mutations, obs_email) => {
const sailthru_element_email_input = document.querySelector('.sailthru_element_email-input');
if (sailthru_element_email_input) {
sailthru_element_email_input.setAttribute('data-validation','required');
obs_email.disconnect();
return;
}
});
sailthru_observer_email.observe(document, {
childList: true,
subtree: true,
characterDataOldValue: true
});
function getRandomInt(max) {
return Math.floor(Math.random() * max);
}
let verify_line = document.querySelector('.verify_line');
let validationinput = document.querySelector('.validationinput');
let verify_submit = document.querySelector('.verify_submit');
function validation_set() {
let validation1=getRandomInt(10);
let validation2=getRandomInt(10);
let validationsum=validation1+validation2;
document.querySelector('.validationsum').innerText=validation1+' + '+validation2+' = ';
validationinput.value="";
verify_line.innerText="Please Verify";
validationinput.addEventListener('input', function (event) {
if(validationinput.value==validationsum) {
verify_submit.removeAttribute('disabled');
verify_line.innerText="Validation complete :)";
}
else {
verify_submit.setAttribute('disabled',");
verify_line.innerText="Validation failed :(";
}
if(validationinput.value.length==0){
verify_line.innerText="Please Verify";
}
});
}
validation_set();
ChangeListener('.verify_close',function(EL){
EL.addEventListener('click', function () {
document.querySelector('#verifymodal').style.display='none';})
});
ChangeListener('.validation_dummy',function(EL){
EL.addEventListener('click', function () {
console.log(EL.querySelector("#topcheck").value);
if(EL.querySelector("#topcheck").value == "){
document.querySelector('#verifymodal').style.display='block';
}else{
EL.querySelector(".message_bot_error").style.display = "block";
EL.querySelector("span").style.display = "none";
}
});
});
ChangeListener('.verify_submit',function(EL){
EL.addEventListener('click', function () {
document.querySelector('#verifymodal').style.display='none';
console.log('CLICKED');
document.querySelector('.sailthru_element_button').click();
});
});
ChangeListener('.verify_reset',function(EL){
EL.addEventListener('click', function () {
validation_set();
});
});
});
window.REBELMOUSE_LOWEST_TASKS_QUEUE.push(function(){
(function(){ var s = document.createElement('script'), e = ! document.body ? document.querySelector('head') : document.body; s.src=" s.async = true; s.onload = function(){ acsbJS.init({ statementLink : ", footerHtml : 'Blaze Media', hideMobile : true, hideTrigger : false, language : 'en', position : 'right', leadColor : '#eb002b', triggerColor : '#eb002b', triggerRadius : '50%', triggerPositionX : 'right', triggerPositionY : 'bottom', triggerIcon : 'settings', triggerSize : 'small', triggerOffsetX : 20, triggerOffsetY : 20, mobile : { triggerSize : 'small', triggerPositionX : 'right', triggerPositionY : 'bottom', triggerOffsetX : 10, triggerOffsetY : 0, triggerRadius : '50%' } }); }; e.appendChild(s);}());
});
window.REBELMOUSE_LOWEST_TASKS_QUEUE.push(function(){
!(function(o,n,t){t=o.createElement(n),o=o.getElementsByTagName(n)[0],t.async=1,t.src=" t(){(t.q=t.q||[]).push(arguments)}t.v=1,o.admiral=o.admiral||t})(window);!(function(o,t,n,c){function e(n){(function(){try{return(localStorage.getItem("v4ac1eiZr0″)||"").split(",")[4]>0}catch(o){}return!1})()&&(n=o
});
window.REBELMOUSE_LOWEST_TASKS_QUEUE.push(function(){
const container = document.querySelector('body')
var elP = document.createElement('p');
const observer = new MutationObserver((mutations, obs) => {
const spopup = document.getElementById('sailthru-overlay-container');
if (spopup) {
console.log(spopup);
document.querySelector('.sailthru_element_email-input').addEventListener("keypress", function(event) {
if (event.key === "Enter") {
event.preventDefault();
document.querySelector('.sailthru-overlay-validation-error').style.display = 'none';
}
});
spopup.appendChild(elP);
obs.disconnect();
return;
}
});
observer.observe(document, {
childList: true,
subtree: true
});
});
window.REBELMOUSE_LOWEST_TASKS_QUEUE.push(function(){
window.REBELMOUSE_STDLIB.loadExternalScript(" function() {
window.analyticsData = {
events: {active: {view: {asset: {}}, device: {}}}
};
window.analyticsData.events.active.device.appVersion = "1.1";
window.analyticsData.events.active.device.host = "premiere.off.us";
window.analyticsData.events.active.device.subHost = "theblaze.com";
window.analyticsData.events.active.pageName = "articles";
//window.analyticsData.events.active.view.asset.id = "articles|"+ __BOOTSTRAP__.post.basename;
window.analyticsData.events.active.view.asset.name = document.title;
//window.analyticsData.events.active.view.authorId = __BOOTSTRAP__.post.original_user_subsite.title;
window.analyticsData.events.active.view.pubDate = "09/26/2022";
window.analyticsData.events.active.view.contentOriginType = "Premiere";
window.analyticsData.events.active.view.stationCallLetter = "TheBlaze";
window.analyticsData.events.active.view.stationFormat = "NEWSTALK";
window.analyticsData.events.active.view.stationMarket = "PREMIERE";
window.analyticsData.events.active.view.personalityId = "theBlaze";
window.analyticsData.events.active.view.tags = ["fbi", "unconstitutional", "raid", "safety-deposit-box", "warrant"];
window.analyticsData.events.active.view.photoGalleryExists = "FALSE";
window.analyticsData.events.active.view.photoGalleryPageView = "FALSE";
window.analyticsData.events.active.view.contentFrame = "page";
window._satellite && _satellite.pageBottom();
});
});
window.REBELMOUSE_LOWEST_TASKS_QUEUE.push(function(){
function test_adblock(func, id) {
var t="0.1.2-dev",
el = document.createElement('div');
el.id = id ? id : 'sponsorText';
el.appendChild(document.createTextNode(' '));
Object.assign(el.style, {
left: '-999px',
position: 'absolute'
});
document.body.appendChild(el);
setTimeout(function() {
if (el) {
var o = el.clientHeight === 0;
func(o, t);
document.body.removeChild(el);
}
}, 200);
}
test_adblock(function(is_blocked) {
console.log(is_blocked);
var wid = is_blocked ? 140286 : 140117,
target = document.getElementById('rc-adblock-widget');
var el = document.createElement('div');
el.setAttribute('data-rc-widget', ");
el.setAttribute('data-endpoint', 'trends.revcontent.com');
el.setAttribute('data-widget-id', wid);
target.appendChild(el);
if (typeof window.renderRCWidget !== 'function') {
var script = document.createElement('script');
script.src="
script.defer = true;
target.appendChild(script);
}
else {
window.renderRCWidget(el)
}
});
});
window.REBELMOUSE_LOWEST_TASKS_QUEUE.push(function(){
window.REBELMOUSE_STDLIB.loadExternalScript(" function() {
});
});
window.REBELMOUSE_LOWEST_TASKS_QUEUE.push(function(){
if(document.querySelector("#icheck").value != "){
document.querySelector(".message_bot_error").style.display = "block";
}else{
document.querySelector(".message_bot_error").style.display = "none";
}
});
window.REBELMOUSE_LOWEST_TASKS_QUEUE.push(function(){
(function(s,u,m,o,j,v){j=u.createElement(m);v=u.getElementsByTagName(m)[0];j.async=1;j.src=o;j.dataset.sumoSiteId='f20bb26e74a94a53daa9113206b98941e1dfba90635d317b9efd9e33a89bf515′;v.parentNode.insertBefore(j,v)})(window,document,'script','//load.sumo.com/');
});
window.REBELMOUSE_LOWEST_TASKS_QUEUE.push(function(){
var event = new Event('viewRegistry:initViews');
// Listen for the event.
elem.addEventListener('viewRegistry:initViews', function() {
window.COMSCORE && COMSCORE.beacon({c1: "2", c2: "6036262"});
});
// Dispatch the event.
elem.dispatchEvent(event);
});
https://www.theblaze.com/news/this-was-the-largest-armed-robbery-in-united-states-history-and-it-was-committed-by-the-fbi-lawsuit-claims-fbi-seized-86-million-in-assets-by-misleading-judge-on-warrant 'This Was the Largest Armed Robbery in United States History, and It Was Committed by the FBI': Lawsuit Alleges FBI Seized $86 Million in Assets From a Misleading Warrant Judge