This year, and every year, my greatest gratitude is for family
This Thanksgiving, I can't help but look back on the year so far and realize how fortunate I have been to have the unwavering support of my relatives.
Two people, my father and grandmother in particular, are filled with wisdom that I have used as a guide throughout my life. They have shared their successes and failures with me so honestly and openly, hoping to help me find my own path.
Decades ago, my father made the decision to move his family from Buffalo, New York to Arizona. And I can't express enough how grateful I am for that.
The rest of my relatives remain in upstate New York and continue to brave any cruel winter that comes their way.
Although there are thousands of kilometers between us, I have always kept in close contact with my grandmother in particular. She is the most resilient person I will ever meet. She's fiery, bold and not afraid to tell it like it is.
The last few years have been incredibly trying for my grandmother. But despite the tough struggles she has endured, she continues to be a rock to the whole family and has never lost her sense of humor for a moment. There's something remarkably admirable about that.
There's no better way to describe her than Bada** – and I know she wouldn't mind if I say so. Instead, she exploded into a fit of infectious laughter that would light up an entire room. I've always struggled to find a more appropriate word to describe her and I've come to realize that there just isn't one.
So this Thanksgiving, I want to express my gratitude to a woman who probably doesn't know how much she is appreciated because she doesn't hear "thank you" enough: my grandmother.
Through the deepest lows and the highest highs, your loved ones are always by your side. When you look beyond the noise and uncertainty of the world, you realize that family is the only thing that really matters at the end of the day.
And on a far less serious note, to all of my relatives who continue to choose to live in Buffalo for some reason I can't figure out, I want you to know that I am extremely grateful that I escaped to a nice, sunny place in the state that didn't bury me in six feet of lake-effect snow last week.
When asked how bad the blizzard was, my cheeky grandmother replied, "1977 was worse."
The blurred image below featuring my two young cousins ​​​​​​for "snowfall scales" is courtesy of Grandma: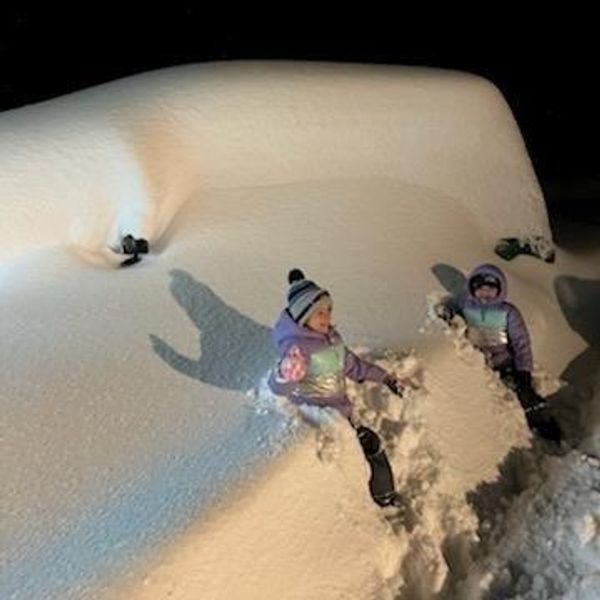 https://www.theblaze.com/op-ed/this-year-and-every-year-i-am-most-thankful-for-family This year, and every year, my greatest gratitude is for family