Tim Scott exposes Dem's hypocrisy in Senate filibuster after Biden used executive order for police reform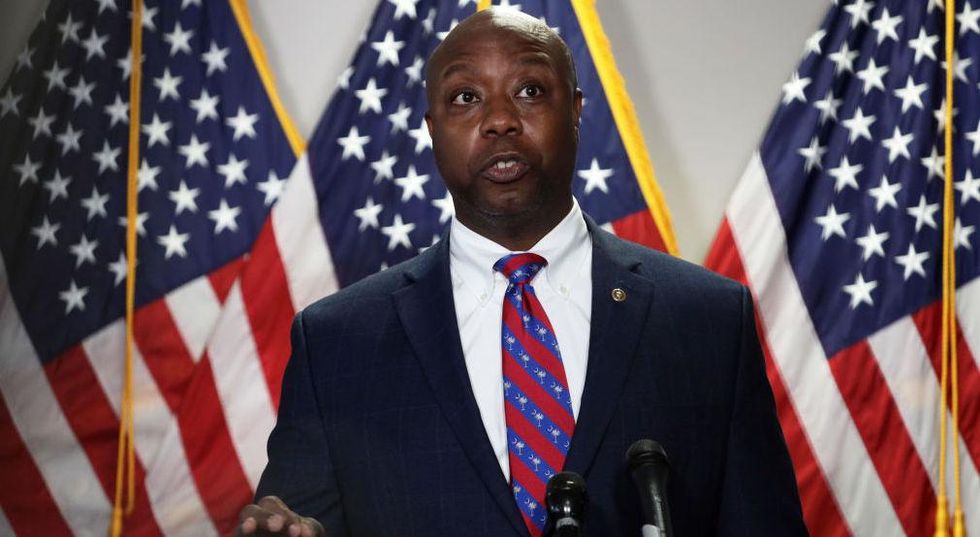 Republican Senator Tim Scott (SC) on Wednesday called out Senate Democrats, revealing their hypocrisy over the Senate filibuster.
Scott's public condemnation came after President Joe Biden signed an executive order on police reform and used the second anniversary of George Floyd's death to celebrate the occasion.
Among other things, the order establishes a national registry of police officer misconduct, bans the use of choke holds by federal law enforcement agencies, restricts the use of warrants by federal law enforcement agencies, and requires all federal officers to have activated body cameras.
What did Scott say?
The Republican from South Carolina pointed out in a statement Democrats used the Senate filibuster to block his 2020 police reform bill, even though the legislation included many of the same provisions in Biden's executive order.
"After the radical 'defund the police' movement helped create the current crime wave, President Biden is taking a partisan approach to many of the very same policy solutions I proposed in the JUSTICE Act two years ago," Scott began.
"The fact is the Democrats have used what they call racist filibuster to block my reforms, which they are now adopting," he added.
Indeed, the JUSTICE Act would have required local police departments to share databases of disciplinary records, prompted authorities to ban the use of chokeholds, incentivized the use of activated body cameras and penalized non-compliance, and required the Department of Justice to develop new training standards, among other things on "Alternatives to the Use of Force, De-escalation Tactics, and Techniques for Responding to a Behavioral Health Crisis."
Additionally, Scott berated Biden for creating new roadblocks to safe and effective policing that ultimately manifest as "divisive politics."
"While my proposal added funds to help local law enforcement meet higher standards, the Democrats' proposal sets departments on the brink by issuing unfunded federal mandates," Scott said. "Making it harder for the police to do their job to the best of their ability should be a non-starter, but that's what the Biden plan is doing.
"I am disappointed that the president, who championed unity, has once again fallen into the trap of divisive politics," he added.
Why did the Democrats filibuster?
Democrats in the Senate clogged Scott's bill, which garnered bipartisan support because they felt it did not go far enough to address problems with law enforcement practices.
Unlike Scott's bill, which focused on creating incentives for police reform, Democrats drafted their own bill, which used government mandates to achieve the same results. Ultimately, no bill became law.
https://www.theblaze.com/news/tim-scott-democrats-hypocrisy-filibuster-police-reform Tim Scott exposes Dem's hypocrisy in Senate filibuster after Biden used executive order for police reform