Timeline of Jason Knauf's engagement with Meghan Markle, Prince William
Jason Knauf is a former communications advisor at Kensington Palace who has worked on shaping the media narrative around Prince William, Kate Middleton, Prince Harry and Meghan Markle during some of the royal family's most difficult years over the past two decades.
The American-born, media-savvy professional held a number of high-profile communications positions in London before joining the royal household, where he eventually became the right-hand man of then-Cambridges, William and Kate, at Kensington Palace.
During his time with the Royals, he issued important press releases, including in November 2016 a rebuke of the media's racist coverage of Meghan. Things seemed to have gone sour in 2018 when it was later revealed the aide had raised concerns about the Duchess's bullying staff.
When William and Harry split their staff, Knauf stayed with the Cambridges and became a consultant before running their charitable foundation.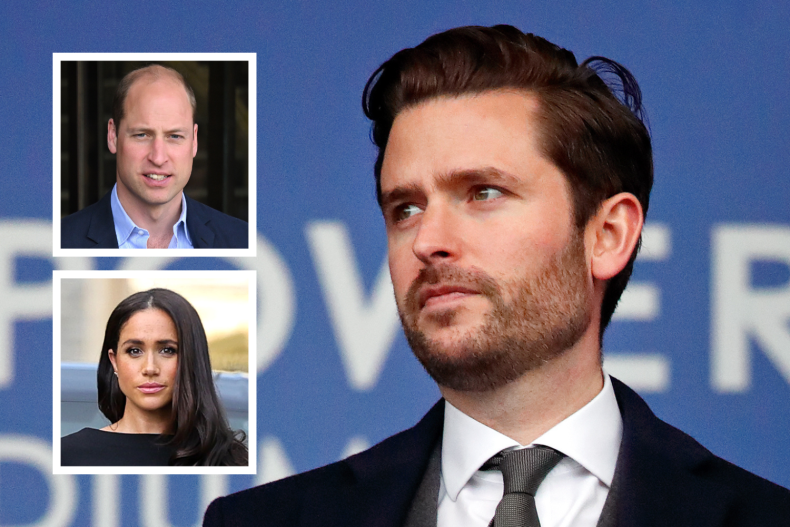 In 2021, Knauf took the spotlight when he delivered evidence to the UK High Court in Meghan's privacy lawsuit against the post on Sunday Newspaper that published excerpts from a private letter to her father in 2018.
Knauf's evidence embarrassed Meghan, who apologized for misleading the court over statements that she had not worked with the authors of the Harry and Megan biography find freedom.
The court case ended in 2021 with a victory for Meghan. But, as shown in recently released Netflix documentaries Harry & Meganit took its toll on her mental and physical health.
Knauf is credited in the series as Meghan and Harry have implied that Prince William had authorized him to present his evidence at trial. Knauf's representatives denied this accusation, according to a title card at the end of the show, saying he remained neutral throughout the trial.
Here's a royal timeline on Knauf and how he went from trusted adviser to docuseries antagonist.
Royal Household Communications, 2015 to 2018
Knauf joined the royal household at Kensington Palace in 2015 as communications secretary to William, Kate and Harry. When Harry met and got engaged to Meghan Markle, the assistant also began working closely with her.
Before joining the Royal Household, Knauf worked for the Deputy Prime Minister of New Zealand and served as Press Officer for the Treasury in the UK and Director of Corporate Affairs for the Royal Bank of Scotland.
Knauf became one of Harry and Meghan's trusted allies, working closely with the couple and their media communications surrounding their 2018 wedding, including handling issues surrounding press reports about the Duchess' father, Thomas Markle.
When it was announced in March 2019 that the Sussexes and Cambridges would no longer share a common household, Knauf stayed at Kensington Palace with William and Kate and became Senior Advisor.
Meghan bullying email in 2018
Reports of splits within the Sussexes and Cambridges' shared household had been in the press from 2018 until it split in 2019. This was confirmed in March 2021 after Harry and Meghan stepped down from their royal roles, according to a leaked email from Knauf, in which he raised concerns that a bullying culture had developed at the palace and was being perpetuated by Meghan.
The email sent to William's private secretary was published in The London Times in a story alleging the Duchess bullied employees who wanted to speak out ahead of the King's interview with Oprah Winfrey.
"I am very concerned that the Duchess was able to harass two PAs from within the household over the past year," the email read. "The treatment of X [name removed] was totally unacceptable."
Knauf continued: "The Duchess seems careful to always have someone in her sights. She bullies Y [name removed] and try to undermine their trust." He continued, "We have received reports of reports from people who have witnessed unacceptable behavior towards Y [name removed]."
Meghan's spokespersons in the US issued a response to the story, saying the timing was apparently an attempt to discredit her.
The Royal Foundation, 2019 to 2022
In 2019, Knauf left the royal household to take up a new appointment as CEO of the Royal Foundation, William and Kate's charity through which they carry out their work, which is not officially delegated by Buckingham Palace.
The foundation overseas projects such as Kate's work with early childhood development and William's conservation work in Africa.
One of the Royal Foundation's key projects under Knauf's leadership was the establishment of the Earthshot Prize, William's eco-initiative to fund and disseminate environmental solutions.
Knauf announced that he would be leaving the foundation in May 2021, citing a planned move to India with his partner. In a statement released at the time, he said: "Working with the Duke and Duchess of Cambridge has been the privilege of my career. I will always be grateful for the opportunity to support their leadership in the UK and internationally The coming months will be the busiest time in the Foundation's history with the first Earthshot Prize awards and further advances in our work in early childhood . We have a lot to do with our great team and all our partners."
Meghan Markle Lawsuit Evidence 2021
While employed by the Royal Foundation, Knauf brought evidence to the UK High Court in connection with Meghan's lawsuit against Associated Newspapers over the publication of the letter to her father.
The evidence included a wealth of letters and emails between Knauf and Meghan, which the Associated Newspapers said showed the Duchess had written the letter knowing it was likely to leak since she had shown the press secretary a draft.
The evidence also showed that Meghan Knauf had provided some background information about her life that he was able to share with authors Omid Scobie and Carolyn Durand find freedom. This was in contrast to Meghan's 2021 legal counsel statement that she and her husband "did not collaborate with the authors on the book, nor were they interviewed for it, nor did they provide the authors with photographs for the book."
The Duchess later apologized to the court and won the privacy lawsuit in December 2021.
During the Harry & Megan Documentaries chronicle Knauf's presentation of evidence in court as the royal couple respond to the news while in the United States
In an interview shown on the series, Jenny Afia, the couple's lawyer, says: "Just as we were about to go to the Court of Appeal, a senior member of the Duke of Cambridge's team came forward to give this testimony, which he didn't do was required and unfortunately he could not have done so without the authority of his superiors."
Knauf's legal representative told Netflix, "These claims are completely false. Mr Knauf was asked by both the Duchess of Sussex and Associated Newspapers to provide evidence. He was advised by a lawyer that evidence in his possession might be relevant and he then presented it directly to the court while remaining neutral."
Buckingham Palace and Kensington Palace have not commented on the series or its content.
Earthshot price 2022 to date
Knauf made headlines again in July 2022 when it was announced that the results of an internal review into allegations of bullying by former employees of Meghan, which is believed to have analyzed Knauf's 2018 email, would not be made public.
This preceded the announcement that, despite having left the Royal Foundation just six months earlier, Knauf would be working with William again, this time as trustee of the Earthshot Prize.
A press release at the time said the trustees' role was to "offer diverse perspectives globally and drive the prize forward as it continues to grow and meet its goal of fixing our planet in this crucial decade."
James Crawford-Smith is Newsweek's royal reporter in London. You can find him on Twitter at @jrcrawfordsmith and keep reading his stories news week's Facebook page of the royals.
Do you have a question about King Charles III, William and Kate, Meghan and Harry or their family that you would like our experienced Royal Correspondents to answer? Email royals@newsweek.com. We'd love to hear from you.
https://www.newsweek.com/timeline-jason-knauf-meghan-markle-prince-william-1767609 Timeline of Jason Knauf's engagement with Meghan Markle, Prince William