Tina Turner Barbie doll sells out in one day: 'Like her concerts'
A Barbie doll dedicated to music legend Tina Turner sells out in just one day.
Mattel Creations, the company behind the iconic Barbie doll, has released the Tina Turner doll as part of its Signature Music Series.
Based on Turner's unforgettable outfit from the "What's Love Got to Do With It" music video, the barbie sports her signature spiky hair and even holds a microphone.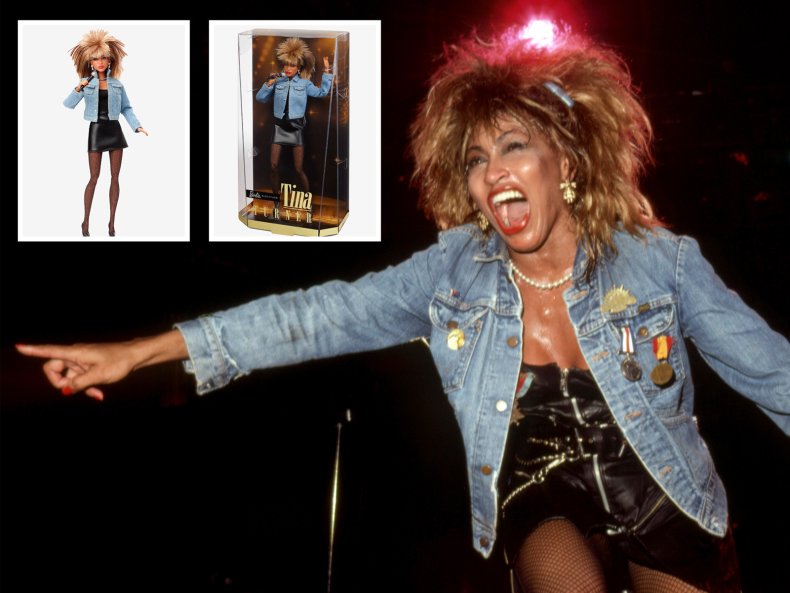 The complete look includes a hip length denim jacket, black shirt and leather mini skirt over sheer tights and black pumps.
The iconic outfit is topped off with drop pearl earrings and red lipstick.
Designer Bill Greening admitted to "using lots of screenshots to see the hair from all angles" to achieve their likeness.
"There was a lot of teasing and hairspray involved," Greening said in a statement when the Tina Turner Barbie was announced.
Slated for an October 13 release, many fans rushed to buy it, only to find that it reportedly sold out in a day.
"Thank god I bought my Tina Turner Barbie last night. 🙌🏾🙌🏾🙌🏾🙌🏾🙌🏾 Their barbies are sold out like their concerts," wrote one fan on Twitter.
Another added: "This Tina Turner Barbie doll has sold out everywhere! I'm so glad you made me do this@WeOutcheaAgain!!! I got it just in time!"
And a third wrote: "But why is this Tina Turner Barbie sold out already?!?!?"
The Tina Turner Barbie was available for $55 and also sold out on other shopping sites like Target.
Mattel explained why they wanted to honor "the undisputed 'Queen of Rock 'n Roll'".
"Barbie celebrates the unprecedented music career and journey of Tina Turner," Mattel wrote on its website.
"She's a Grammy winner, chart-topper and one of the best-selling recording artists of all time.
"This doll is reminiscent of her hit What's Love Got to Do With It, and the design is inspired by the iconic outfit Tina wore in the music video."
The Barbie doll debuted for Mattel Inc in 1959 because, according to her autobiography, creator Ruth Handler wanted to show that "a little girl can be anything she wants to be."
Her full name is Barbara Millicent Roberts and a doll is sold worldwide every three seconds.
It was the first toy ever advertised for children in the United States
Turner joins an illustrious list of celebrities whose likeness has been honored with a Barbie of their own.
Other famous Barbies include Laverne Cox, Jane Goodall, Heidi Klum, Elton John, and Olympic athletes Ibtihaj Muhammad and Gabby Douglas.
With a career spanning six decades, Turner boasts honors including two-time induction into the Rock 'N' Roll Hall of Fame, first with Ike Turner in 1991 and again as a solo artist in the 2021 Kennedy Center Honor and multiple times Grammy winner.
https://www.newsweek.com/barbie-tina-turner-doll-sold-out-1752677 Tina Turner Barbie doll sells out in one day: 'Like her concerts'