Tina Turner in Photos: The music icon was known for her powerful singing paired with the energy on stage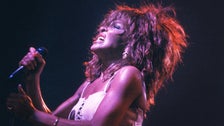 Rock and R&B icon Tina Turner, known for hits like "Proud Mary" and "What's Love Got To Do With It," died Wednesday at the age of 83.
Turner rose to fame for her powerful singing and active stage presence. Over the course of her decade-long career, the singer has won eight Grammys and two MTV Video Music Awards. She was inducted into the Rock & Roll Hall of Fame and received a star on the Hollywood Walk of Fame.
Here are some memorable moments from Turner's life and career in photos: