Todos Juntos provides the necessary resources for the Hispanic community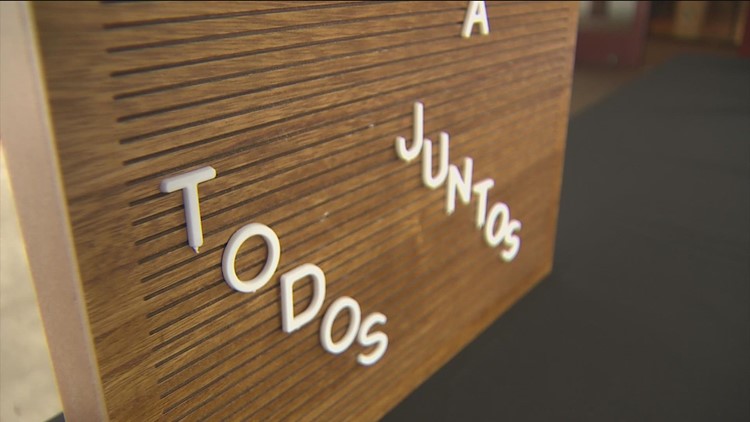 AUSTIN, Texas – This Hispanic Heritage Month, we feature some local changemakers in our community and people who inspire us. An El Salvadoran immigrant now living in Austin knows a lot about perseverance and determination.
"This place is just amazing," said Yessica Marroquin. "Here at Todos Juntos I found the guidance I was missing."
Marroquin immigrated from El Salvador when he was 16. She had big dreams about coming to America and going to school, but when she arrived in Austin, the reality of not knowing English hit her.
Marroquin eventually had a daughter and both needed services to help them within the community. Todos Juntos Learning Center provided the help they needed.
"[Marroquin] needed English services but mainly she needed services for her little one who was in speech therapy and whose therapist told her she could really benefit from being in a classroom," added Christina Collazo, Managing Director of Todos Juntos.
Marroquin came into contact with Collazo after finding a flyer promoting the local non-profit organization Todos Juntos. The organization is a free, two-generational learning center for parents and children that has served the Austin community for 14 years.
KVUE attended fall enrollment, where parents enroll in English classes taught by Austin Community College instructors. Families also have the opportunity to enroll in citizenship and technology classes and learn about stress management.
Todos Juntos was a perfect match for Marroquin, where she felt comfortable knowing that while she spoke fluent English, her daughter down the hall was also learning in her "escuelita".
"Yessica started out as a student and parent. After that she became a volunteer. She then became a board member and last year led our parent immunization ambassadors in our efforts to bring fact-based COVID information to our community," Collazo explained.
After her time at Todo Juntos, Marroquin transitioned to college, where she received an associate's degree in paralegal studies from the ACC last fall and received the Chancellors Student Achievement Award.
"I think education is the key to success – people like us don't come from money," Marroquin explained. "For me, education has opened many, many doors for me."
Now a paralegal, Marroquin aspires to transfer to UT Austin to complete her studies and continue serving Hispanics. She advises not to put up barriers to any dream you may have. If you have a dream, make a plan. It took Marroquin 10 years to get to where she is now, but she found a support system like Todos Juntos that allowed her to continue her dreams.
"Be persistent. Keep going, keep going, keep swimming like Dory," Marroquin said. "And yes it will, if you want it, you will get it. But you have to work for it."
Fiona intensifies into a major hurricane
I-35 was closed in both directions due to a tractor trailer fire
Migrants have been bused into Texas cities by LULAC in protest of Gov. Abbott's policies
https://www.kvue.com/article/news/local/hispanic-heritage-month/hispanic-heritage-month-todos-juntos/269-7dcc3535-4e9d-48b4-9e50-c7498c3116ee Todos Juntos provides the necessary resources for the Hispanic community