Tom Sandoval reacts to Rachel Leviss' interview with Bethenny Frankel
Well, folks. Finally we heard from you Tom Sandoval regarding Rachel Leviss' Surprising three-part interview with Bethenny Frankel. And let me be the first to tell you that he didn't say anything significant, much like his 10-year tenure at Vanderpump Rules.
Unlike Tom, we're not denying the truth here. Despite people's disdain for Bethenny at the moment (rightly so), Rachel revealed some pretty shocking truths. We already knew that Sandoval was a lying, good-for-nothing, and manipulative idiot of the highest order. However, when we heard Rachel confirm that Tom had (allegedly) taped her for sexual reasons without her consent, it was more than enough for us to never have anything to do with that man again. Literally.
And as if that wasn't enough, we fans want to know that despite his bad behavior, he was reportedly offered producer credit. Not because we care about his story, but because it shows us just how shitty the situation behind the scenes really is.
Anyway, Tom finally commented on Rachel's interview. Well, if you could call his comments (or lack thereof) "outspoken." Which, by the way, is quite shocking to us. Considering how much Tom loves convincing himself (and the audience) that what's coming out of his mouth is actually worth a damn.
Tom has to go… as soon as possible
In a new video posted to Instagram, the paparazzi caught up with Tom on the street to discuss Rachel's revelations. But according to Tom, he missed it.
Regarding B and Rachel's three-part interview, Tom said he hadn't heard (LIE) and when asked if the cast should be more lenient towards Rachel, surprisingly he didn't speak out for her.
"Um, I don't know," he said. "Not really a comment. I don't know. I need to hear this podcast."
And when asked if he thinks the show needs Rachel, he said again: "I can't comment on that either. I don't know. I gotta love listening to the podcast."
OK, Tom. Give us something to comment on. For example, when was the last time you spoke to Rachel? "I can't say anything about that either," he replied. Dude, give us a BREAK. You're not Beyoncé – even if you think you are – can you please leave us a fucking comment.
Believe it or not, the rest of the "interview" with Tom was the same crap – a lot of nothing. But once you get used to Tom Sandoval, you don't expect much.
Tell us: What do you think of Tom's "comments"? Do you think it's smart of him not to comment?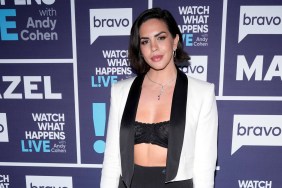 How Katie got her groove back
Pumped up delusions of grandeur
Do blondes have more fun?