Top Republicans shut down NBC's Chuck Todd for using Democrats' playbook on Biden investigation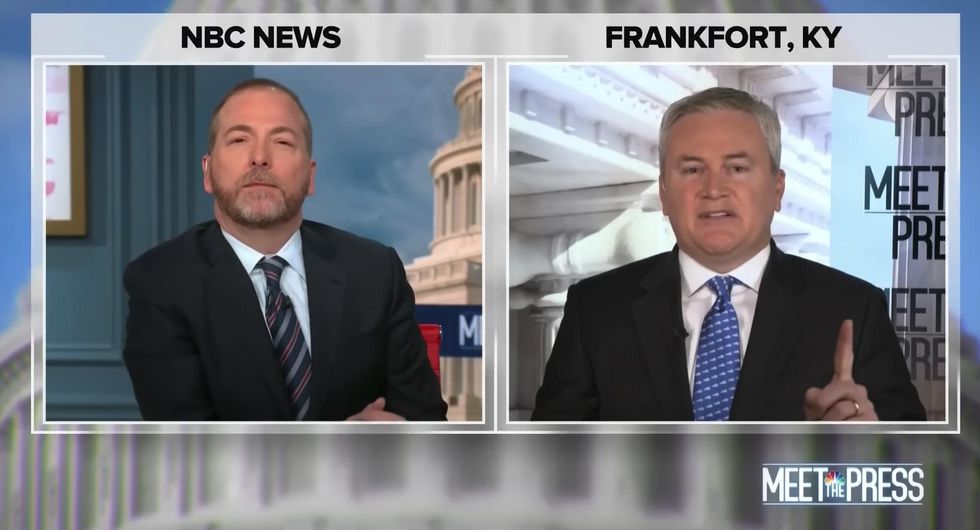 NBC host Chuck Todd on Sunday attempted to characterize the House Republicans' investigative agenda as overly partisan. But Rep. James Comer (R-Ky.) had none of it.
After Republicans won a majority in the House of Representatives, Comer – the new chairman of the House Oversight Committee – promised an investigation into whether Biden was "directly involved in Hunter Biden's business deals." Biden has denied any involvement, but House Republicans claim Biden "personally participated in" Hunter's business dealings.
What happened at NBC?
Todd began his question about the investigation by saying that "a lot of people," though he didn't say exactly who was concerned, said Republicans would be "partisan rather than professional." He then asked Comer how the GOP would "departisan" the investigation.
Comer responded by exposing the Democratic bias underlying Todd's question.
First, Democrats have engaged in highly partisan investigations in recent years, Comer stressed. Second, polls show that Americans generally support oversight investigations into President Joe Biden.
"I think the only people who see this as a partisan investigation are the media and the hardcore Democrats," Comer said.
"You see, the same moment the Democrats on the Ways and Means Committee were declassifying Donald Trump's taxes, a moment later they turned around and said, 'Comer's investigation into the influence of the Biden family is a revenge hearing.' I mean, are you kidding?" he continued. "Look, a Harvard poll just came out and says 65% of Americans believe the contents of Hunter Biden's laptop should be examined."
Full Comer: "We're going to have to make spending cuts" in new Congresswww.youtube.com
In fact, Comer stated unequivocally, "We're not investigating Hunter Biden, we're investigating Joe Biden."
I think any American who has kept up with the political process of the last two administrations would agree: we need to know what is and is not permissible regarding foreign hostile intervention among family members of United States Presidents. That's something Democrats have complained about [Trump administration senior adviser Jared] Kushner, and certainly Republicans, including myself, have complained to Hunter Biden and Jim Biden, the President's son and brother.
Though Comer had disarmed Todd's political questioning, the NBC News host suggested Republicans were being hypocritical by engaging in practices they criticized.
But Comer quickly closed the charges.
"Everything we have claimed we can back up with evidence," he said. "There are emails and text messages showing Hunter Biden complaining about having to spend so much money to keep his father alive. I mean that's a problem because it's just Hunter Biden [sources] of the income came from our opponents in China and Russia for influence.
"It's not political," Comer explained. "We want to know, was the President honest when he said he had no knowledge or involvement in his family's shady dealings? Once we establish that, we will move on."
https://www.theblaze.com/news/chuck-todd-james-comer-partisan-investigation Top Republicans shut down NBC's Chuck Todd for using Democrats' playbook on Biden investigation