Train Karen is accused of xenophobia towards German tourists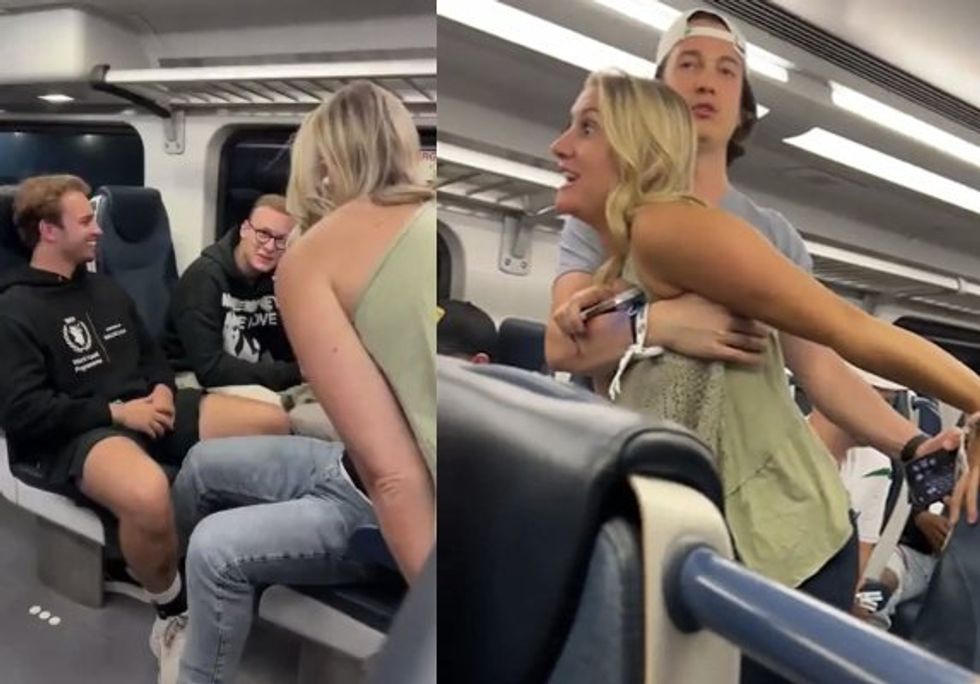 A woman was caught in a viral video going on a xenophobic rant on a New Jersey Transit train and telling a group of Germans to "get the fuck out of our country." The woman – who was dubbed "Train Karen" online – was fired from her job after her abusive behavior went viral online.
Brianna Pinnix, 30, appeared in a video that surfaced on Reddit on Tuesday. She is seen insulting German tourists on a train to New York City.
The footage shows Pinnix confronting the German tourists. The group mostly laughs at the embarrassing collision.
The woman's boyfriend is seen trying to defuse the tense situation, but Pinnix explains, "I can handle my own."
He warns her that she will be arrested, but she doesn't care. The boyfriend then threatens never to talk to Pinnix again, but she continues to scold the tourists.
The friend says to Pinnix, "You know I'm an immigrant? I'm an immigrant too, you know that, right?"
The boyfriend pulls Brianna away from the tourists, but she repeatedly castigates the group of men. "I love you, but let me go," she told her boyfriend.
As the friend holds her back, Pinnix screams, "How about you get the hell out of our country!"
Many online commenters said the woman appeared to be drunk.
Video of the frightening encounter went viral this week.
Pinnix reportedly suspended her social media accounts after her xenophobic rants went viral.
According to the New York PostPinnix was fired from her job at the New York-based pharmaceutical company.
"Our company has a zero-tolerance policy regarding adverse or discriminatory behavior. After reviewing the circumstances, we took immediate action and terminated the employee in question," the company said in a statement. "The former employee's actions and words are not representative of Capital Rx, and we sincerely apologize to those who were hurt."
Pinnix was a talent acquisition specialist at Capital Rx.
Do you like Blaze News? Bypass the censorship, sign up for our newsletter and get stories like this delivered straight to your inbox. Login here!
'Drunk' woman insults tourists on train to New York before telling them to 'get out' of USwww.youtube.com