'Transitional' Aberdeen announce more player departures as older players follow Andy Considine out the exit door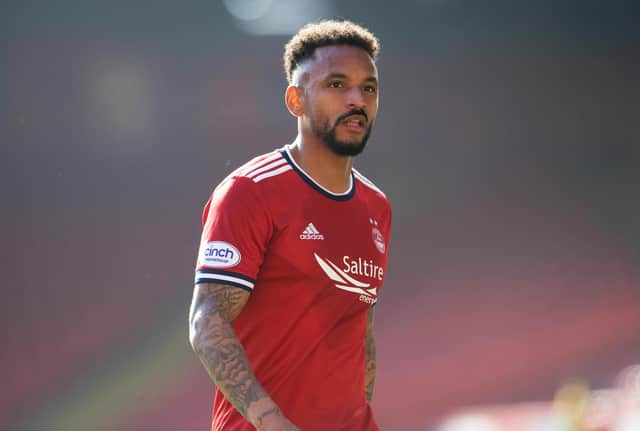 Funso Ojo is one of several players leaving Pittodrie.
The departure of long-time defender Andy Considine has been known for some time, but the club have also opted not to renew the contracts of three other high-profile players.
Midfielders McGeouch and Ojo, who played intermittently for the club, will leave, as will striker Michael Ruth, who graduated from youth academy.
Additionally, Adam Montgomery and Teddy Jenks are returning to Celtic and Brighton and Hove Albion respectively after their loan deals have ended.
Aberdeen manager Jim Goodwin told the club's website: "We are in a period of transition where a number of players, some of whom have long been associated with the club, are now having to move for one reason or another.
"It's never an easy decision but having had time to evaluate the squad in the second half of the season these decisions were made so that we can build a competitive first team for next season and ensure that better days lie ahead lie.
"The hard work has already begun identifying the types of players needed to bring this great xlub back to where it belongs. The new players bring freshness to the group and some much-needed competition for places.
"As much as the 2021/2022 season is still a bit raw, there's nothing we can do about that. We have to learn from the mistakes we made and look forward to the 2022/2023 season with excitement and optimism."
https://www.scotsman.com/sport/football/transitional-aberdeen-announce-more-player-departures-as-senior-players-follow-andy-considine-out-exit-door-3698083 'Transitional' Aberdeen announce more player departures as older players follow Andy Considine out the exit door