Trial of former Parkland MP who stayed out during school shooting begins
Opening statements began Wednesday with the trial of a former Florida school resources officer who stayed outside of Marjory Stoneman Douglas High School while a deadly mass shooting was unfolding inside.
Former Deputy Sheriff's Office of Broward, Scot Peterson face eleven charges Gunshots rang out inside after he waited outside the high school in Parkland, Fla., on February 14, 2018. Fourteen students and three staff were killed and 15 others injured.
Peterson, 60, claimed he did not enter the building because he did not know where the shots were coming from. He is accused of the following charges, among others: seven cases of child neglect for four of the students killed that day.
In his opening statement, prosecutor Steven Klinger told the jury that Peterson was standing in an alcove between two school buildings when the shooting erupted.
"The defendant will never leave this alcove while the shooter is in the building," Klinger said. according to CNN.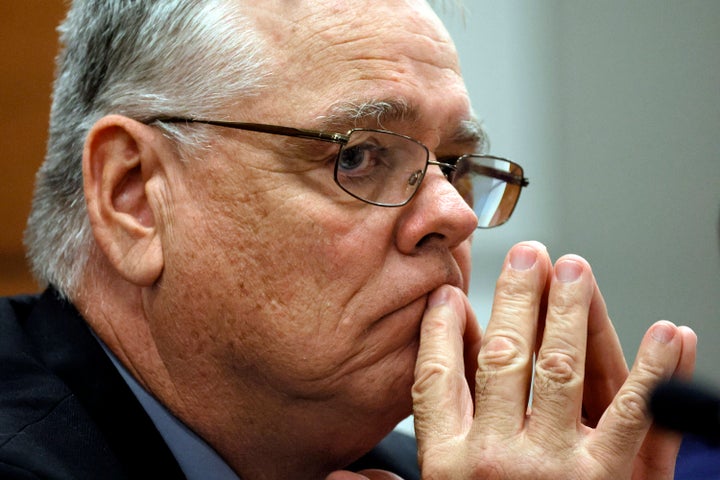 Just a month after the shooting, the Broward Sheriff's Office released surveillance video showing Peterson leading students away from the building before getting into a golf cart with another person, driving away from the building, and then circling it again.
"Get the school cordoned off, gentlemen!" Peterson once yelled during the incident, according to police radio recordings. The former deputy was also heard urging other officers to stay away.
"Don't go near Building 12 or 1300. Stay at least 150 meters away at this point," he said on police radio minutes after the shooting stopped and students and staff lay dying.
In a statement to HuffPost at the time, the sheriff's office said the surveillance video "speaks for itself."
Klinger told the jury that Peterson ended up spending about 48 minutes in the alcove.
Peterson's attorney, Mark Eiglarsh, told jurors he would call 22 witnesses to testify that they too did not know where the sound of the gunshots was coming from.
Eiglarsh added that the only person responsible for the murders was the shooter himself, not Peterson.
Peterson "was no coward," Eiglarsh said.