Trump 2024 support tanks while Ron DeSantis leads by 23 points
Support for former President Donald Trump among Republicans and conservatives appears to have plummeted in a new poll showing he's trailing Florida Gov. Ron DeSantis
A USA TODAY/Suffolk University poll found that DeSantis leads Trump with 56 percent support versus the former president's 33 percent among Republican voters and independents who identify as either conservative or very conservative.
That means a 23-point lead for the Republican governor, who has long been considered a potential future GOP presidential nominee and recently came under public criticism from Trump.
Among the same constituency, 65 percent want Florida's governor to run for president in 2024, while 23 percent didn't want him to run and 11 percent were undecided.
47 percent said they wanted Trump for the White House in 2024, another 45 percent said they didn't, and 8 percent were undecided.
The poll polled 374 Republicans and independents-leaning Republicans, and the margin of error for this group was plus or minus 5.1 percent.
The poll also contained some bad news for President Joe Biden, with DeSantis leading the president among all poll takers in a hypothetical 2024 match-up.
The Republican had 47 percent versus Biden's 43 percent among 1,000 registered voters polled Dec. 7-11, while 7 percent were undecided, 1 percent said they would not vote, 2 percent said they would vote for someone else , and 1 percent refused to respond.
Poll results among registered voters had a margin of error of plus or minus 3.1 percent.
"There is a new Republican sheriff in town," said David Paleologos, director of the University of Suffolk's Center for Policy Research, in a statement released on Tuesday.
"DeSantis is outperforming Trump not only among general voters, but also among those Republican-leaning voters who were the former President's base. Republicans and conservative independents increasingly want Trumpism without Trump."
news week has reached out to former President Trump's office for comment.
The USA TODAY/Suffolk University poll also found that support for a Biden re-election in 2024 had fallen to just 40 percent among Democrats — down from 45 percent in October.
Just 23 percent of registered voters want Biden to run for a second term in 2024, while 67 percent don't want him to run.
These numbers are similar to the results of a recent survey by Redfield & Wilton Strategies news week That found that 58 percent of eligible voters don't believe Biden should run for president in 2024.
news week has asked the White House for comment on the poll.
Nonetheless, in a hypothetical 2024 re-election in the Suffolk University poll, Biden leads Trump 47 percent to the former president's 40 percent, with 4 percent undecided and 5 percent saying they would choose someone else, 4 percent said they would not vote and 1 percent declined to answer.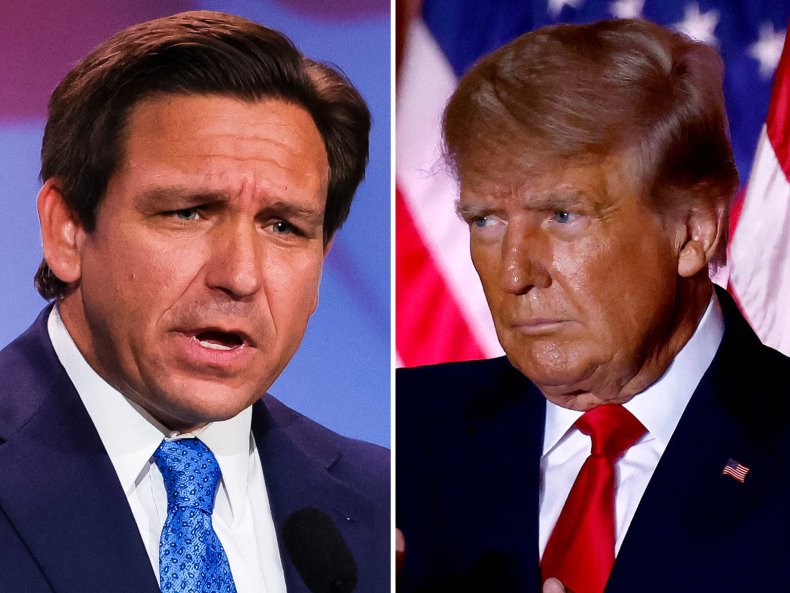 https://www.newsweek.com/trump-2024-support-tanks-ron-desantis-leads-23-points-poll-1766737 Trump 2024 support tanks while Ron DeSantis leads by 23 points