Trump admin tried to shelve findings discrediting COVID drug: report
Former President Donald Trump's administration allegedly sought to bury findings discrediting unproven drugs to cure COVID, according to a congressional report released Monday.
The House Select Subcommittee on the Coronavirus Crisis, headed by Democratic Rep. Jim Clyburn, reported that the scientific integrity of Trump and his White House was compromised "to serve the former president's political goals."
Officials at the Centers for Disease Controls and Prevention (CDC) have allegedly been bullied by the Trump administration and have been barred from providing updated briefings on the COVID-19 pandemic. These included the alleged uncovering of "extensive evidence of effort" by senior Department of Health and Human Services (HHS) officials to disrupt the release of a Morbidity and Mortality Weekly (MMWR) report detailing the significant increase in hydroxychloroquine prescriptions detailed during the pandemic – increased roughly 80-fold between March 2019 and March 2020, despite the lack of data on its effectiveness and potential negative side effects.
In one case, a full-length MMWR preprint was unusually shared with Michael Caputo, then HHS Assistant Secretary of Public Affairs, and Dr. Paul Alexander, an advisor to Caputo, both of whom were allegedly trying to edit and prevent publication of the forthcoming report discouraging the public from using hydroxychloroquine.
Nina Witkofsky, originally assigned as senior communications adviser to former CDC director Robert Redfield and later acting chief of staff, defied longstanding CDC protocol of not sharing drafts outside of the agency.
A draft document that appears never to have been released allegedly argued that the MMWR "presents factual information with an agenda" and "could prevent the news from providing adequate coverage of a true 'miracle cure'". "a disgrace to public service" and accused them of "self-importance, headline-hunting" and "ignoring and [sic] Americans are dying of COVID-19 right now."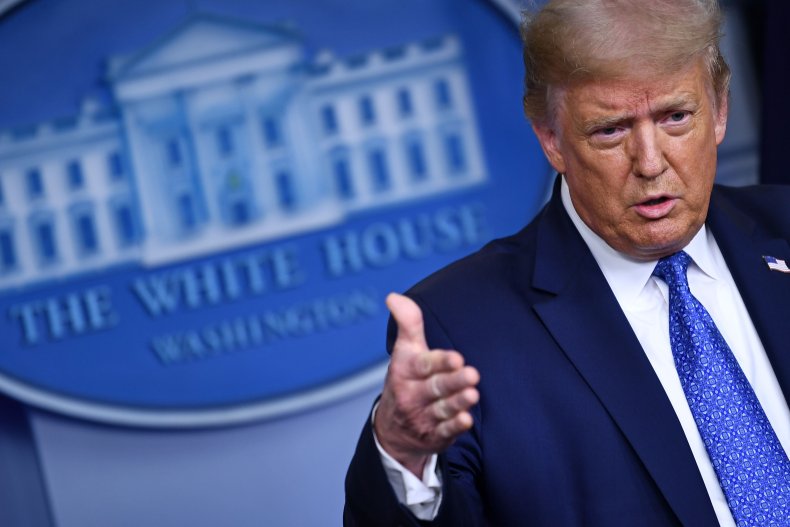 This MMWR, originally scheduled for June 30, 2020, was not released until September 4.
dr Charlotte Kent, Editor-in-Chief of the MMWR, told the select subcommittee during a transcribed interview that she was unaware of the refutation by Trump officials and that HHS documents in that format are "not typical" and "could be." undermine confidence in the CDC and in the scientific quality of MMWR."
Caputo denied the allegations in the report, calling them "false" in an interview.
"Donald Trump hired me to communicate the severity of the pandemic, that's what I was hired to do, I led a team of 400 people to do that," Caputo told CNN. He also said the selected subcommittee never bothered to interview him, although he claimed he made himself available.
"I don't care what they say or how they say it, whether it's a political document written by the Democrats before the election, which I have no respect for, or if it's done in some other way," he said he.
In 2020, Trump infamously touted hydroxychloroquine, saying it "doesn't cause any problems."
"One thing we're seeing is that people aren't going to die from it," Trump told Fox News' Sean Hannity in an interview. "So if someone's in trouble, you take it, I guess. I would."
The former president also called the experimental therapeutic developed by drugmaker Regeneron a "cure" that helped him recover after contracting COVID.
"The Regeneron, I look at it as a cure, not just a therapeutic, I look at it as a cure because I took it," Trump told Fox News host Maria Bartiromo in October 2020.
Aside from encouraging the use of hydroxychloroquine, the House subcommittee-elect said the Trump administration allegedly usurped control of CDC communications, blocked officials' accurate information about the virus, "installed political agents who attempted to downplaying the "seriousness" of COVID-19, overruling scientists to weaken CDC guidance, attempting to manipulate content and blocking the publication of scientific reports, and diverting taxpayer dollars from the CDC to "overtly pro-Trump" slogans that contained in announcements made by the public service for vaccines.
Redfield said he got "PTSD" from how many times Trump administration officials "compromised" the CDC's coronavirus guidance documents multiple times.
Clyburn's office and select subcommittee referred news week to a prepared statement issued by Clyburn on Monday.
"As today's report demonstrates, President Trump and his top aides have repeatedly attacked CDC scientists, compromised the agency's public health guidance and suppressed scientific reports to downplay the seriousness of the coronavirus," Clyburn said. "This prioritization of politics, contempt for science, and refusal to heed the advice of public health experts have compromised the nation's ability to respond effectively to the coronavirus crisis and put Americans at risk."
New findings are detailed in a 91-page report as part of the committee's two-year investigation. The report is titled "'It Was Compromised': The Trump Administration's Unprecedented Campaign to Scrutinize the CDC and Politicize Public Health During the Coronavirus Crisis."
Two previous reports have been issued. One chronicled the Trump administration's introduction of herd immunity before vaccines became available; The second focused on the government's "relentless pressure campaigns" targeting the Food and Drug Administration's scientific decision-making.
https://www.newsweek.com/house-report-says-donald-trump-administration-tried-shelve-covid-hydroxychloroquine-drug-findings-1752563 Trump admin tried to shelve findings discrediting COVID drug: report