Trump allies considered seizing voting machines with armed contractors – report
Numbers on the fringes of former President Donald Trump's circle have been pushing for the use of armed contractors to seize voting machines as part of an effort to overthrow the 2020 presidential election, according to a report published by the Los Angeles Times on Saturday.
The report revolves around a draft letter dated November 21, 2020 Times says it checked. In it, an unspecified person working to find evidence of voter fraud and reverse Trump's loss to President Joe Biden suggested using armed contractors — with the assistance of US Marshals — to seize and inspect voting machines.
The letter was attached to an email from British tech entrepreneur Andrew Whitney, who came into Trump's orbit when he proposed oleandrin, a toxic plant extract, as a cure for COVID-19. Whitney allegedly sent the letter to Cyber ​​Ninjas CEO Doug Logan and cybersecurity expert Jim Penrose, two figures who have worked extensively on efforts to overthrow the 2020 election, alongside Sidney Powell and Michael Flynn, among other Trump allies . Whitney, Penrose and Logan either declined or did not respond to the newspaper's requests for comment.
After reviewing the draft of the letter Times surmised that it was likely an early version of a proposed executive order presented to Trump in the Oval Office on December 18, 2020. The order, which was never issued, called for the confiscation of voting machines across the country. It was presented to former Powell President Flynn and Overstock.com CEO Patrick Byrne. The letter is now believed to be in the possession of the House Select Committee investigating January 6.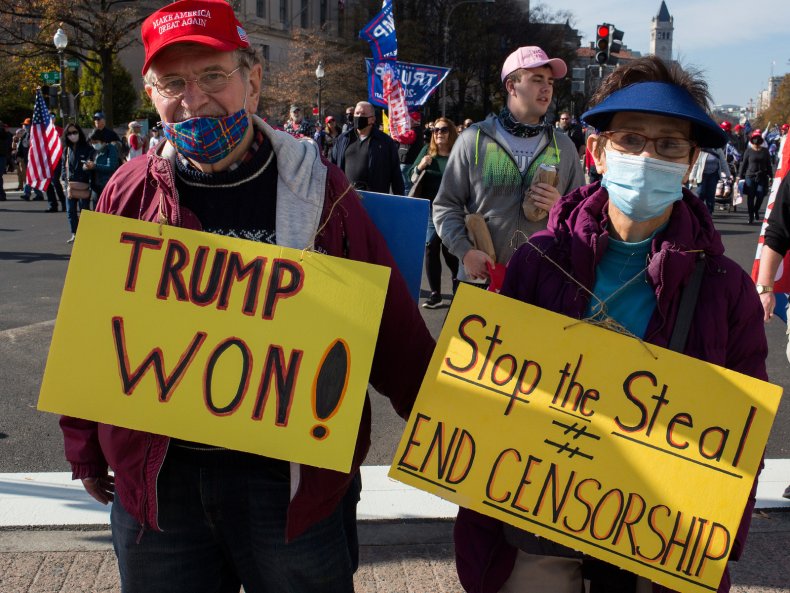 The order proposed in the draft letter would have authorized third-party companies to confiscate voting machines and research their data at will. It also granted authority to acquire "any data and/or code relating to US voter fraud, vote rigging, voter fraud, vote interference, voter eligibility, and voting systems regardless of location."
The document named three cybersecurity companies, two of which, Rising Tide and Allied Security Operations Group, have been linked to Trump's efforts to overthrow the 2020 election. The third, Axon Global Services, said it wasn't Timesand owner Israel Martinez told the newspaper he had no idea why his company had been referred to.
"I was not privy to the document you mentioned, nor was my name or company name listed with my permission," Martinez told the outlet in a statement. "Moreover, I would be annoyed at any suggestion that we would take a biased view of any assignment we are asked to do. We would never approach a potential cyber incident assessment with a biased view."
news week was unable to independently review the letter and verify the claims in the report by the Times.
news week has reached out to Trump's office for comment.
https://www.newsweek.com/trump-allies-pondered-seizing-voting-machines-armed-contractorsreport-1712881 Trump allies considered seizing voting machines with armed contractors – report