Trump could "throw everyone under the bus," predicts Mary Trump
Donald Trump could "throw everyone under the bus" to protect himself, former president's niece said.
Mary Trump is an ardent critic of her uncle, whom she has previously described as "an instinctive fascist limited by his inability to see beyond himself."
In her speech on The Mary Trump Show, which she hosts for media group Politicon, she spoke about Donald Trump's ongoing legal problems.
One of their listeners asked, "As Donald gets closer to the legal gavel, do you see any of his children or people in his orbit falling over? We know he'd throw her under the bus in a second."
In response, Mary Trump said, "Absolutely, Donald would throw everyone under the bus in a second."
She went on to say that even if he did, "it wouldn't help his cause" because he was "the big fish."
Mary Trump added, "So the question is, are the people in his orbit smart enough or cold-blooded enough or strategic enough to attack him?"
Donald Trump is currently involved in several legal investigations.
On August 8, the FBI executed a search warrant at Mar-a-Lago, Donald Trump's Florida home and private members' club, and seized more than 320 documents classified as classified.
Donald Trump is under investigation on suspicion of violating a number of federal laws, including the Espionage Act, for failing to provide documents upon his departure from the White House.
If convicted of violating the Espionage Act, he faces up to 10 years in prison, a fine, or both.
Donald Trump insists he has declassified all documents during his presidency and has hinted some may have been planted by his political opponents.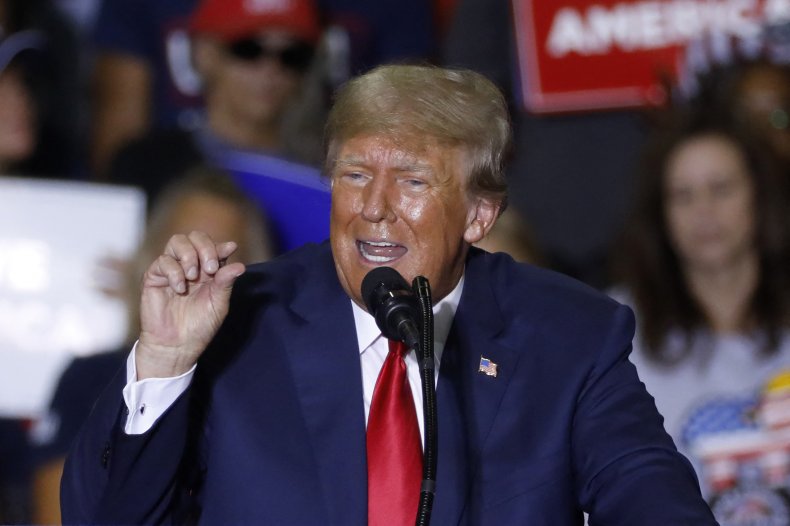 Donald Trump is under investigation in Georgia for allegedly trying to overturn the result of the state's 2020 presidential election to stay in the White House.
In January 2021, he had a phone call with Georgia Secretary of State Brad Raffensperger, in which he asked his fellow Republican to "find" the votes he needed to carry the state.
Speaking to CNN, sources close to the investigation said Georgia prosecutors could begin to complete their investigation after the November midterm elections, with indictments potentially in December.
The former President has defended the call to Raffensperger. He has previously described investigations against him as a "witch hunt" and has protested his innocence.
In Washington DC, a House Select Committee is investigating the events of January 6, 2021, when Congress was invaded by Donald Trump supporters trying to prevent confirmation of Joe Biden's election victory and other related efforts to overturn the election result.
Donald Trump continues to claim the 2020 presidential election was rigged and is calling for a "new election" that could reinstate him as president in August.
These allegations have been dismissed by several US courts and independent election experts.
Mary Trump, a psychologist, is the 57-year-old daughter of Fred Trump Jr., the former president's brother.
In 2020, she published Too Much and Never Enough: How My Family Created the World's Most Dangerous Man, a book highly critical of Donald Trump's business and political activities.
Referring to her uncle, Mary Trump wrote: "His deep-seated insecurities have created within him a black hole of need that constantly demands the light of compliments, which disappears once he has absorbed it all.
"This goes far beyond the usual narcissism. Donald isn't just weak. His ego is a fragile thing that needs to be bolstered at any moment because deep down he knows he is nothing like what he says he is."
news week has reached out to Donald Trump's team for comment.
https://www.newsweek.com/trump-could-throw-everyone-under-bus-mary-trump-predicts-1750130 Trump could "throw everyone under the bus," predicts Mary Trump