Trump is throwing in the towel on fraud, a former Justice Department official warns
Former President Donald Trump is "throwing in the towel" on New York Attorney General Letitia James' case, accusing him of business fraud, former Department of Justice (DOJ) official John Yoo warned on Monday.
Trump, who is running in the 2024 Republican presidential primary, appeared in a New York court on Monday for his trial on corporate fraud charges. James accused the former president of inflating his net worth by billions of dollars between 2011 and 2021 to achieve benefits such as better bank loans and lower tax bills.
Judge Arthur Engoron, who is presiding over the case, ruled last week that Trump, his adult sons, their companies and executives committed fraud and will now rule on six additional charges during the trial, including falsification of business records, insurance fraud and conspiracy claims.
Yoo, who served as deputy assistant attorney general under former President George W. Bush, said Trump was using both a legal and political strategy during the trial and that they had "major disagreements" with each other.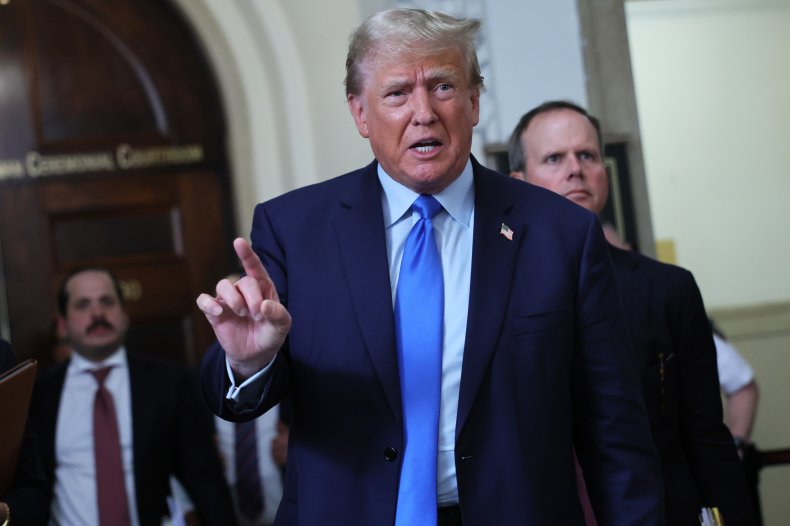 "I think that Trump has already decided that he is going to lose in court. Last week the judge made all the important findings against him. So what I think President Trump has done is turn this all into a political strategy," he said during an interview appearance on Fox News.
Trump maintained a defiant tone toward Engoron and James as he made his way to the courtroom. He called the trial a "continuation of the greatest witch hunt of all time" and attacked both Engoron and James.
"We have a rogue judge who decides that real estate is worth a tiny fraction, a hundredth, a tiny fraction of what it is. We have a racist attorney general running a horror show based on what she would get." "Trump before she even knew anything about me," the former president said.
Trump has portrayed the legal system as biased against him and accused prosecutors of targeting him for political reasons. His messages have connected with Republican primary voters who have continued to support him despite his legal troubles. Polls show he remains the frontrunner in the Republican presidential primary.
Yoo said Trump's comments were "targeted at the political sphere" and "could only cause him to lose his legal battle." An attack on Judge Engoron makes it less likely that he will rule in favor of the former president, Yoo said, adding that Trump would likely lose the case on appeal.
"I think what you're seeing here is actually throwing in the towel on the law and instead using it as a platform to amplify his political message. But this political message will undermine and undermine his ability to prevail at all in this court case," he said.
Newsweek Trump's campaign emailed for comment.
The former president can be ordered to pay restitution but will not be charged in this non-jury trial, which is separate from his four criminal trials in which he maintains his innocence.
Still, legal experts say the outcome of the trial could significantly impact his ability to do business in New York.
Last week, Engoron ordered that some of Trump's business licenses in New York be revoked and that the companies that own some of his properties be turned over to independent receivers. Legal experts described the ruling as a corporate death penalty, while former Trump lawyer Michael Cohen said on Sunday it could be a financial disaster for him.