Trump lashes out at John Kelly after brutal criticism
Former President Donald Trump dismissed criticism from his former chief of staff John Kelly as "lies" and "false stories," a day after the former White House official went on the record to CNN, repeating reports of Trump's disparagement of U.S. troops .
In an exclusive statement released by CNN on Tuesday, Kelly, the longest-serving White House chief of staff under Trump from 2017 to 2019, reiterated several statements Trump reportedly made behind closed doors in which he criticized U.S. soldiers and had attacked veterans, many of whom appeared in a 2020 story by The Atlantic.
Trump's statements shared by Kelly included instances in which the former president allegedly called military members "losers" and "idiots" because "there's nothing in it for them." The former chief of staff also accused Trump of not wanting wounded veterans in his presence because "it doesn't look good to me" and of not being "sincere" about his position on abortion, "on women, on minorities." . about Protestant Christians, about Jews, about working men and women."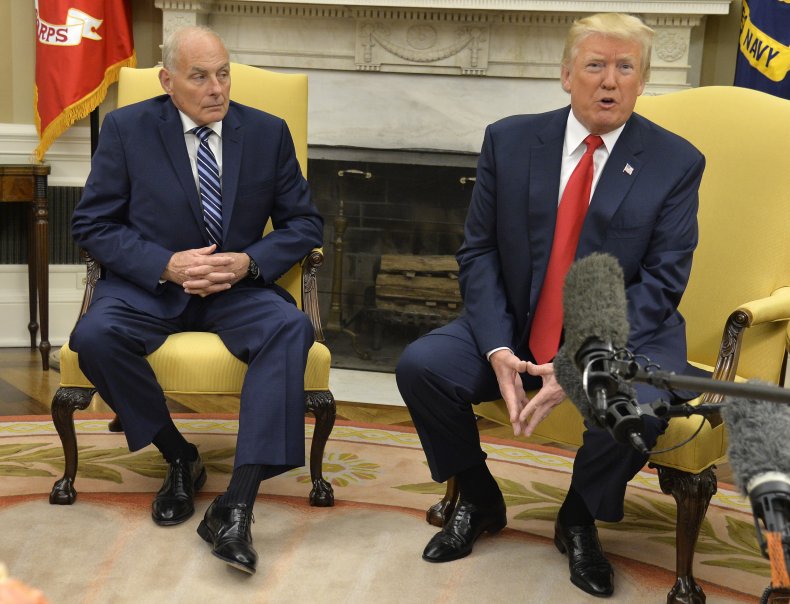 In a post on Truth Social Wednesday, Trump called Kelly "the dumbest of my military guys," adding that Kelly "wasn't capable of doing a good job, it was too much for him, and I couldn't do the guy because of it." "I fired him like a dog."
"He had no heart or respect for people, so I hit him hard — it made no difference to me," Trump continued. "He has already defended me everywhere. Nobody loves the military as much as I do!"
"He is a lowlife with a very small brain and a very big mouth," the former president added. "Many people are angry and upset because they know they will never be in a new Trump administration, but for one reason only: They are nowhere near good enough. Kelly would be one of those at the top of the list!"
Kelly, a retired US Marine Corps general, told CNN that Trump "has no idea what America stands for" and that he "admires autocrats and murderous dictators." He also accused Trump of having "nothing but contempt for our democratic institutions, our Constitution and the rule of law."
"There is nothing more that can be said about this," Kelly concluded in his statement. "God, help us."
In a previous report by The AtlanticMultiple sources close to Trump said that in 2018, the former president canceled a visit to the Aisne-Marne American Cemetery near Paris, France, telling his staff, "Why would I go to that cemetery?" It's full of losers."
In a separate conversation on the same trip, Trump also reportedly referred to the over 1,800 Marines killed at the Battle of Belleau Wood in 1918 as "idiots."
Newsweek reached out to Trump's press team via email Wednesday evening seeking further comment.
Trump has a habit of attacking his critics on social media, including a recent swipe at a New York court clerk who earned him a gag order as part of the civil fraud lawsuit filed against him by New York Attorney General Letitia James. Special Counsel Jack Smith has also requested to interrupt Trump's public speech in the federal trial in which he accused the former president of illegally trying to stay in power after he lost to President Joe Biden in the 2020 election.
Last week, Trump railed against retired U.S. Army General Mark Milley, who appeared to call Trump a "would-be dictator" in his farewell speech. The former president, who suggested Milley would be executed for "treason" in "times past," lambasted the former chairman of the Joint Chiefs of Staff, calling him "slow" in a post on Truth Social.