Trump lashes out at Mark Milley after 'would-be dictator' row
Former President Donald Trump renewed his attacks on retired U.S. Army Gen. Mark Milley after the outgoing chairman of the Joint Chiefs of Staff appeared to suggest that Trump was a "would-be dictator."
Milley, who is stepping down from his Trump-appointed role as the nation's top military officer on Oct. 1, appeared to mention the former president as an aspiring tyrant as he delivered his farewell speech at Joint Base Myer-Henderson Hall in Virginia on Friday.
"We do not take an oath to a king or queen or to a tyrant or dictator. And we do not swear an oath to a would-be dictator," Milley said, according to the Associated Press. "We do not take an oath on an individual. We take an oath to the Constitution and we take an oath to the idea that is America, and we are willing to die to protect it."
A short time later, Trump gave an indirect response to Milley's speech in a post on Truth Social, again referencing reports that claimed Milley had called his Chinese counterpart and promised to warn China of a possible impending attack in 2020 .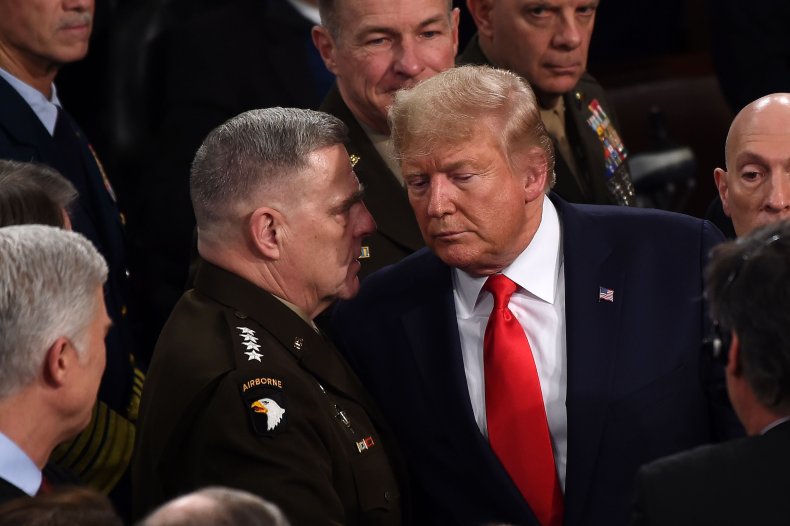 Last week, Trump suggested that the alleged communication meant that Milley would have been executed for "treason" in "times past."
In addition to Milley, the former president also took a shot at former Defense Secretary Mark Esper, calling him a "woke fool." Esper is another in a long list of former Trump appointees who have since been denounced by the former president.
"Slow and thinking Mark Milley should never have made those calls to China's military leadership," Trump said wrote. "Does this idiot, along with the WOKE FOOL Mark Yesper (Esper!) who said yes to everything, have any idea what a dangerous situation he has put our country in? Look at his words – STUPID AND VERY DANGEROUS!"
Newsweek Trump's office requested further comment via email Friday evening.
Trump said in a Truth Social post a week earlier that Milley's retirement from military service was "a cause for celebration for all citizens of the United States," before calling the general a "waking train wreck" who committed "such an egregious act." have. that it justified death.
"It turns out that this guy was a woke train wreck who, if the fake news reporting is true, actually had to do with China to inform them about the thinking of the President of the United States. " Trump wrote. "This is such a monstrous act that previously the punishment would have been death!"
Milley responded to the former president's suggestion that he should be executed earlier this week in a preview clip from an upcoming interview on CBS. 60 minutes.
The general said Trump's remark was "also directed at the institution of the military" before announcing that he had taken "safety precautions" to protect himself and his family.
"I took appropriate security precautions," Milley said. "I wish these comments hadn't been made, but they were. And we will take appropriate measures to ensure my safety and that of my family."