Trump led voters to think Republicans were "evil" and messy, says Mitch McConnell
Senate Minority Leader Mitch McConnell blamed former President Donald Trump and part of his base for critical losses in key states during last month's midterm elections.
McConnell told NBC News on Wednesday that Republicans failed to take over the Senate because of Trump's hand-picked nominees and vowed to support "quality candidates" in the 2024 primary. He also said Trump's "political influence has waned."
"We've lost the support we needed among independents and moderate Republicans, largely around the view they had of us as a party — largely from the former president — that we were kind of evil and prone to chaos," McConnell said .
"And oddly enough, while this subset of voters did not approve of President Biden, in several instances they did not have enough confidence in us to give us the majority we needed."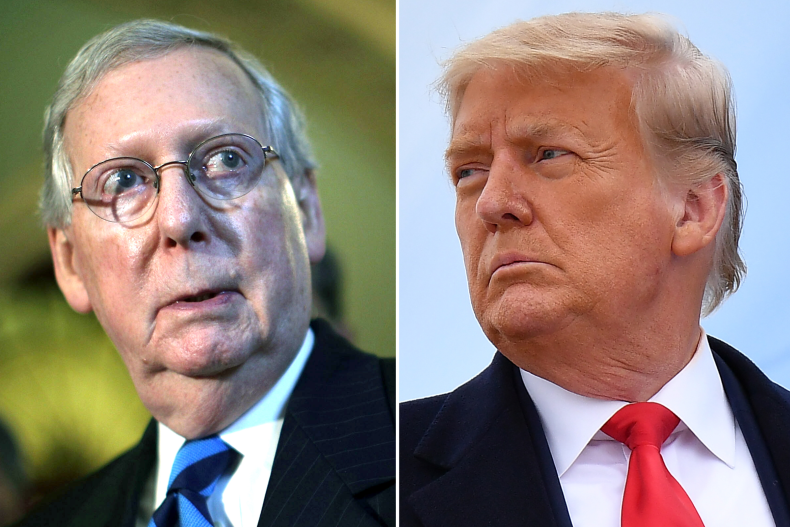 The longtime senator also said the GOP underperformed in "every state," including Ohio, where JD Vance won by a narrower margin than expected. Losses in Arizona, New Hampshire and Georgia were classified as "fatal".
Trump has not responded to McConnell's comments, although he did post a link to a Washington Examiner article on Truth Social about the minority leader and his continued support for aid to Ukraine.
Other conservatives, including members of Congress and pundits, have followed suit in recent days, urging McConnell to prioritize better in anticipation of passage of the massive omnibus spending bill.
Along with Trump, one of McConnell's biggest opponents in his own party has become Florida Senator Rick Scott. Scott, chairman of the National Republican Senatorial Committee, predicted ahead of the November midterm elections that the GOP would eventually win at least 52 Senate seats.
When that didn't come to fruition, Scott challenged McConnell's leadership position less than two weeks after Republicans realized they would again be in the minority for another two years.
"[Republican voters] asking us to tell them what we're going to do when we're in charge," Scott wrote in a letter distributed Nov. 15 to other Republican senators who do. This is clearly not working and it is time for bold changes. The voters want it."
A day later, Republican senators voted 37 to 10 to re-elect McConnell as conference chair. Among those who sided with Scott were Senators Ted Cruz, Josh Hawley, Lindsey Graham and Ron Johnson.
Scott was endorsed by none other than Trump himself.
"I think Rick Scott would be a lot better than McConnell," Trump said at the time. "I know McConnell well. I call his wife CoCo Chao. I wasn't sad to see her go. I'm not a McConnell fan and I'm a Rick Scott fan."
news week reached out to Trump, McConnell, Scott and the NRSC for comment.
https://www.newsweek.com/mitch-mcconnell-donald-trump-republicans-nasty-chaotic-1769428 Trump led voters to think Republicans were "evil" and messy, says Mitch McConnell