Trump says he knew nothing about the Holocaust denier who ate with him
Former President Donald Trump said Friday he knew "nothing about" Nick Fuentes, the Holocaust denier and white nationalist he recently had dinner with in Mar-a-Lago.
"Last week Kanye West called me for dinner in Mar-a-Lago," the former president wrote on Truth Social. "Shortly after, he showed up unexpectedly with three of his friends I didn't know about. We had dinner on the back patio on Tuesday night with many members present. Dinner was quick and uneventful. They then drove to the airport."
Embattled rapper Kanye West, who legally changed his name to Ye, has told a slightly different version of the story. He said in a video posted to Twitter on Thursday that Trump was "really impressed" with Fuentes.
"And unlike so many lawyers and so many people that he was left behind in his 2020 campaign, Nick Fuentes is actually a loyalist," West said.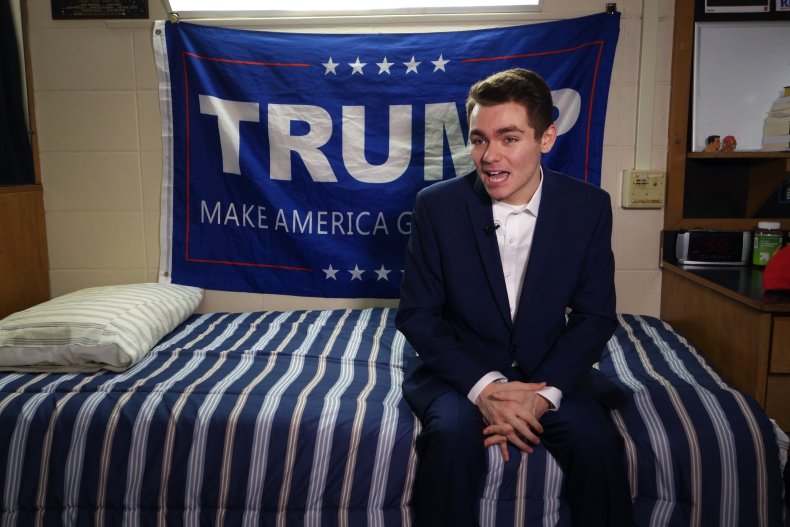 Both Trump and Ye recently announced their respective plans to run for president in 2024. Ye said in his video that Trump was "disturbed" after the rapper asked him to be his vice presidential nominee.
West also explained in the video clip that Trump was "unprepared" by the fact that he had come to the Florida meeting "with intelligence agencies."
The controversial hip-hop icon has come under fire in recent weeks after making a spate of anti-Black and anti-Semitic statements. His Twitter profile was suspended in October after he published a post saying he wanted to do "Death con 3 on JEWISH PEOPLE".
The rapper's recently announced campaign aide, far-right agitator Milo Yiannopoulos, has also been accused of anti-Semitism in the past.
West and Fuentes were photographed walking together at Miami Airport on Tuesday. Later that day, West tweeted that during his trip to Mar-a-Lago, he "couldn't believe I kept President Trump waiting."
Fuentes rose to fame after attending the deadly Unite the Right rally in Charlottesville, Virginia in 2017.
He hosts the live stream show America First with Nicholas J. Fuentes, which the Anti-Defamation League (ADL) says has a "cult-like following." His followers are called "Groypers" or "Groyper Army".
Groypers "regularly confront mainstream conservative organizations like Turning Point USA (TPUSA) for failing to promote a truly 'America First' agenda and for failing to be appropriately 'pro-white,'" according to the ADL.
Once during a live stream, Fuentes compared mass murder during the Holocaust to baking cookies in an oven.
The ADL and the Southern Poverty Law Center have both written lengthy watchdog blog posts about Fuentes. The far-right provocateur has long been an ardent Trump supporter and promoted the false narrative that the 2020 presidential election was plagued by widespread fraud.
news week reached out to Trump officials for comment.
https://www.newsweek.com/trump-knew-nothing-about-nick-fuentes-dinner-kanye-west-1762436 Trump says he knew nothing about the Holocaust denier who ate with him