Trump travels to rallies in Nevada and Arizona as legal pressure mounts
Former President Donald Trump is set to hold rallies this weekend in support of his backed candidates in Nevada and Arizona as legal pressure from multiple investigations continues to mount.
Arizona and Nevada are two of the most deeply divided battleground states, and both are hosting multiple contests ahead of the Nov. 8 midterm elections that will serve as a test of Trump's popularity with the general electorate. He endorsed more than 200 candidates, most of whom won their GOP primaries, to keep the Republican Party in check ahead of a potential presidential bid in 2024.
Trump will speak Saturday night in Minden, Nevada, alongside candidates including Clark County Sheriff Joe Lombardo, who is running in the gubernatorial race, and former Attorney General Adam Laxalt, the GOP nominee in the US Senate race. On Sunday, he will travel to Mesa, Arizona to rally behind Kari Lake in the gubernatorial race and Blake Masters in the Senate race.
The rallies come amid several ongoing investigations into Trump's behavior and dealings. The House special committee investigating the January 6, 2021 riots – when a mob of Trump supporters violently protested outside the US Capitol to force Congress to block President Joe Biden's election victory – is scheduled for a hearing this week hold Several other investigations also continue to make slow progress.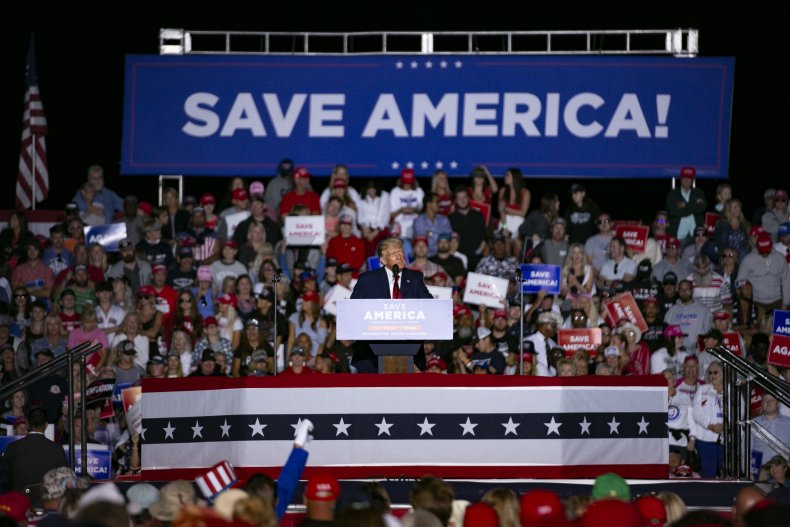 January 6 Committee holds hearing this week
The January 6 committee will hold its first hearing in weeks on Thursday, October 13 at 1 p.m. ET. The committee held a series of public hearings over the summer, at which key witnesses close to the Trump administration testified about events surrounding Trump's alleged effort to overthrow the 2020 presidential election.
The committee did not specify what the expected hearing would focus on, but the hearing is expected to provide new information. The committee last week questioned Ginni Thomas, wife of Supreme Court Justice Clarence Thomas. She was under scrutiny over a series of texts she sent to Trump's chief of staff, Mark Meadows, allegedly urging him to block Biden from becoming president.
Earlier hearings were seen as a political loss for Trump, as several bombastic revelations were made – including Trump endorsing the "Hang Mike Pence" chants. Trump also saw his poll numbers falter during the hearings.
The committee rescheduled the hearing from its original late September date due to Hurricane Ian.
Trump asks the Supreme Court to intervene in the investigation of classified documents
Trump also faces a Department of Justice (DOJ) investigation into whether he improperly stored classified documents, possibly including national security information, at his Florida residence, Mar-a-Lago. The FBI searched the property on August 8 and seized 20 boxes allegedly containing classified information.
Trump on Tuesday asked the conservative-led US Supreme Court to step in to ensure the documents are reviewed by Special Master Raymond Dearie to determine whether they are protected by special or attorney-client privilege.
Legal expert Laurence Tribe predicted Thursday that the DOJ appears to be taking a step toward indicting Trump for failing to turn over classified documents. Legal experts, however, said news week last week that the FBI is unlikely to arrest Trump before the midterms.
Trump has maintained his innocence and said he declassified the documents when he removed them from the White House.
Trump companies are facing a lawsuit in New York
Trump's most recent legal woes came from New York, where Attorney General Letitia James sued him last month. James accused him and three of his children of knowingly submitting misleading property valuations and inflating his net worth.
James has referred the case to prosecutors and the Internal Revenue Service (IRS). However, if they refuse to take up the case, he would only face civil penalties, including paying a refund to New York State. Trump has also protested his innocence in this investigation.
James moved in late September to expedite the lawsuit and set a trial date before the end of 2023, according to ABC News.
Georgia investigators are requesting testimony from Gingrich and Flynn
Fulton County District Attorney Fani Willis is also investigating whether Trump's phone call urging Secretary of State Brad Raffensperger to "find" votes to tilt the election in his favor violated state election laws. Willis on Friday asked for testimony from former House Speaker Newt Gingrich and Michael Flynn, who served as Trump's national security adviser.
Willis wrote in court filings that Gingrich and Flynn said they had "unique knowledge" of the "coordinated efforts of multiple states to influence the results of the November 2020 election in Georgia and elsewhere," according to Georgia Law News.
news week has reached out to Trump's office for comment.
https://www.newsweek.com/trump-heads-nevada-arizona-rallies-legal-pressure-builds-1750109 Trump travels to rallies in Nevada and Arizona as legal pressure mounts