Trump uses Monterey Park mass shooting to defend Jan. 6 rioters
Former President Donald Trump tried to use the recent protests in Atlanta and the mass shooting in California's Monterey Park to defend Jan. 6 rioters, though the latter appeared to bear no connection or resemblance to the Capitol attack.
Trump made the comment Sunday morning on his social media platform Truth Social. In it, he says the perpetrators of both events will go unpunished and went on to rail against participants in the Jan. 6 riots for having their "lives ruined" while seemingly promising again to pardon them if he were re-elected in 2024.
"[Ten] Deaths in California shooting, ANTIFA protest with horrific weapon against our great Atlanta police force – Despite night of anger and destruction they will be harmed," Trump's post read. "Yet our January 6 protesters lost their lives ruined over a rigged election, despite the fact that no one but true patriot Ashli ​​B. was killed. This situation will be fully corrected after the 2024 elections. Thank you!"
The Atlanta protest Trump was referring to took place on Saturday, with participants gathering to protest the recent police killing of activist Manuel Esteban Paez Terán on Wednesday. Terán, 26, had gotten into a verbal altercation with officers near the proposed site of a massive police training facility, colloquially known as "Cop City."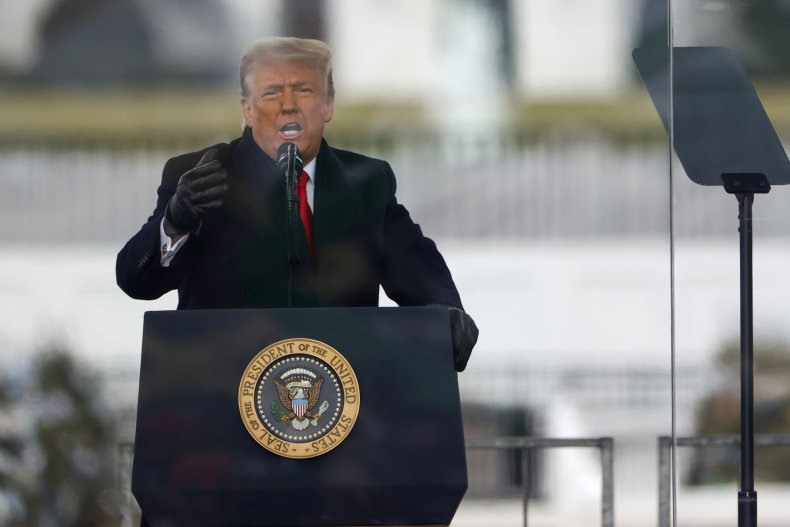 Saturday's protest began peacefully but briefly escalated into violence at one point when participants threw rocks and firecrackers, smashed windows and set fire to a police car, Reuters reported. Despite Trump's reference in his post to a "night of anger and destruction," Reuters added that the "violence quickly fizzled out with no one injured."
The California mass shooting mentioned by Trump took place at a dance studio in the Los Angeles suburb of Monterey Park, near a Chinese New Year event. A gunman, still at large and unknown, opened fire on the studio, killing 10 and leaving others seriously injured. US Census Bureau data reports that 65 percent of Monterey Park residents identify as Asian American.
"Our hearts go out to those who lost loved ones tonight in our neighboring town of Monterey Park where a mass shooting just took place," Los Angeles City Controller Kenneth Mejia said in a statement. "Monterey Park is home to one of the largest Asian communities in Los Angeles County and many have been out to celebrate the Lunar New Year."
Based on his post on Truth Social and the available reports of the incident, it is unclear why Trump cited the mass shooting and what he believed it had in common with the Atlanta protest and Capitol riot.
news week has reached out to Trump's representative for comments.
https://www.newsweek.com/trump-uses-monterey-park-mass-shooting-defend-jan-6-rioters-1775580 Trump uses Monterey Park mass shooting to defend Jan. 6 rioters