Trump's 2024 announcement gets an awkward prelude from Pence's book promotion
Former Vice President Mike Pence said during an interview that aired the night before Trump is expected to announce his 2024 campaign bid that there are "better choices" than former President Donald Trump in the next presidential election.
Pence, speaking to ABC news anchor David Muir on Monday night, opened up about his perspective on the Jan. 6, 2021 Capitol riot and promoted his forthcoming book may god help me that is set to be released on Tuesday — the same day Trump plans to make a "big announcement" from his Mar-a-Lago estate.
In the interview, Muir asked the former vice president what he called a "pretty simple question."
"Yes or no," Muir said to Pence. "Do you think Donald Trump should ever be president again?"
"I think that's because of the American people," Pence replied. "But I think we will make better decisions in the future."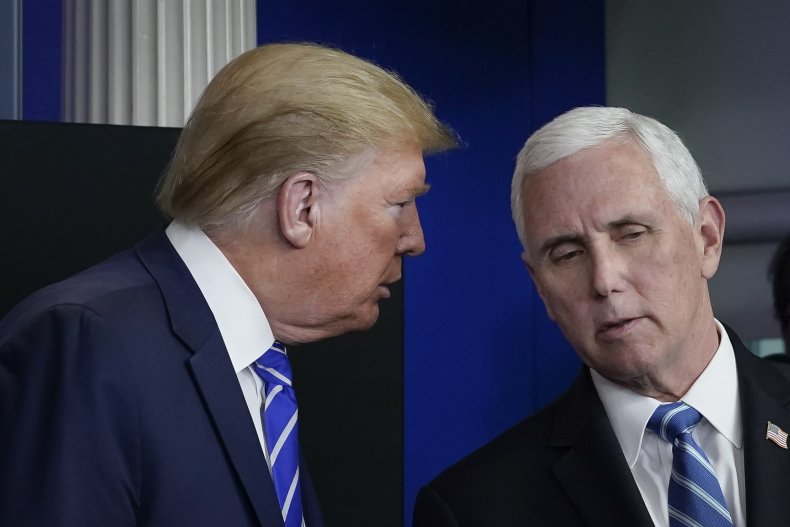 One of those decisions could be Pence himself, as the Native American native told ABC News that he and his family are "prayingly considering" potentially running for office in 2024.
Trump has consistently hinted at running for president in 2024, and ahead of last week's election announced that he would make a major announcement Tuesday night at his home in Palm Beach, Fla. However, several GOP leaders have blamed the former president for a disappointing midterm turnout and want the party to move away from Trump going forward.
Pence said last week's election was "more of a red wave" than a red wave as expected, "and I'm just disappointed in that."
"I think that focusing on the past, President Trump's continued focus on renegotiating past elections and asking candidates to do so, hasn't helped," Pence said.
Pence also joked with Muir that Trump's big announcement Tuesday "is pretty sure he won't announce my book."
"But look, it's a free country," he added. "He can make any announcement he wants to make."
Pence called Trump's actions on Jan. 6 "reckless" in his interview Monday, saying the former president "decided to be part of the problem" during the attack on the Capitol that led to some rioters following him Shouting "Hang Mike Pence" wouldn't stop Congress from confirming the 2020 election results.
But other GOP leaders said Pence's reaction to Trump's possible run in 2024 was "disappointing," including former Ohio Gov. John Kasich, who discussed Pence's interview on CNN Monday night.
Kasich said CNN Anchor Anderson Cooper that Pence "should have said no" when asked if Trump should run for president again.
"I do not think so [Trump] should be president," said Kasich. "I can't find out. It's disappointing [Pence] doesn't say no. Honestly, he should have said no in the first place because Donald Trump has divided our country."
Former Congressman Joe Walshwho ran against Trump for the Republican nomination in the 2020 presidential election, wrote on Twitter that Pence's response was a "bad response."
"A dishonest answer," Walsh continued. "The right answer, the answer Pence just doesn't have the courage to answer, is 'NO.'"
in one separate interview With Fox News host Sean Hannity, Pence said Monday that while he considers himself and Trump "different," the two have "formed a close working relationship."
"I put that in the book," Pence tells Hannity. "We parted amicably and we spoke a few times after I left office. But honestly, when the President got back to some of the rhetoric about me and others who had been pro-Constitution, I thought it would be best if we just went our separate ways."
news week reached out to Trump's team for comment on Pence's interview.
https://www.newsweek.com/trumps-2024-announcement-gets-awkward-prelude-pences-book-promotion-1759523 Trump's 2024 announcement gets an awkward prelude from Pence's book promotion