Trump's charges should disqualify him from 2024 run, majority says: poll
A slim majority of Americans say the recent criminal indictment against former President Donald Trump in New York should deter him from ever running for the presidency again, according to a new poll.
Trump, the first sitting or former president in U.S. history to face criminal charges, was charged with 34 counts of falsifying business records at his indictment Tuesday in Manhattan. The former president has pleaded not guilty to all charges he alleges were part of a politically motivated "witch hunt" instigated by the Democratic Party.
A Reuters/Ipsos poll released Thursday found that 51 percent of all respondents, including 18 percent of Republicans, think the indictments "should bar Trump from running for president again."
However, the indictments appear to have boosted the former president's chances in the 2024 GOP primary, with 58 percent of Republicans saying Trump is their preferred choice — a 10-point increase from the 48 percent who published him in a Monday report poll preferred.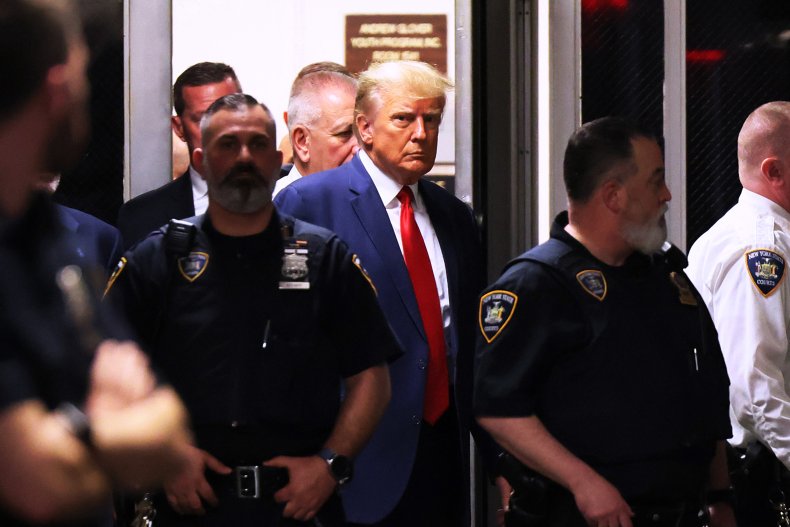 The poll also found that a small minority, 49 percent, believed prosecutors were "right" to pursue the charges.
A majority of 73 percent, including 55 percent of Republicans, said they believed Trump arranged hush money payments to silence porn star Stormy Daniels and his predecessors playboy Model Karen McDougal.
The survey was conducted among 1,004 US adults on Wednesday and Thursday. The survey's confidence interval, a measure similar to a margin of error, was 3.8 percent for all respondents.
A poll released by CNN the day before the former president's arrest found that 60 percent of Americans approve of his charges. Republican Rep. Lauren Boebert, a Trump loyalist, insisted the poll was "fake."
Trump has long dismissed CNN as "fake news." He has made similar claims about polls less favorable to him, while repeatedly boosting flattering polls.
Last month, the former president was mocked after he touted on Truth Social a flattering but non-scientific poll conducted by right-wing Twitter troll account @catturd2.
While some may believe that Trump's legal troubles should bar him from running for the presidency, the indictments do not legally prohibit running for the White House. Even a conviction in New York would not affect the former president's fitness for office.
The Constitution only requires that Presidents be US-born citizens aged 35 or older, with the only caveat that the 14th Amendment prohibits those who have "taken part in any insurrection or rebellion."
Because Trump may still face federal charges related to his actions during the January 6 attack on the US Capitol, some experts have suggested that a federal conviction could disqualify him, although there would be no such precedent.
news week emailed the Trump office for comment.