Trump's reinstatement hailed as a victory for "extremism" on Facebook and Instagram
Meta's announcement that former President Donald Trump's Facebook and Instagram accounts will be restored has been denounced by those who say the decision is a victory for "extremism" and online hate.
Trump was suspended from several social media platforms following the Jan. 6 attack on the US Capitol. His Facebook and Instagram accounts were initially suspended for two weeks, the bans were later extended to two years. On Wednesday, Meta said Trump's accounts would return to the platforms "in the coming weeks."
Meta's move came two months after Elon Musk restored Trump's account on Twitter. The former president, who was a prolific Twitter user prior to his "permanent" ban in January 2021, has not returned to active use of the platform. It's unclear if he will return to Facebook or Instagram, although he has remained active on his own network, Truth Social.
Critics of the former president were quick to blast the revival of his Facebook and Instagram accounts as an invitation to spread misinformation and hateful rhetoric on the platforms. Some progressive groups have warned that Trump's return could spark a new explosion of "extremism" on Facebook and Instagram.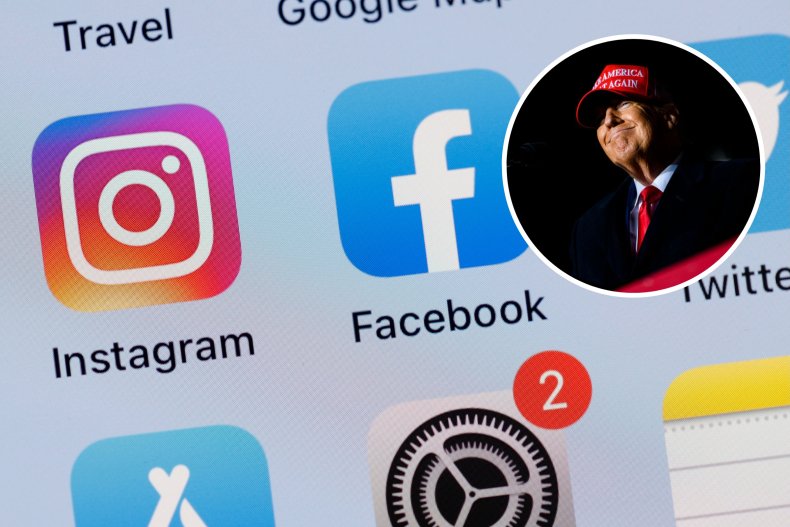 "By allowing Donald Trump back onto its platforms, Meta is fueling Trump's engine for misinformation and extremism," Angelo Carusone, president of progressive watchdog organization Media Matters for America, said in a statement obtained by news week.
"The company knows he's going to turn Facebook and Instagram into a cesspool of hate, violence and extremism – but he doesn't care," he continued. "Facebook is a dying platform, and Meta will do whatever it takes to maintain relevance and revenue — even if it means jeopardizing its users and our democracy."
The Jewish Democratic Council of America said on Twitter that Meta's decision "increases a direct threat to the future of our democracy."
"This irresponsible decision underlines the importance of our work against right-wing extremism," the group said tweeted.
"Donald Trump's long history of using social media platforms to reinforce lies and misinformation and to fuel hatred and violence makes his return to Facebook and Instagram dangerous for every single American." tweeted Sarah Kate Ellis, President and CEO of LGBTQ advocacy group GLAAD.
"Last year, Facebook flagged our January 6 video as 'misinformation,'" according to progressive consumer advocacy group Public Citizen tweeted. "Trump using stolen election lies to incite an insurgency is a fact. Now Trump is letting it back onto the platform. Facebook has never cared about the truth. It only cares about mollifying extremists."
Meta, who expected the decision to bring Trump back would face criticism, defended the move in a statement from Nick Clegg, the company's president of global affairs.
Clegg argued that the reinstatement was warranted because "the risk" of Trump being active on the platforms had "reduced sufficiently." He added that Trump would be subject to "new guard rails" to "deter future crime" if he returned to the platform.
"Meta says risk posed by Donald Trump has 'reduced enough'" tweeted Noah Bookbinder, President and CEO of Citizens for Responsibility and Ethics in Washington. "In what world? He still posts lies and misinformation and malice on social media. He has never denied his attempt to overthrow an election. This is more than unacceptable."
Democratic Congressman Adam Schiff of California also condemned the decision, calling Trump's possible impending return to Facebook "dangerous."
"Trump started a riot," Schiff said tweeted. "And trying to stop the peaceful transfer of power. He has shown no remorse. No mercy. Giving him back access to a social media platform to spread his lies and demagogy is dangerous. @Facebook caved in and gave him a platform to do more damage. "
Change the Terms — a coalition of more than 60 civil rights, human rights, technology policy and consumer protection groups — sent a letter to Meta CEO Mark Zuckerberg last week, urging him to permanently ban Trump.
Jessica González, co-chair of the coalition, said in a statement obtained by news week that Wednesday's suspension was an "extremely reckless decision" by Meta.
"Meta moves backwards, taking us back to a time when Donald Trump used the company's powerful tools to spread lies and dangerous rhetoric and incite violence against disenfranchised communities and his ideological enemies," González said.
"The impact will be felt most strongly by communities of color, political dissidents, journalists and other threatened groups and individuals who too often receive hatred from Trump and anti-democratic authoritarians and white supremacists like him," she added.
Evan Greer, director of digital rights group Fight for the Future, called Trump's reinstatement on the meta-platforms a "huge distraction," arguing that the people hardest hit by the de-platforming and moderation outrage on social media are instead Arabs and Muslims, sex workers, pro-choice advocates and the LGBTQ community.
"By allowing the former president to remain the center of attention in world-changing debates about content regulation, free speech and the harms of big tech, we're helping him achieve his heinous goals of silencing and oppressing the most vulnerable," Greer said in a statement obtained by news week.
"Passing a privacy law would do much more to slow the viral spread of hateful content and disinformation than keep Trump off any particular platform," she added. "Passing antitrust reforms would do much more to protect our democracy from Trump and his ilk than ban any account."
news week asked Meta for a comment.
https://www.newsweek.com/trumps-facebook-instagram-reinstatements-denounced-win-extremism-1776662 Trump's reinstatement hailed as a victory for "extremism" on Facebook and Instagram