Tucker Carlson mocks for telling Democrats to de-escalate rhetoric
Fox News host Tucker Carlson has been ridiculed online after urging Democrats to scale back their rhetoric.
During his Monday night show, Carlson played a clip of former Fox News reporter Carl Cameron speaking on CNN on Saturday.
Cameron said Carlson "screamed fire in a crowded movie theater."
"The fact is, if you disturb the peace by starting a riot in a movie theater, the cops will arrest you and you could end up in jail or worse," Cameron said.
"This kind of stunt definitely needs to stop. Whether it's antitrust law to take down and disappoint people who lie and spread falsehoods who cause harm and violent hatred, something should be done about it.
"The government is starting to do something about this, it was long overdue," he said.
A video clip Carlson's response to Cameron's testimony has begun to go viral on Twitter and has been viewed over 580,000 times.
"'End up in jail, or maybe something worse.' What's worse? We're not sure what's worse," Carlson said.
"It certainly feels like we're moving towards it at a very high speed at this point. That's the end point, so to speak, something worse."
"Because rhetoric has its own inner logic. You've experienced it, you can tell yourself things, we've all done that.
"What [Democrats] telling yourself is 'something worse', it's scary.
"It's time to pull back, it's time to de-escalate or it will get very ugly very soon."
Introducing his next guest, Fearless Host Jason Whitlock, Carlson, warned Democrat rhetoric could be getting worse.
"It's just funny how the hive feeds on itself and suddenly 'You're a white supremacist' to 'You're a Nazi, you're al-Qaeda' to 'You're a felon, you're' becoming a non -person," Carlson said.
"It gets to 'We have to kill you' pretty quickly from there."
When Carlson's response went viral, other Twitter users took aim at the Fox host, asking if he should tone down his rhetoric as well.
"Has Tucker Carlson ever seen Tucker Carlson?" Atlantic reporter Molly Jong-Fast tweeted.
Comedian Maz Jobrani posted a similar tweet, writing, "Distracted a lot?" while sharing the video.
MSNBC's Mehdi Hasan simply tweeted: "Amazing. Seriously. Amazing."
dr Jorge A. Caballero, co-founder of the volunteer organization Coders Against COVID, defiantly wrote: "I will de-escalate if he gets fired. Not a minute earlier."
news week has reached out to Fox News for comment.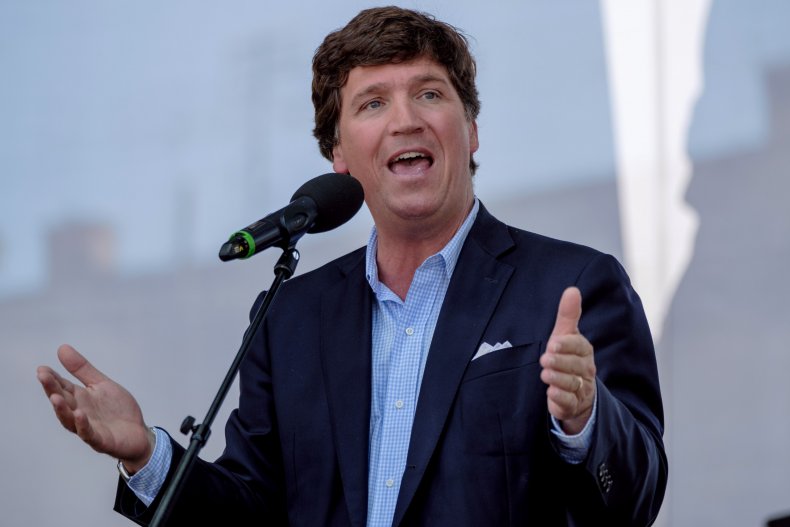 https://www.newsweek.com/tucker-carlson-democrats-rhetoric-de-escalation-fox-news-mocked-1709472 Tucker Carlson mocks for telling Democrats to de-escalate rhetoric