Tucker Carlson points out damage to Biden connection to Nord Stream pipeline
Fox News anchor Tucker Carlson has suggested that President Joe Biden is responsible for damage to Russia's Nord Stream gas pipelines, claiming the president vowed to "blow up" the pipelines earlier this year.
None of the Nord Stream pipelines, which were supposed to deliver natural gas from Russia to Germany, were operational when major leaks into the Baltic Sea emerged on Monday. Leaders in Norway, Sweden and Denmark have all concluded that the leaks were likely the result of "sabotage" or some other "deliberate" action, while seismologists said the leaks were preceded by explosions.
While the cause of the blasts and damage to the pipelines has yet to be determined, some suspect Biden or Russian President Vladimir Putin could be to blame. During the Tuesday night broadcast of his show Tucker Carlson tonightthe Fox News host dismissed the idea that Putin was behind the leaks before suggesting it could be Biden.
"If you were Vladimir Putin, you would have to be a suicidal idiot to blow up your own power line — that's one thing you would never do," Carlson said. "Natural gas pipelines are the main source of your power and wealth. And most importantly, your impact on other countries."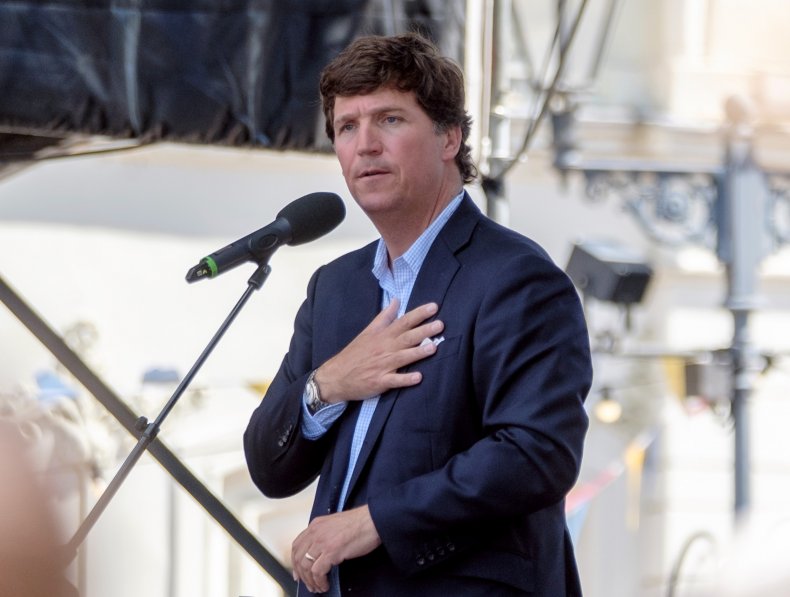 "Blowing up Nord Stream does not help Vladimir Putin," he added. "He wouldn't do that. Why should he? But that doesn't mean other countries wouldn't consider it. They would consider it and we know they considered it because at least one of them said so publicly."
Carlson then played a clip of Biden discussing the pipelines less than three weeks before Russia invaded Ukraine on February 24. The President said that the US would make sure to "put an end" to Nord Stream 2 if the invasion of Russia goes ahead.
"If Russia invades… then Nord Stream 2 will be gone," Biden said at a joint news conference with Chancellor Olaf Scholz on Feb. 7. "We will put an end to this."
When asked by a reporter how the U.S. could "finish" the pipeline, Biden didn't specify, but replied, "I promise you, we'll do it."
"Notice how he phrased that," Carlson said after playing the clip. "He didn't say: 'I will pause gas supplies from Russia to Germany.' He said there will be no Nord Stream 2. We will put an end to it. We will shut it down. We will blow it up."
Carlson went on to say Biden may be guilty of "environmental terrorism" and said the president is not "the only person" in his administration proposing an attack on Nord Stream 2.
He cited comments from State Department official Victoria Nuland, who said in January the pipeline "won't move forward" if Russia invaded Ukraine "one way or another."
"Looking back eight months later, those words are chilling," Carlson said. "If natural gas goes into the Baltic Sea and into the atmosphere… Could the Biden administration really do something like that?"
"We can't say for sure," he continued. "We don't know for sure … we can tell you that close Biden White House allies believe they most certainly did."
Carlson pointed to comments from Radek Sikorski, a Polish member of the European Parliament and former Polish defense minister, who tweeted "Thank you, USA" next to a photo of gas leaking into the sea on Tuesday.
Nord Stream 2 was completed last year but never opened by Germany due to the war in Ukraine. Nord Stream 1 has been shut down since late August, which Russia blamed on technical problems, before saying the pipeline would not be restored until war-related sanctions on Moscow were lifted.
White House Press Secretary Karine Jean-Pierre said during a Tuesday news briefing that she would not "speculate" on the cause of the recent damage to the pipelines, adding that the Biden administration is "supporting" European allies will, "once they have completed their investigation."
news week has reached out to the White House for comment.
https://www.newsweek.com/tucker-carlson-hints-biden-connection-nord-stream-pipeline-damage-1746868 Tucker Carlson points out damage to Biden connection to Nord Stream pipeline