Tucker Carlson's confusion over a vagina-shaped cloud sparks a spate of jokes
Fox News' Tucker Carlson has been ridiculed on social media for his reaction to a vagina-shaped cloud weather phenomenon.
A clip of Carlson talking about the cloud — spotted last week in Bursa, Turkey — has gone viral on Twitter. The clip has been viewed more than 330,000 times since it was posted Monday night.
During his show, Carlson showed an image of the phenomenon and said: "You may have seen images of the very oddly shaped object that appeared in the sky over Turkey.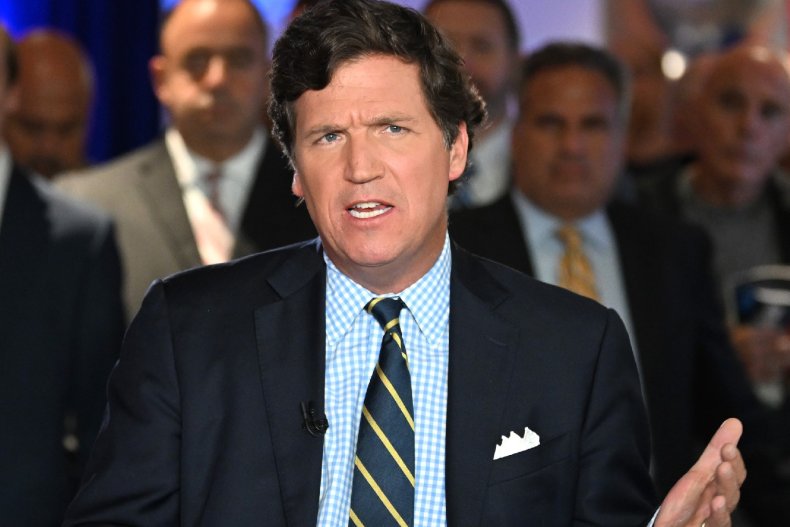 "What is that exactly? It's not normal no matter what they tell you," Carlson added, laughing.
In response to the video, meteorologist and 7News weather forecaster Mike Nelson corrected Carlson and taunted him with a link to a book on climate.
"Tucker Carlson, it's a lenticular cloud! By the way, here's something else you can learn.
"Here is a link to download 'The World's Littlest Book on Climate' for free
Mike Nelson, Chief Meteorologist Denver 7, Fellow of the American Meteorological Society."
Other social media users mocked Carlson for his confused and surprised reaction, claiming it looked like a vagina and was unknown to the Fox News host.
Filmmaker and comic book writer Joseph Michael Straczynski tweeted, "God appears over Earth as a giant space vagina, and Tucker Carlson goes completely insane."
Social media user Talyn777 made the same joke, tweeting, "Of course Tucker doesn't know what a vagina looks like."
Twitter user Gamegrouch made a similar joke, writing: "Tucker Carlson is a space vagina. The thing that scares Republican men the most."
Other social media users pointed out that Carlson's reaction mimicked a joke made on the animated show The simpsons. Twitter users began tagging Carlson with screenshots of the joke from the show.
According to the UK Met Office, lenticular clouds can look odd but do occasionally occur.
"They look very similar to the traditional shape of flying saucers in science fiction, and true lenticular clouds are believed to be one of the most common explanations for UFO sightings around the world."
"[They form] When air blows over a mountain range, under certain circumstances it can create a drag of large standing waves in the air downstream, similar to ripples formed in a river when water flows over an obstacle.
"When there is enough moisture in the air, the rising motion of the wave causes water vapor to condense, forming the unique appearance of lenticular clouds."
news week has reached out to Fox News for comment.
https://www.newsweek.com/tucker-carlson-vagina-shaped-cloud-mocked-weather-turkey-cloud-lenticular-viral-video-1776082 Tucker Carlson's confusion over a vagina-shaped cloud sparks a spate of jokes