Tulsi Gabbard urges FBI agents to disobey orders from superiors
Former Rep. Tulsi Gabbard, a Democrat from Hawaii, in a tweet on Friday urged FBI agents to stand up to superiors who abuse their power.
"It's time for all good FBI agents to stand up to any officer who abuses their power to target political opponents," Gabbard said wrote.
Gabbard also shared a column published in the New York Post about FBI Special Agent Steve Friend, who filed a whistleblower complaint on Wednesday alleging the agency exaggerated claims of domestic terrorism and used the investigation into the Jan. 6, 2021 Capitol riots to target conservatives take, according to the newspaper.
Friend allegedly refused to participate in raids related to the January 6 investigation, sources said New York Post Pillar. He was suspended by the agency in Florida on Monday.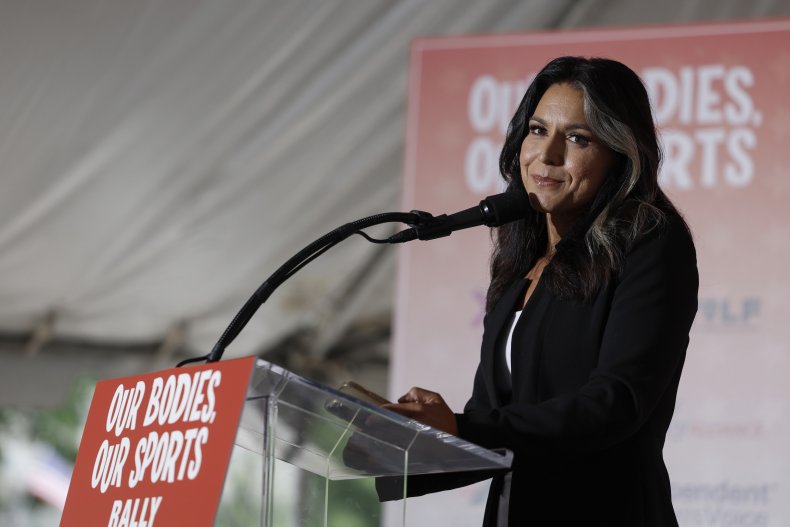 On Twitter, Gabbard said FBI agents should be handling Friend's case.
"Follow Friend's lead in putting aside self-interest for our democracy. The loyalty of every FBI/law enforcement officer must be to the Constitution/American people," the former congresswoman wrote.
news week has reached out to Gabbard and the FBI for comment.
After the FBI raided former President Donald Trump's Mar-a-Lago home in August to investigate whether he mishandled classified material, some conservatives blew up federal law enforcement agencies.
In a post on his social network Truth Social on Aug. 27, Trump asked, "When are the great agents and others in the FBI going to say, 'We're not going to take it anymore,' like they did when James Comey made a list of all the crimes of the crooked Hillary Clinton just to say no sane prosecutor would press charges."
"The wonderful people at the FBI have gone absolutely 'crazy,' so Comey had to back down and conduct a FALSE INVESTIGATION to keep them in check. The bottom line was that we won 2016 (and did MUCH better in 2020!). But now the "Left" has lost its mind!!!" added Trump.
Other Republicans have defended the FBI after the Mar-a-Lago raid. In August, Rep. Adam Kinzinger, an Illinois Republican, blamed Trump supporters for the increase in violent threats against the FBI after law enforcement.
"It's obviously ridiculous what the former president did, which is to say, 'This is an attack on my house, I did nothing wrong', and of course from what little we know there seems to be good reason for that the FBI did what it did," Kinzinger said in an interview on CNN.
Arkansas Governor Asa Hutchinson, a Republican, also defended the FBI in August, saying that if "the GOP is going to be the law enforcement support party, law enforcement will include the FBI."
https://www.newsweek.com/tulsi-gabbard-urges-fbi-agents-defy-orders-political-opponents-tweet-1745876 Tulsi Gabbard urges FBI agents to disobey orders from superiors